Decision to Attend Christmas Party May Have Saved Couple From Kentucky Tornado
The decision to attend a holiday get-together may have saved one couple from the historic recent tornadoes in Kentucky.
Stephanie and Robert Matheny of Mayfield, Kentucky, told WKRG News that attending a Christmas party with friends on Friday night most likely saved their lives. The couples' home was destroyed in the storm that night, along with the rest of their neighborhood.
"If I did not go that Christmas party, I would not be here, because my living room is on my car, and that's where I would have been," Stephanie Matheny said.
Upon returning to their ruined neighborhood, the couple heard someone shouting "any available people, we need you now." The voices belonged to neighbors who were both injured, one of whom was pregnant. Both were taken to the hospital for treatment. The woman gave birth via an emergency c-section and is still receiving treatment.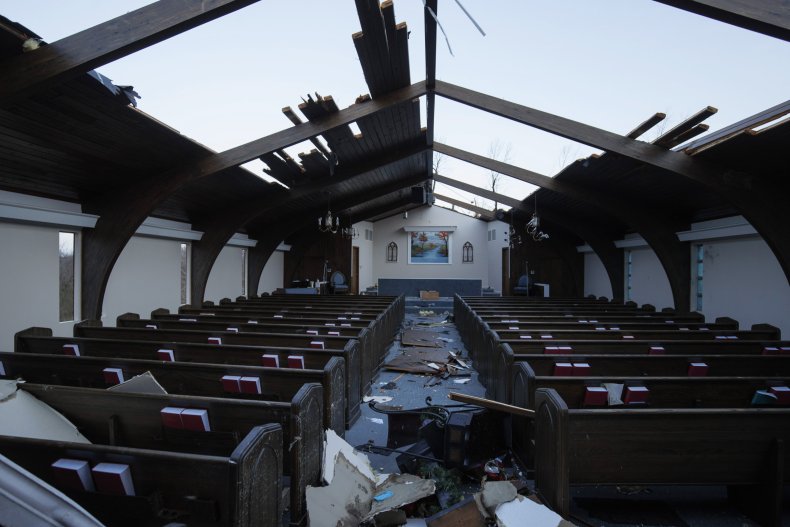 As of Monday, the couple had found all but one of their four missing pets. For now, they say that they are trying to have a positive outlook on things.
"I may have lost my home, but people have lost so much more worse than I have," Stephanie Matheny said. "I have my parents, you know, [my husband] has his family still. There's so many that don't."
The tornadoes that wreaked havoc on Kentucky on Friday impacted a wide swath of the state, including the city of Bowling Green, around two hours' drive from the Mathenys' home in Mayfield. Todd Allcott, mayor of Bowling Green, discussed the damage with WKRG News, noting that, as of Monday, five residents are still missing and 15 are confirmed dead. It could potentially take weeks for power to be restored to the city.
"This thing ripped us literally right down the middle of Bowling Green all the way from west to east," Alcott said. "It really divided us and kept us from being able to get to each other."
The same storms that devastated parts of Kentucky also caused the roof of an Amazon warehouse in Edwardsville, Illinois, to collapse. Six employees are confirmed to have died in the incident, with controversy emerging over where workers were told to shelter and whether or not the company allowed them to leave.
One report about an employee who died in a bathroom mentioned conflicting reports from other workers, with some saying that they were told to shelter in bathrooms and others saying they were not. Another report suggested that the building had a dedicated tornado shelter, but that employees might not have been able to reach it fast enough.