What Does Jay-Z's '4:44' Album Title Mean and Why Is 4 So Important?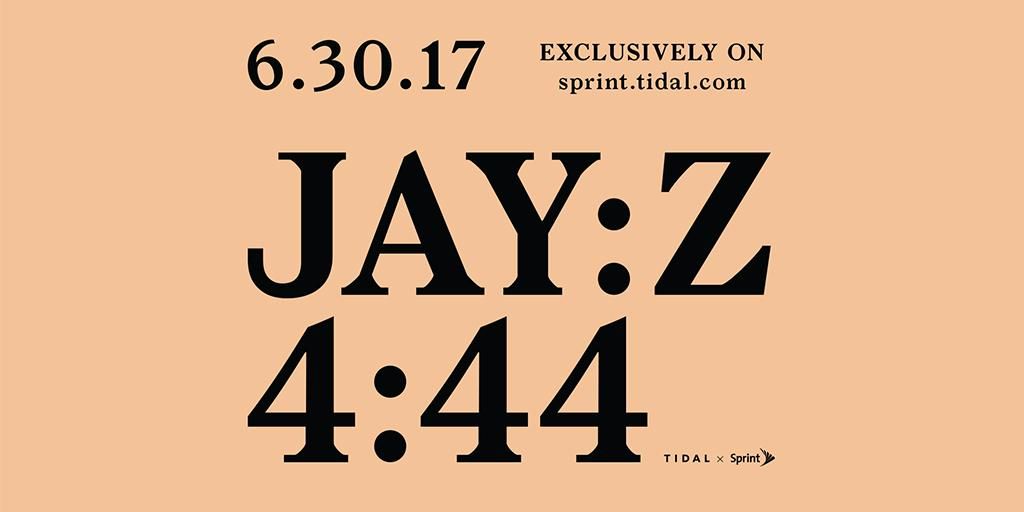 Jay-Z (yes, the hyphen is back ) has just become a father again, after wife Beyoncé gave birth to twins on Saturday. But paternity duty hasn't stopped him from cooking up a new album.
On June 30, 4:44, Hov's thirteenth studio album, will be released exclusively by Tidal and Sprint, which bought a third of Jay's streaming platform in January. The official announcement came Monday after more than a month of speculation.
In the last several weeks, cryptic billboards reading "4:44" have popped up in major cities around the world. Then came a televised trailer during Game 3 of the NBA finals on June 7. The clip teased that 4:44 is a Tidal movie featuring Mahershala Ali and Lupita Nyong'o, both of whom are Oscar winners. That suggests the rapper is following his superstar wife Beyoncé's lead and releasing a visual album.
But what does 4:44 mean, exactly? The number 4 has a deep and personal meaning to Jay-Z and Beyoncé. Meanwhile 44 appears to be a reference to the 44th president of the United States—Barack Obama.
Let's break it down.
The significance of 4
The 4 in 4:44 is the easiest to decipher. It holds plenty of special meaning to both Jay-Z and Beyoncé.
Jay-Z's birthday is December 4, while Beyoncé's is September 4. (Bey's mother, Tina Lawson, also has a birthday on January 4.)
The couple were married on April 4, 2008, which means their anniversary is 4/4 each year.
In 2011, Beyoncé titled her fourth studio album 4. Promoting the record she explained the importance of the number to Billboard, saying: "We all have special numbers in our lives, and 4 is that for me. It's the day I was born. My mother's birthday, and a lot of my friends' birthdays, are on the fourth; April 4 is my wedding date."
Bey and Jay's firstborn, Blue Ivy, also shares the connection with the number 4—in her name. Ivy appears to be a reference to IV, the Roman numeral for the number.
The significance of 44
In a series of rare tweets on June 16, Jay-Z— promising he's not drunk —paid tribute to rappers past and present that have influenced him.
Jay mentioned all of the influential artists from Tupac Shakur, to Dr. Dre, to contemporary chart toppers like Drake and Chance the Rapper.
But he then followed up with a shout out to the "greatest rapper of all time"—Barack Obama:
"Thank you 44," he wrote, expressing gratitude for Obama's eight years as U.S. president. He was the 44th president in American history.
Unless Obama has secretly dropped a rap mixtape in the last several years, let's assume Jay is praising the poetic nature of Obama's various presidential speeches over the years. After all, rap itself is extremely poetic— something Jay-Z once pointed out.
There's also a personal friendship between the Obamas and the Carters; Beyoncé performed at Obama's inaugural ball in January 2009 and sung the national anthem at his second inauguration in 2013.
The Obamas welcomed the couple to the White House several times, too, so there's no shortage of love between them.
4 + 44 = …
Now, a few theories about what 4:44 could mean.
If we read the title figuratively, it could mean "For 44," as in for Barack Obama. Perhaps Jay's thirteenth album is a musical tribute to Obama's service as president, as well as a celebration of him being the first ever black president.
The 4 in 4:44 has personal connotations specific to Jay-Z and Beyoncé's relationship and marriage. Could the rapper's new opus be half-personal, half-political? Maybe the 4 half of the album is a response to the themes of love and infidelity on Beyoncé's Grammy-nominated Lemonade?
The likeliest theory is that 4:44 isn't just an homage to Beyoncé and Obama, specifically, but a musical commentary on Black Lives Matter. The optics that we've seen so far indicate a celebration of the achievements of black America; the 4 represents Beyoncé, the 44 Obama, and we shouldn't forget the inclusion of Mahershala Ali and Lupita Nyong'o, both recent Academy Award winners.
But when you consider the radical social and political upheaval in America since the last time Jay-Z released an album, which was in 2013, 4:44 will probably also touch on themes of police brutality (as Beyoncé did on Lemonade), dwindling welfare and health care access for the poorest members of society and political progressin the U.S. since President Donald Trump succeeded Obama in the White House.
In the four years since Jay-Z last released a new record, he has remained relatively quiet on social issues—preferring to speak through action instead.
In 2015, it was reported the rapper and Beyoncé donated money to bail out protesters rallying against police brutality in Baltimore and Ferguson, Missouri.
Jay-Z's Tidal also donated a reported $1.5 million to the Black Lives Matter movement in 2016 and hosted a social justice film in February to mark the fifth anniversary of black teenager Trayvon Martin's death.
In July 2016, Jay surprised everyone by dropping a new track, "Spiritual," on Tidal, in which he criticized the killings of black men by police officers.
If that song points us to the creative inspiration behind Jay-Z's new music, the rapper's 4:44 could be the most socially conscious album of the year. Just as Beyoncé's may well have been in 2016.