Decommissioned Mail-Sorting Machines in Swing States Could Define the Election
The hundreds of mail-sorting machines recently retired from U.S. Postal Service facilities across the country could determine whether President Donald Trump is re-elected or ousted by Democratic nominee Joe Biden.
Many of the 671 decommissioned machines that sort through pieces of mail at lightning speed—including mail-in ballots—have been removed from post offices in swing states. Added to the existing crisis of delayed deliveries plaguing the federal agency, voters could see their ballots disqualified for missing their states' deadlines.
The impact of those delays could help decide the election.
In 2016, just 80,000 voters in three states—Pennsylvania, Michigan and Wisconsin—gave Trump the electoral college votes he needed to defeat Hillary Clinton, despite losing the popular vote by nearly 3 million.
"The contraction of Postal Service capacity means there will be hundreds of thousands—if not millions—of ballots in November that will never arrive on time," Daniel Smith, an elections expert from the University of Florida, told Newsweek. "And the sad truth is, some states don't even make that data public."
Smith and Michael McDonald, a colleague of Smith's at the University of Florida, estimate that more than half a million mail-in ballots nationwide were rejected this Spring during the presidential primaries because of missed deadlines.
Of the 671 retired mail-sorting machines that The Washington Post reported were removed from 49 states, the District of Columbia and Puerto Rico in recent weeks, 59 were from Florida, 58 in Texas, 34 in Ohio, 30 in Pennsylvania, 26 in Michigan, 15 in North Carolina, 12 in Virginia and 12 in Wisconsin. In recent national elections, hundreds of thousands of mail-in ballots have been tossed out due to missed deadlines in several states.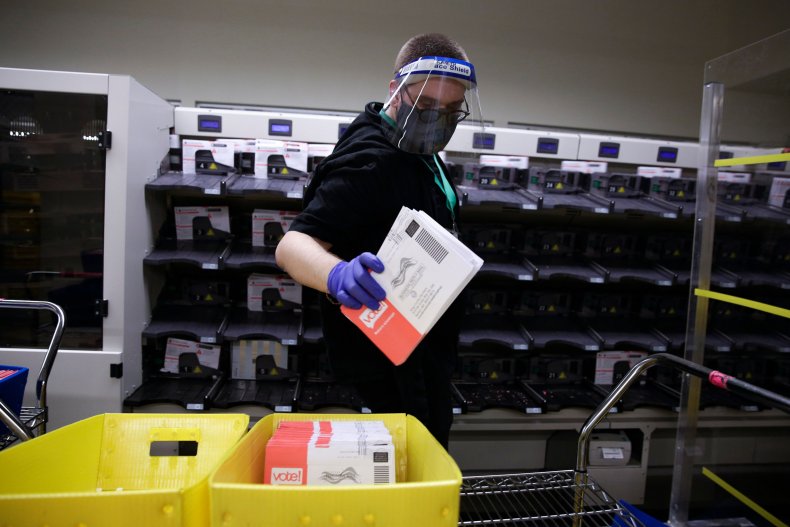 In the 2018 midterm elections, 1.4 percent of the 42.4 million mailed ballots were rejected. Of those rejected, 27 percent—more than 160,000—were not counted because they were late. And in 2016, 23 percent of rejected ballots were due to missed deadlines—about 332,000 ballots were thrown out. The actual 2016 statistic was likely higher, but it's unclear by how much because seven states did not report why they rejected absentee ballots.
During the presidential primaries this Spring, 84,000—roughly 21 percent—of Democratic voters who mailed in ballots in New York City were disqualified for either a missed deadline, no postmark or signature, or other reasons. In California, more than 70,000 absentee ballots were tossed out because they were late.
The decommissioning, disabling, dismantling and removal of the high-speed mail-sorting machines is occurring while the head of the USPS tries to quell congressional fears about the ability of his cash-strapped agency to handle the greatly increased volume of mail-in ballots that is expected due to the pandemic.
Postmaster General Louis DeJoy attempted to assure a nervous congressional panel Friday that his agency is ready, saying that he is confident that any ballot mailed at least seven days before the election will reach its intended destination in time to be counted.
"We will scour every plant each night leading up to election day," DeJoy vowed. "Very, very confident."
But DeJoy said that none of the deactivated machines will be put back into operation because "they're not needed." He cited the decrease of traditional paper mail and the increase in packages as the reason, and he said that absentee ballots are expected to account for a mere fraction of the overall mail volume.
Despite DeJoy's assurances, Democrats have suggested that he and President Donald Trump have instituted operational changes to undermine vote-by-mail efforts. The USPS has even warned states that absentee voters could be disenfranchised. But DeJoy continues to insist the changes were cost-cutting measures, and has vowed not to take further such measures until after the election. The warning has prompted some states to alter how they plan to run their mail-in voting.
The states are responsible for conducting the elections, and many have implemented changes to try to counteract the problems at the USPS.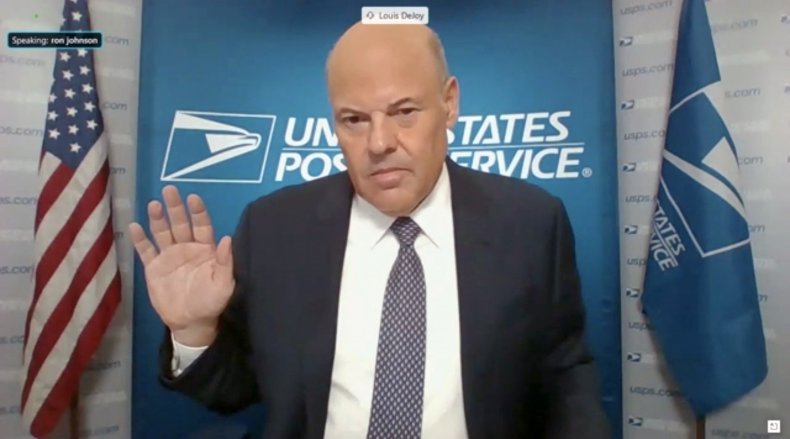 Maryland moved its absentee ballot applications up a week from October 27 to October 20. Mailed ballots must be postmarked on or before Election Day and will be counted so long as they are received by November 13. But voting laws vary from state to state, and many do not accept ballots received after Election Day. The acceptance dates are a matter of law, making any attempt to change them time-consuming and potentially politicized.
As for the three states that determined the 2016 election, they each say they have implemented changes to prevent hiccups this Fall.
Pennsylvania's Department of State is asking the state Supreme Court to allow eligible ballots to be counted if they are postmarked by Election Day and received by the Friday following Election Day. Currently, ballots must be received by Election Day in Pennsylvania, as is also the case with most states, according to Smith, including Florida, Wisconsin, Michigan and North Carolina.
"The Department's action is simple in its goal—to prevent the disenfranchisement of eligible Pennsylvania voters," Pennsylvania Secretary of State Kathy Boockvar told Newsweek in a statement.
In the 2016 and 2018 elections, Smith said that hundreds of thousands of mail-ballots in Florida arrived "at the last possible moment" either on Election Day or the day before, "making those very fragile ballots."
"The irony is, if you put your check in the mail for the IRS, you have to have it postmarked," Smith said. "We don't think anything of that. That's not the case when it comes to voting. In Florida, you have more protections sending off your check to the IRS to ensure it's on time."
Ohio requires a postmark no later than the day before the election, and the ballot must be received no later than 10 days after the election. Texas allows mail-in ballots one day after the election, so long as the postmark is on or before Election Day. Virginia requires it to be postmarked by Election Day, and will accept it until three days later at noon.
Wisconsin Elections Commission spokesman Reid Magney said in an email to Newsweek that they've been in close contact with the USPS about the upcoming election, and have been told by local Post Office officials that the operational changes already implemented "will not affect ballot delivery." In addition, Wisconsin and the Postal Service have worked to integrate barcode tracking for mail-in ballots.
"For many years, USPS has advised that voters should allow seven days for a ballot to reach its destination," Magney said, "and we have incorporated that message strongly into our voter education efforts."
The office of Ohio Secretary of State Frank LaRose told Newsweek that it worked with the USPS to create policies that will help ensure the agency processes all election mail each day, such as rechecking collection bins for late arrivals, tracking election mail and keeping absentee ballots in-state rather than routing it to a distribution facility in Detroit.
"We will continue to hold the USPS accountable to make sure that absentee voting in Ohio remains a safe and reliable option for our voters," LaRose wrote in a tweet earlier this week.
Correction (8/22/2020, 7:05 p.m.): A previous version of this article listed Ohio as one of the three states that gave Trump the electoral college votes he needed in 2016. We regret the error.