Kyle Rittenhouse could argue President Joe Biden defamed him with a tweet apparently linking him with white supremacists, according to a lawyer who won a defamation case for the student Nicholas Sandmann.
Todd McMurtry helped Sandmann, a former Kentucky high school student, reach a settlement with CNN after he was portrayed as the aggressor in an apparent confrontation in January 2019 with a Native American activist on the National Mall in Washington, DC.
A longer version of the video debunked media reports that Sandmann, a student at Covington Catholic High School, was the aggressor but not before a number of media outlets portrayed the incident as being racially charged.
McMurtry told Fox News that Biden could be accountable for his tweet on the presidential campaign trail on September 30, 2020, in which he said then-President Donald Trump had "refused to disavow white supremacists on the debate stage."
Biden's message was accompanied by a video clip in which Rittenhouse is pictured holding a weapon.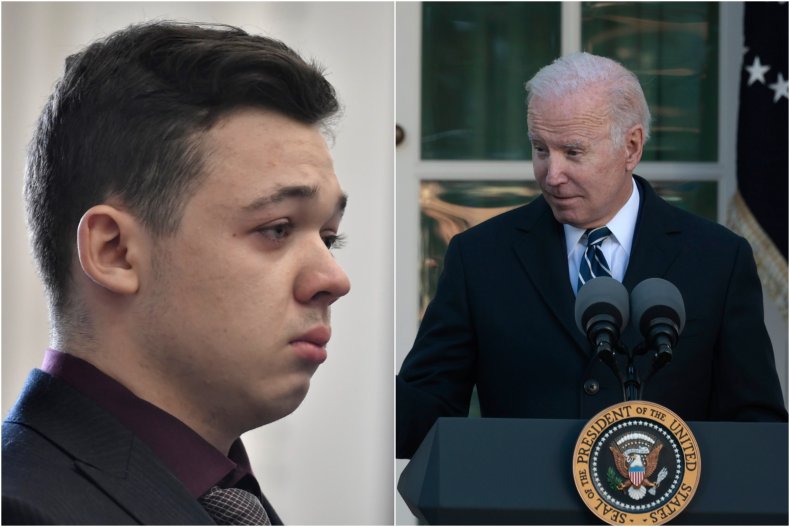 On Friday, Rittenhouse was acquitted of all charges related to the fatal shooting of two men during protests in Kenosha, Wisconsin, on August 25, 2020.
"What you take from that tweet is that Kyle Rittenhouse was using his rifle and engaging in white supremacist misconduct," McMurtry told Fox News, "so it's actionable. Not necessarily going to win, but it's actionable."
McMurtry said that as Biden was not president at the time of the tweet, he would not have any presidential or congressional immunity from a civil suit.
He also saw similarities with the Sandmann case and suggested that a number of media outlets could also face defamation claims for how they portrayed Rittenhouse.
"I think Rittenhouse may be able to do the same thing when commentators on MSNBC say he's a school shooter, a white supremacist, even a vigilante."
"Lots of media people said he was a murderer, and I think that's actionable because that suggests that he committed a crime, and we now know that he didn't," McMurtry told Fox News.
Conservative commentator and lawyer Joel Pollak wrote on Breitbart that at the time of Biden's tweet, Rittenhouse was a "public figure" for the purposes of defamation law.
He would have to show a defendant acted with "actual malice" that is with reckless disregard for the truth. "He could arguably do so for Biden's false statement," Pollak said.
In an interview with the network last week, Rittenhouse's mother, Wendy Rittenhouse said Biden had portrayed her son as a white supremacist for votes.
"When I saw that I was shocked," she told anchor Sean Hannity, "he's not a white supremacist," she said, adding, Biden "defamed him."
Before the verdict, Sandmann urged Rittenhouse to pursue defamation proceedings against the media because the parallels between their cases were "impossible not to draw."
"Kyle was 17-years-old when he became a household name after that terrible tragedy in Kenosha," Sandmann wrote in the Daily Mail op-ed published Tuesday, "I was 16-years-old when I was catapulted into the national conversation."
He said that Rittenhouse was the victim of trial by media in which he was "almost immediately labeled a 'white supremacist' and a 'domestic terrorist.'"
"To many, my red MAGA hat clearly meant that I was a racist," Sandmann wrote, adding, "give it a shot and hold the media accountable."
Newsweek has contacted Rittenhouse's attorney, Mark Richards, for comment.