Defense Advisor Shuts Down Matt Gaetz Citing 'Propaganda' in Hearing
A Defense Department official blasted Republican Representative Matt Gaetz for citing a Chinese state news report during a House Committee hearing on oversight of U.S. military aid to Ukraine.
During the House Armed Services Committee hearing, the Florida congressman grilled Department of Defense Inspector General Robert Storch about reports of top Ukrainian officials who has resigned amid corruption scandals and asked him whether he could "testify truthfully under oath that the DOD has complied with the policy and law regarding in-use monitoring during all times of this conflict."
Gaetz also noted that the Arms Control Act requires in-use monitoring for certain defense articles sold or released, including those given to Ukraine. He then turned to Colin Kahl, Under Secretary of Defense for Policy, to ask if Azov Battalion, a far-right, volunteer-based military group that has been integrated into the Ukrainian National Guard in 2014, had access to U.S. aid sent to Ukraine.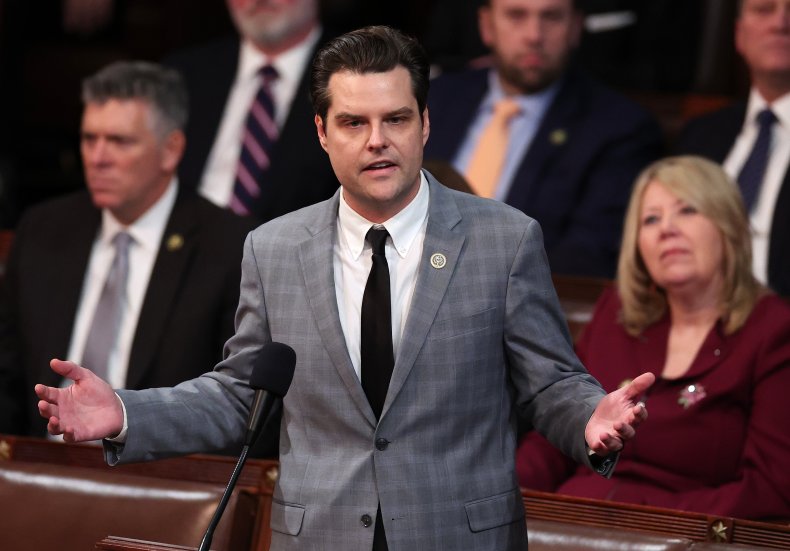 Kahl responded that he is "not aware" of any such reports.
Azov Battalion has been accused of associating with White supremacists and neo-Nazi ideology. Since the war in Ukraine began, Russian President Vladimir Putin has said the aim of his "special military operation" is to "de-Nazify Ukraine."
Azov fighters were heavily involved in the Ukrainian efforts to combat Russian forces during the battle for Mariupol last year.
In 2018, Congress passes a government spending bill that included a ban on U.S. arms from going to the Azov Battalion.
Gaetz then entered a report from a Global Times investigation into the record, asking if Kahl had any reason to disagree with that statement. Kahl asked Gaetz to clarify if this report was from the same Global Times that's China's national English-language newspaper.
Once Gaetz confirmed the source of the report, Kahl dismissed the claim.
"As a general matter, I don't take Beijing's propaganda at face value," he said, adding that he does not have evidence to form a conclusion on the report one way or another.
The Global Times is a Chinese state-run media organization that is considered a mouthpiece for the Chinese Communist Party.
A spokesperson for Gaetz told Newsweek in a statement that the congressman was seeking confirmation about the report: "Congressman Gaetz wanted to ask if the report was true. The panelist said it wasn't true, and that was a good enough answer for him."
The Defense Department refused to provide further comment, saying Kahl's comments "speak for themselves."
Gaetz has been a vocal critic of the United States' continued financial and military support for Ukraine during the course of the war with Russia. Earlier this month, Gaetz introduced a House resolution to end U.S. aid to Ukraine called the "Ukraine Fatigue Resolution."
"America is in a state of managed decline, and it will exacerbate if we continue to hemorrhage taxpayer dollars toward a foreign war," he said in a statement to Newsweek at the time. "We must suspend all foreign aid for the War in Ukraine and demand that all combatants in this conflict reach a peace agreement immediately."