Full List of Republicans Backing Matt Gaetz's Resolution to End Ukraine Aid
Florida Representative Matt Gaetz is introducing a House resolution to end U.S. military and financial aid to Ukraine co-sponsored by 10 other House Republicans.
In the "Ukraine Fatigue Resolution," Gaetz calls for the United States to "end its military and financial aid to Ukraine and urges all combatants to reach a peace agreement."
"President Joe Biden must have forgotten his prediction from March 2022, suggesting that arming Ukraine with military equipment will escalate the conflict to 'World War III,'" Gaetz said in a statement to Newsweek.
"America is in a state of managed decline, and it will exacerbate if we continue to hemorrhage taxpayer dollars toward a foreign war," he continued. "We must suspend all foreign aid for the War in Ukraine and demand that all combatants in this conflict reach a peace agreement immediately."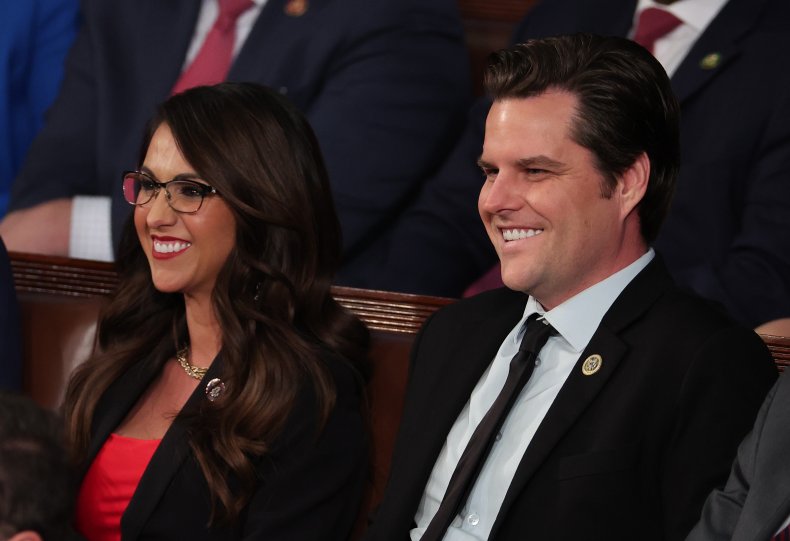 These are the 10 House Republican co-sponsors of the bill:
Rep. Andy Biggs of Arizona
Rep. Lauren Boebert of Colorado
Rep. Paul Gosar of Arizona
Rep. Marjorie Taylor Greene of Georgia
Rep. Anna Paulina Luna of Florida
Rep. Thomas Massie of Kentucky
Rep. Mary Miller of Illinois
Rep. Barry Moore of Alabama
Rep. Ralph Norman of South Carolina
Rep. Matt Rosendale of Montana
Many of these Republican lawmakers have been publicly against U.S. funding for Ukraine since the invasion began.
Massie, Gosar and Rosendale were the three Republicans who voted against a March 2022 resolution passed in the House supporting the people of Ukraine. Biggs, Gosar, Greene and Massie were also among the House Republicans who voted against investigating Russian President Vladimir Putin and Russian war crimes last April.
Throughout times of high inflation, soaring gas prices and a baby formula shortage last year, they also called out the Biden administration for sending billions to Ukraine while Americans were struggling at home. They have also urged Biden to spend less on Ukraine and more funding to protect the southern U.S. border.
Greene, Boebert, Gaetz and other Republicans were seen remaining seated when President Joe Biden spoke about Ukraine during his State of the Union address on Tuesday, even when other GOP lawmakers were on their feet applauding.
Rosendale remarked after the speech that he wished Biden showed "the same passion for protecting America as he does for protecting Ukraine."
Back in October, he tweeted that the United States' increased involvement in the conflict is a "threat to our national security" and "sets us on a collision course with another nuclear power."
Biggs has decried the "blank checks" to Ukraine, saying it should not be the "number one priority" for the U.S. as Senate Minority Leader Mitch McConnell said in December.
Late last month, Greene called on the Biden administration to stop sending aid to Ukraine and "put America first."
"America is depleting our own military arsenal, giving weapons and now tanks to Ukraine, while China is building its military at the fastest pace in world history," she tweeted on January 26, adding in a second tweet that continuing to fund Ukraine means supporting "a corrupt slush fund."
In September, Boebert called for a "full accounting" of money sent to Ukraine, writing on Twitter: "A 'bipartisan agreement' has been reached in Congress to send yet another $12 billion to Ukraine. I've said it before and I'll say it again - we need a full accounting of every dollar that has been sent there. We have no clue what our taxpayer money is actually being spent on."
Massie called continued support to Ukraine "obscene" in December and said American taxpayers are "on the hook" for government assistance. "That's right, we're paying the salaries and expenses of Ukrainian politicians & bureaucrats," he tweeted at the time.
In the Ukraine Fatigue Resolution, Gaetz outlined all of the military equipment the United States has sent to Ukraine since Russia began its invasion almost one year ago.
The list includes HIMARS, air defense capabilities, ammunition, Javelin anti-armor systems, and Stinger anti-aircraft systems as well as the promised M1 Abrams tanks. In total, Gaetz said the U.S. has appropriated more than $110,000,000,000 of military, financial and humanitarian aid to Ukraine, including more than $27.4 billion in security assistance.
Gaetz also said providing assistance to Ukraine "is inadvertently contributing to civilian casualties." He said about 40,000 civilians have died and 7.8 million Ukrainian refugees have fled across Europe as a result of the conflict.
The U.S. aid to Ukraine "far exceeds" that from other countries, Gaetz wrote in the resolution. As of November 2022, the U.S. aid totals $47.9 billion, compared to $30 billion from the European Union, $7.1 billion from the United Kingdom, $5.46 billion from Germany and $3.9 billion from Canada.
He also noted that the Pentagon reported last August that U.S. munition donated to Ukraine has "severely depleted" U.S. stockpiles, "weakening United States readiness in the event of conflict."
The Pentagon recently announced it will provide air defense systems, armored infantry vehicles and long-range rockets, as well as a $425 million presidential drawdown of security assistance and $1.75 billion in Ukraine Security Assistance Initiative funds.
The U.S. has committed more than $32 billion in security assistance to Ukraine since 2014, including $29.3 billion since the beginning of Russia's full-scale invasion on February 24, 2022, according to the Pentagon.