What's Being Done to Solve the Baby Formula Crisis?
President Joe Biden's administration has announced several steps to tackle a nationwide shortage of baby formula that include reopening a manufacturing plant and increasing imports from abroad.
The closure of Abbott Nutrition's facility in Sturgis, Michigan, has been compounded by supply chain disruptions, leaving about 40 percent of baby formula products out of stock nationwide, according to data from Datasembly.
The shortage has led retailers like CVS and Walgreens to limit how many products customers can purchase. Parents have been forced to drive long distances to find stores with stock, while some desperate mothers expressed to Newsweek their panic at not being able to find the formula their children need.
Under mounting pressure from Republican lawmakers and parents, the White House has outlined a number of measures the administration is taking to address the issue.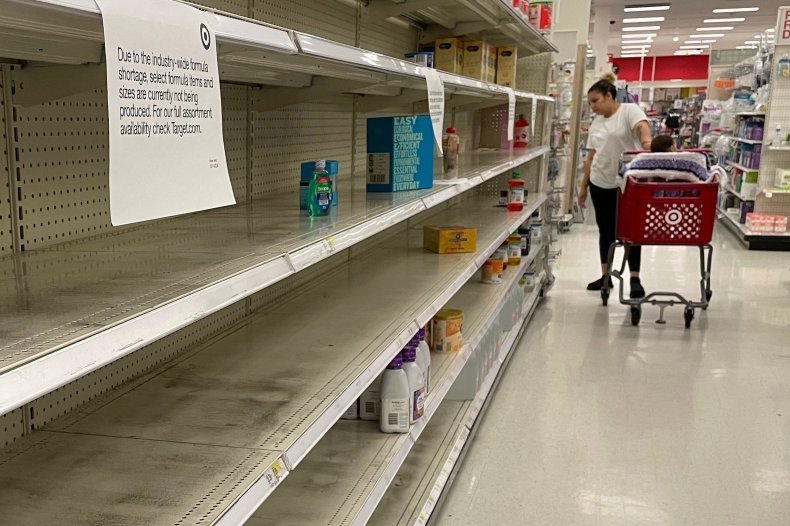 The U.S. Food and Drug Administration (FDA) on Monday announced that it would be easing some restrictions to make it easier for foreign manufacturers to ship more formula into the U.S. The move "paves the way for companies who don't normally distribute their infant formula products in the U.S. to do so efficiently and safely," FDA Commissioner Robert Califf said in a statement.
"With these flexibilities in place, we anticipate that those products that can quickly meet safety and nutrition standards could hit U.S. stores in a matter of weeks," the statement read.
The FDA also announced on Monday that It had reached an agreement to allow Abbott Nutrition to resume production at its Sturgis facility, which has been closed since February due to contamination fears.
Abbott said it could restart the facility within two weeks once the FDA's initial requirements are met, but that it would be eight to 10 weeks before products start reaching store shelves.
"Our number one priority is getting infants and families the high-quality formulas they need, and this is a major step toward re-opening our Sturgis facility so we can ease the nationwide formula shortage," Abbott CEO Robert Ford said in a statement.
"We know millions of parents and caregivers depend on us and we're deeply sorry that our voluntary recall worsened the nationwide formula shortage," he continued. "We will work hard to re-earn the trust that moms, dads and caregivers have placed in our formulas for more than 50 years."
The White House said last week that Biden has asked the Federal Trade Commission to crack down on any price gouging of formula products. In an appearance on CNN's New Day on Monday, Califf acknowledged that the steps taken would not have an immediate effect on the shortage.
"Over time, they should have a big effect because we'll have access to a lot more formula from different manufacturers," he said. "This will gradually improve over a period of a few weeks, but we really do anticipate that within a few weeks we'll have things back to normal."
The formula shortage stems from a voluntary recall earlier this year by Abbott, the country's biggest supplier of infant formula. That came after four babies who had consumed powdered formula from its plant were hospitalized with a rare bacterial infection and two died. Following a lengthy inspection, FDA investigators published a list of issues in March, including sanitary standards that needed to be improved before the plant could reopen.
Abbott has stressed that its products have not been directly linked to the bacterial infections in infants and that samples of the bacteria found at the plant did not match the strains collected from two babies. But the FDA's food director Susan Mayne said investigators were unable to collect bacterial strains from two of the four patients.
"Right from the get-go we were limited in our ability to determine with a causal link whether the product was linked to these four cases because we only had sequences on two," Mayne told reporters on Monday.