Baby Formula Shortage Could Continue for Weeks as Abbott Reopens Factory
Manufacturer Abbott plans to resume production of its baby formula amid a national shortage—but says it could take up to 10 weeks before it hits the shelves.
The company reached an agreement on Monday with Food and Drug Administration (FDA) regulators on what steps it needs to take to reopen its plant in Sturgis, Michigan, after it was temporarily closed due to product safety fears.
"After FDA approval, Abbott could restart the site within two weeks; from the time of restart it would take six to eight weeks before product is available on shelves," a company statement said.
The company added that the Centers for Disease Control and Prevention had "concluded its investigation with no findings of a link between Abbott formulas and infant illnesses."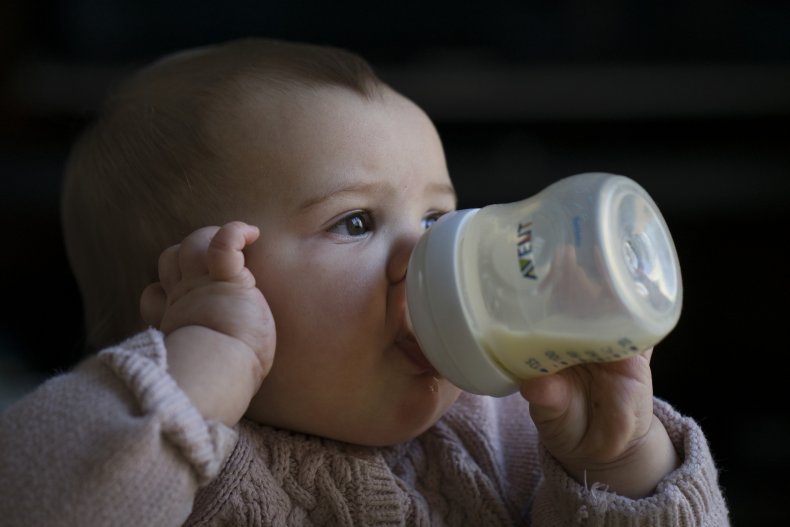 The FDA also announced extra moves being taken to combat the supply chain issues, saying it was attempting to make it easier for foreign manufacturers to ship more formula into the country.
FDA Commissioner Robert Califf said: "The FDA expects that the measures and steps it's taking with infant formula manufacturers and others will mean more and more supply is on the way, or on store shelves, moving forward."
The shortage of baby formula—that left panicked parents facing empty shelves—was sparked in part by Abbott's February recall of several of its brands. The move came amid an investigation sparked over fears bacteria, which had been linked to babies' illnesses and deaths, may have been present in the products.
Formula production ceased as the company was investigated over the safety concerns. The company's voluntary recall included the brands Similac, Alimentum and EleCare, which were all made at the company's Sturgis site.
Stores such as CVS and Walgreens then rationed their supply of stock as demand increased for fewer products. Supply chain issues caused by COVID-19 disruptions exacerbated the problem and many stores reported they had completely sold out. Abbott is one of just four companies that produce roughly 90 percent of the country's baby formula, with its brands accounting for nearly half of the market.
FDA inspectors conducted a six-week inspection of Abbott's Sturgis plant and in March it published a list of issues it demanded must be resolved before the plant could reopen, such as sanitary standards within the site.
The company stressed that its products have not been directly linked to the bacterial infections in children, and samples taken from the plant did not match the bacteria strains collected from the affected babies.
Abbott's Chairman and Chief Executive Officer Robert B. Ford said: "Our number one priority is getting infants and families the high-quality formulas they need, and this is a major step toward re-opening our Sturgis facility so we can ease the nationwide formula shortage. We look forward to working with the FDA to quickly and safely re-open the facility. We know millions of parents and caregivers depend on us and we're deeply sorry that our voluntary recall worsened the nationwide formula shortage. We will work hard to re-earn the trust that moms, dads and caregivers have placed in our formulas for more than 50 years."
Newsweek has reached out to Abbott and the FDA.
Desperate mothers who were unable to breastfeed and relied on formula to feed their babies spoke to Newsweek about their "panic" trying to find scarce stocks, and their fear about what it would mean for their baby should they fail to get hold of some before their current supply ran out.
Parents had even turned to human milk banks as mothers moved by the plight of desperate parents struggling to get hold of baby formula began to donate their own surplus breast milk to feed the babies. Lindsay Groff, executive director of the Human Milk Banking Association of North America, told USA Today demand for breast milk from its banks "has more than surged." She added: "I would say it's through the roof with people inquiring about alternatives to formula—the phones are ringing off the hook."