How To Donate Breast Milk Amid Baby Formula Shortage
Mothers moved by the plight of desperate parents struggling to get hold of baby formula are donating their own breast milk to feed the infants.
As a national shortage of products has led to empty shelves and price hikes, parents are increasingly turning to human milk banks.
The organizations supply breast milk to families in need, and are accredited by the Human Milk Banking Association of North America (HMBANA) to ensure the milk is safe to use. HMBANA's website explains that a milk bank collects the milk from mothers who have undergone health screening, then "screens, pasteurizes, and tests it, and, finally, dispenses it to premature and fragile infants in need, either in hospitals or homes."
The organization is appealing for breastfeeding mothers to come forward to offer their surplus milk to other babies in need. It tells the women: "You can save lives by donating your extra breast milk for use as pasteurized donor human milk. Your breast milk contribution will have a big impact, as a premature infant eats as little as one ounce or less in a single feeding. Exclusive human milk feeding significantly reduces the incidence of necrotizing enterocolitis, a leading cause for prematurity-related death, and contributes to the overall wellbeing of medically fragile infants."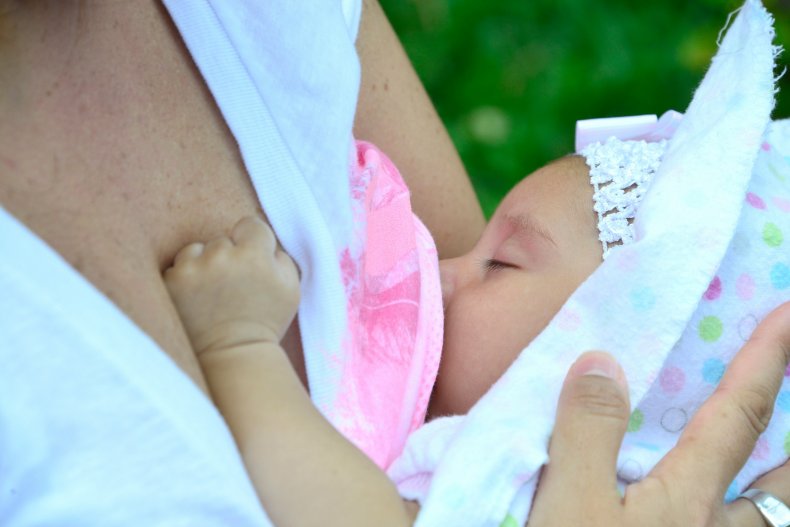 Mothers who wish to donate their extra milk should contact their local milk bank, which will ask them some questions over the phone and require a blood test, which they will arrange for free. Once women are screened, they will then be able to donate their milk, which goes on to face additional screening and a pasteurization process before being given to the families of babies in need. A full list of milk banks across the country is provided at the end of this article.
The shortage in baby formula was sparked in part by a February recall of brands that had been linked to' illnesses and death. Some stores then rationed their supply of stock as demand increased for fewer products. Many stores reported they had completely sold out.
Mothers who were unable to breastfeed spoke to Newsweek about their "panic" trying to find appropriate food for their babies and their fear about what would happen should they fail to get hold of some.
Lindsay Groff, executive director of HMBANA, told USA Today demand for breast milk from its banks "has more than surged." She added: "I would say it's through the roof with people inquiring about alternatives to formula – the phones are ringing off the hook."
Newsweek has reached out to the organization.
A full list of milk banks across the U.S. are listed on HMBANA's website. They are:
ALABAMA
Mothers' Milk Bank of Alabama
107 Walter Davis Drive
Birmingham, AL 35209
Phone: 205-942-8911
Email: khabchi@mmbal.org
CALIFORNIA
Mothers' Milk Bank
1887 Monterey Road, Suite 110
San Jose, CA 95112
Phone: 408-998-4550
Email: donate@mothersmilk.org
University of California Health Milk Bank
3636 Gateway Center Ave, Suite 102
San Diego, CA 92102
Phone: 858-249-MILK (6455)
Email: ucmilkbank@health.ucsd.edu
COLORADO
Mothers' Milk Bank
A program of Rocky Mountain Children's Health Foundation
5394 Marshall Street, Suite 400
Arvada, CO 80002
Phone: 303-869-1888
Email: mothersmilkbank@rmchildren.org
FLORIDA
Mothers' Milk Bank of Florida
8669 Commodity Circle
Suite 490
Orlando, FL 32819
Phone: 407-248-5050
Email: info@milkbankofflorida.org
ILLINOIS
Mothers' Milk Bank of the Western Great Lakes
1699 Elmhurst Road
Elk Grove Village, IL 60007
Phone: 847-262-5134
Email: info@milkbankwgl.org
INDIANA
The Milk Bank
5060 E. 62nd Street, Suite 128
Indianapolis, IN 46220
Phone: 317-536-1670
Email: info@themilkbank.org
IOWA
Mother's Milk Bank of Iowa
UI Hospitals and Clinics, Department of Food and Nutrition Services
119 2nd Street, Suite 400
Coralville, IA 52241
Phone: 319-384-9929
Email: jean-drulis@uiowa.edu
LOUISIANA
Mothers' Milk Bank of Louisiana
2700 Napoleon Ave.
New Orleans, LA 70115
Phone: 504-703-6455
Email: mothersmilkbank@ochsner.org
MASSACHUSETTS
Mothers' Milk Bank Northeast
377 Elliot Street
Newton Upper Falls, MA 02464
Phone: 617-527-6263
Email: info@milkbankne.org
MICHIGAN
Bronson Mothers' Milk Bank
601 John Street
Suite N1300
Kalamazoo, MI 49007
Phone: 269-341-6146
Email: mothersmilkbank@bronsonhg.org
MINNESOTA
Minnesota Milk Bank for Babies
2525 Nevada Av. No., Suite 304
Golden Valley, Minnesota 55427
Phone: 763-546-8051
Email: info@mnmilkbank.org
MISSISSIPPI
Mothers' Milk Bank of Mississippi
2001 Airport Road, Suite 204
Flowood, MS 39232
Phone: 601-939-5504
Email: director@msmilkbank.org
MONTANA
Mothers' Milk Bank of Montana
734 Kensington Ave.
Missoula, MT 59801
Phone: 406-531-6789
Email: mothersmilkbankofmt@yahoo.com
NEW MEXICO
Human Milk Repository of New Mexico
6208 Montgomery, Suite D
Albuquerque, New Mexico 87109
Phone: 505-508-5291
Email: info@mothersmilkbanknm.org
NEW YORK
The New York Milk Bank
401 Columbus Ave.
Valhalla, New York 10595
Office: 212-956-6455
Email: info@nymilkbank.org
NORTH CAROLINA
WakeMed Mothers' Milk Bank
1900 Kildaire Farm Road
Cary, NC 27518
Phone: 919-350-8599
Email: mothersmilkbank@wakemed.org
OHIO
OhioHealth Mothers' Milk Bank
4850 E. Main Street, Suite #140
Columbus, OH 43213
Phone: 614-566-0630
Email: milkbank@ohiohealth.com
OKLAHOMA
Oklahoma Mothers' Milk Bank
901 NE 13th Street, Garrison Tower #1220
Oklahoma City, OK 73104
Phone: 405-297-5683
Email: info@okmilkbank.org
OREGON
Northwest Mothers Milk Bank
15875 SW 74th Ave
Tigard, OR 97224
Phone: 503-469-0955
Email: info@nwmmb.org
PENNSYLVANIA
CHOP Mothers' Milk Bank
34th and Civic Center Blvd.
Philadelphia, PA 19104
Phone: 267-425-1662
Email: CHOPMMB@email.chop.edu
Mid-Atlantic Mothers' Milk Bank
3127 Penn Ave.
Pittsburgh, PA 15201
Phone: 412-281-4400
Email: info@midatlanticmilkbank.org
SOUTH CAROLINA
Mother's Milk Bank of South Carolina
Medical University of South Carolina
2575 Elms Center Rd, Suite 201
Charleston, SC 29406
Phone: 843-792-5415
Email: scmilkbank@musc.edu
TENNESSEE
Mothers' Milk Bank of Tennessee
2909 Old Fort Parkway, Suite 105
Murfreesboro, TN 37128
Phone: 615-933-8877
Email: info@milkbanktn.org
https://www.milkbanktn.org/
TEXAS
Mothers' Milk Bank at Austin
5925 Dillard Circle
Austin, TX 78752
Phone: 512-494-0800
Email: info@milkbank.org
Mothers' Milk Bank of North Texas
7617 Benbrook Parkway
Fort Worth, TX 76126
Phone: 817-810-0071
Email: info@texasmilkbank.org
UTAH
Mountain West Mothers' Milk Bank
2995 S. West Temple Suite C
South Salt Lake, UT 84115
Phone: 877-367-9091
Email: mwmilkbank@gmail.com
VIRGINIA
The King's Daughters Milk Bank
The Children's Hospital of The King's Daughters
400 Gresham Drive, Suite 106
Norfolk, VA 23507
Phone: 757-668-6455
DEVELOPING MILK BANKS
Arizona Human Milk Bank
20118 N. 67th Ave., Suite 300-159
Glendale AZ 85308
Email: operations@arizonahumanmilkbank.org
Henry Ford Allegiance Health Mothers' Milk Bank
205 N East Ave
Jackson, MI 49201
Phone: (517) 205-4800
Mothers' Milk Bank of Tennessee
2201 Murphy Avenue, Suite 207
Nashville, TN 37203
Phone: 615-933-8877
Email: info@milkbanktn.org