Baby Formula Shortage 2022: Authorities Warn Sellers Against Price Gouging
New York Attorney General Letitia James issued a warning against price gouging baby formula as parents across the country scramble to find products amid a shortage.
Months of shortages due to supply disruptions have been worsened by a safety recall by Abbott Nutrition earlier this year.
Panicked mothers have told Newsweek of traveling long distances to find stores that have stock as well as being forced to pay high costs due to sellers overpricing scarce goods.
Such reports prompted James to issue an alert urging New Yorkers to report any instances of dramatic price increases to her office.
The alert noted that New York law prohibits sellers from taking advantage of consumers by selling goods or services that are vital to health, safety or welfare for an "unconscionably excessive" price.
"The national baby formula shortage is terrifying for parents concerned about how to feed their children," James said in a statement.
"The last thing any family needs is to be price gouged on critical nutrition for their little ones, which is why I am putting profiteers seeking to take advantage of this crisis on notice. If New Yorkers see exorbitant price increases for baby formula, I encourage them to report it to my office immediately. Anyone who seeks to take advantage of this crisis is on notice."
James' alert noted that retailers limiting the amount of baby formula they sell to customers is not price gouging.
Retailers including CVS and Walgreens have started limiting the amount of baby formula customers can buy in an effort to keep products in stock.
About 43 percent of retailers were out of stock for the week ending May 8, up from 30 percent in April, according to data analytics firm Datasembly.
The U.S. Food and Drug Administration (FDA) on Tuesday said it was working with manufacturers of baby formula to increase their output and expediting paperwork to allow more imports.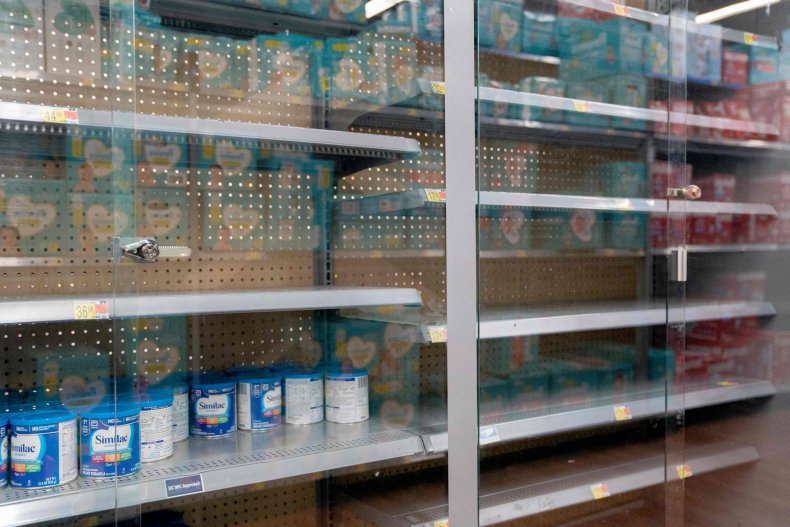 The FDA and experts have warned parents not to make their own baby formula or water it down to stretch out supplies.
"Formulas are FDA-regulated to be made specifically for a developing infant's needs and that is very hard to recreate at home," Dr. Katie Lockwood, a primary care pediatrician at Children's Hospital of Philadelphia, told Newsweek.
"Families should not make their own formula because this increases risk for contamination and improper nutrition for their infant."
The shortage began last year as the COVID-19 pandemic caused disruptions in ingredients, labor and transportation.
The crisis worsened after Abbott recalled several major brands and shut down its Sturgis, Michigan, factory after the FDA said products manufactured there were linked to several infant hospitalizations, including two deaths, due to a rare bacterial infection.
New Yorkers can report potential concerns about price gouging to James' office by filing a complaint online or calling 800-771-7755.