Defense Department to Counsel Republican for Improperly Using Military Uniform in Campaign Ads
Republican Representative Doug Collins of Georgia will be counseled by the Department of Defense for repeatedly violating a policy that prohibits candidates from using photos of themselves in uniform for campaign ads without a proper disclaimer, the department told Newsweek.
Collins, who is challenging incumbent GOP Senator Kelly Loeffler, violated DoD policy at least two dozen times last week alone by using images of himself donning his Air Force uniform in campaign ads posted to social media, Newsweek reported. The photos infuriated veterans and advocacy groups, and they called on Collins to be court-martialed because of the violation as an active reservist.
DoD Directive 1344.10 states that any images in uniform must be accompanied with a "prominent and clearly displayed disclaimer" that states such a photo does not imply an endorsement from any military branch. Nearly all of Collins' ads either excluded such a statement or had a disclaimer that was too small to read.
"Feedback will be provided to Congressman Collins and his campaign team about the use of a disclaimer," a DoD spokesperson told Newsweek in a statement on Tuesday. The spokesperson also restated part of the DoD policy.
The Collins campaign did not respond to several requests for comment. The Air Force also did not respond.
Kathryn Smith, a lawyer and former Air Force officer, told Newsweek that Collins will likely be advised by his commanding officer of the policy he is breaching and what his obligations are, and he will have to sign an official letter acknowledging the interaction.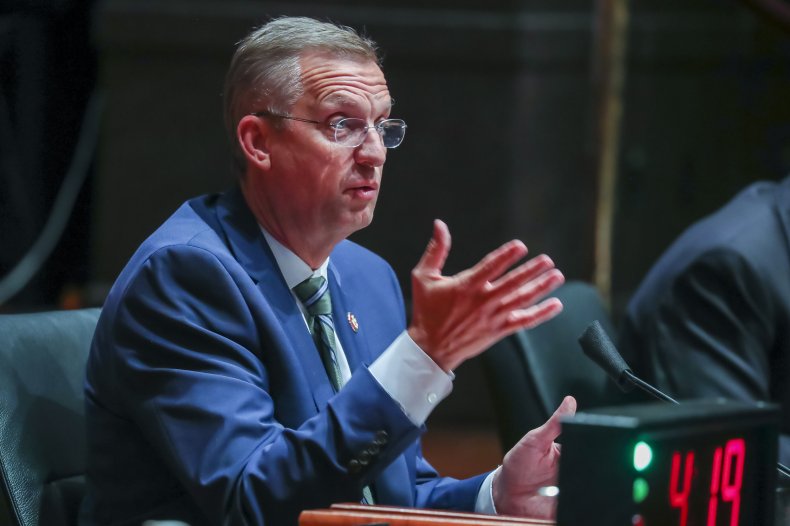 As a lieutenant colonel and chaplain in the Air Force Reserve, Collins' actions, including his use of images in uniform for campaigning purposes, are defined by DoD policy and directive. Members of the military who violate DoD policies and directives may face prosecution or punishment under the Uniform Code of Military Justice.
Collins is a close ally of President Donald Trump, often making jabs at Loeffler that he is the more fervent supporter. As the top Republican on the House Judiciary Committee at the time, Collins helped lead the defense of Trump during the panel's impeachment proceedings.
Smith said the DoD policy is in place so that the military remains apolitical. Many of Collins' ads that feature him in his uniform talk about his political views, such as his pro-life stance on abortion. Collins served in Iraq from 2008-2009.
"As an officer, Collins is responsible for the people that work for him," Smith said. "It's a serious lack of judgment that questions whether he has the appropriate judgment to hold both his military position and serve in Congress."
Collins quietly deleted some of the campaign posts on Facebook and Twitter that violated DoD policy following Newsweek's reporting last week. New disclaimers were added to uniform photos on his campaign website, along with another new disclaimer in the footer of the web page.
However, some improper posts still remained on his campaign accounts.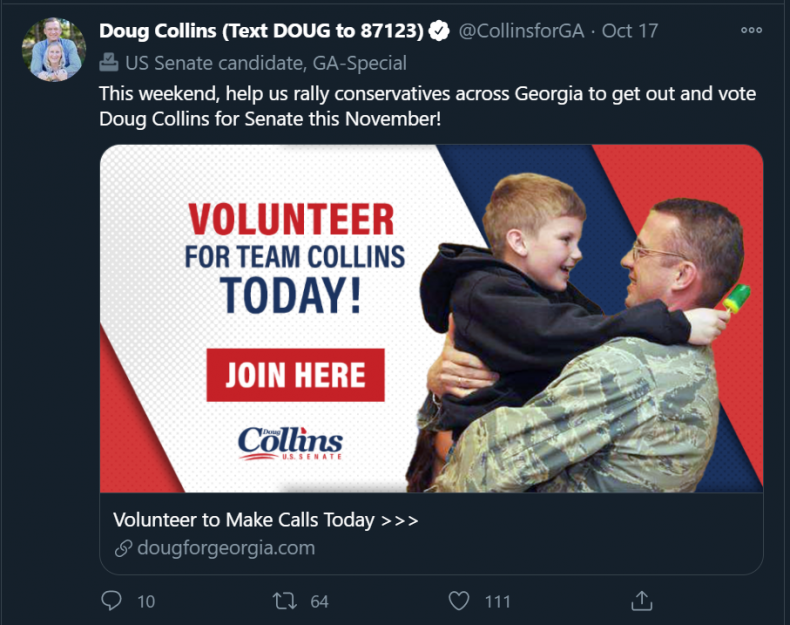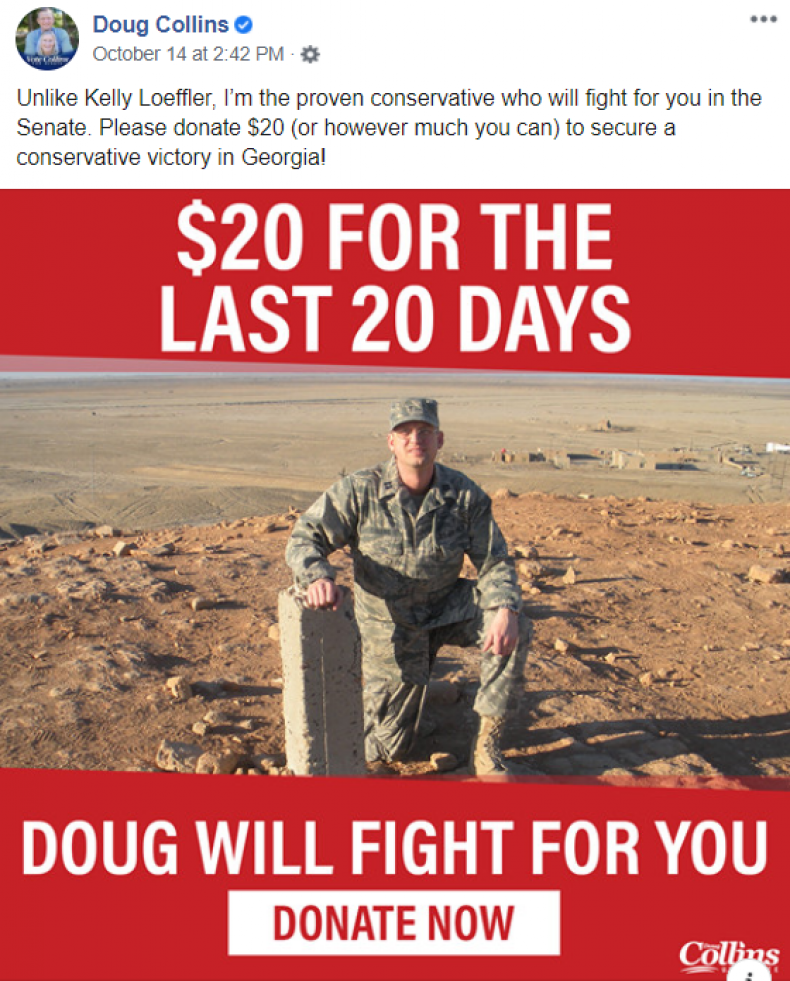 It is also against DoD policy to use uniform photos as the primary image for ads, as Collins regularly has done, even if a disclaimer is used. In its statement about counseling Collins, DoD referred only to the portion of its policy about displaying a proper disclaimer.
Collins campaign spokesman Dan McLagan falsely claimed to Business Insider on Monday that the ads in question had been removed, and he said the problem stemmed from a "vendor error." McLagan also said that the scrutiny of Collins' ads was partially to blame on a "long-standing grudge" that the advocacy group Military Religious Freedom Foundation (MRFF) has against the Republican congressman and his religious views.
The organization's founder and president, Mikey Weinstein, wrote a letter to Defense Secretary Mark Esper last week after he said some of Esper's own staff came to him about Collins' repeated violations. Weinstein called for criminal charges to be imposed.
"This is still the other side of the universe of what we wanted," Weinstein said of DoD's plans to counsel Collins. "It's pandering to Trump."
Democrat Raphael Warnock is polling above Collins and Loeffler as they split GOP voters with their rare intraparty battle for one of Georgia's Senate seats.
However, at least 50 percent of the vote is required to win. It appears no candidate will achieve a majority of the votes, which means the top two finishers will compete one-on-one in a run-off election on January 5, 2021.
This story was updated to include comments from Mikey Weinstein.