Defense Sec. Lloyd Austin and Rep. Matt Gaetz Clash on Critical Race Theory
Defense Secretary Lloyd Austin faced off against Rep. Matt Gaetz (R-Fla.) during a heated exchange over the impact of critical race theory (CRT) on the military at a hearing in Washington, D.C. on Wednesday.
Gaetz brought up CRT while questioning Austin about anti-extremism measures in the military and last month's dismissal of Space Force Lt Col. Matthew Lohmeier during a hearing of the House Armed Services Committee. Lohmeier was fired in May for "partisan political activity" after insisting that military diversity training is "rooted" in CRT and Marxism during a podcast interview. Austin declined to comment on the firing, noting that it is currently under investigation.
Gaetz said that the "number one" complaint he had heard from members of the military was disapproval of Austin's "divisive" stand down order to examine extremism in the wake of the violent January 6 storming of the Capitol. He then asked Austin for his opinions on how the Department of Defense (DoD) should "think about" CRT. Austin dismissed the idea that CRT was an issue in the military or related to its efforts to combat extremism.
"I don't know what the issue of critical race theory is and what the relevance [is] here with the department," Austin said. "We do not teach critical race theory. We don't embrace critical race theory and I think that's a spurious conversation... We are focused on extremist behaviors and not ideology, not people's thoughts, not people's political orientations. Behaviors are what we are focused on."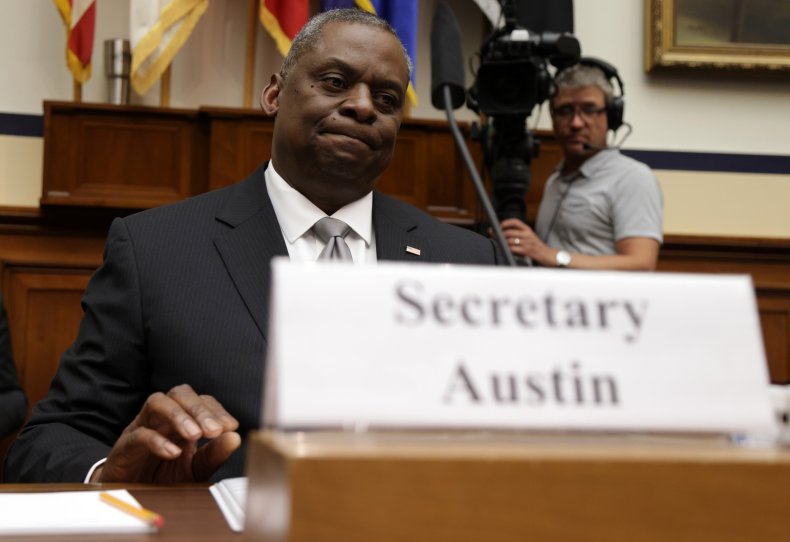 Gaetz said that Austin's comments about the military not embracing CRT were "particularly helpful," while adding that he believes "the ideology" of CRT "is not appropriate." He then accused Austin's senior adviser Bishop Garrison of being a "critical race theorist."
"It is particularly concerning to me that you have hired a critical race theorist to give you advice on personnel matters and that person is Bishop Garrison," Gaetz said. "Could you enlighten us as to what advice Mr. Garrison have given you and are you concerned that, while you testify publicly to our committee that the department doesn't embrace critical race theory, you have hired someone who is precisely a critical race theorist?"
"This is the first I've ever heard Mr. Garrison being described as a critical race theorist," Austin replied. "I trust my leadership from top to bottom that they will give me fair and balance and unvarnished input."
Gaetz could later be seen shaking his head in disapproval as Joint Chiefs of Staff Gen. Mark Milley dismissed "offensive" suggestions that members of the military would be attempting to be "woke" by merely reading about an academic theory that examines race in the context of systemic racism throughout American history.
"What is wrong with understanding—having some situational understanding about the country for which we are here to defend?" Milley said during the hearing. "I personally find it offensive that we are accusing the United States military, our general officers, our commissioned, non-commissioned officers of being 'woke' or something else because we're studying some theories that are out there."
Newsweek reached out to the DoD and the office of Gaetz for comment.