Dehydrated Monkeys With 'Sunken Eyes' Found Suffering at UC Berkeley Lab
Monkeys at a laboratory at the University of California, Berkeley were found to be suffering from dehydration the United States Department of Agriculture (USDA) has said.
In an inspection report from May 18, the USDA cited three separate incidents where macaque monkeys were found not to be receiving proper care.
Macaques are sometimes used by scientists to study medical conditions and diseases. However, labs must comply with the Guide for the Care and Use of Laboratory Animals.
On March 22, veterinary staff found a macaque at Berkeley with "sunken eyes, and dry crumbling stool." There was also no urine in the enclosure. These symptoms were "consistent with dehydration," the USDA said.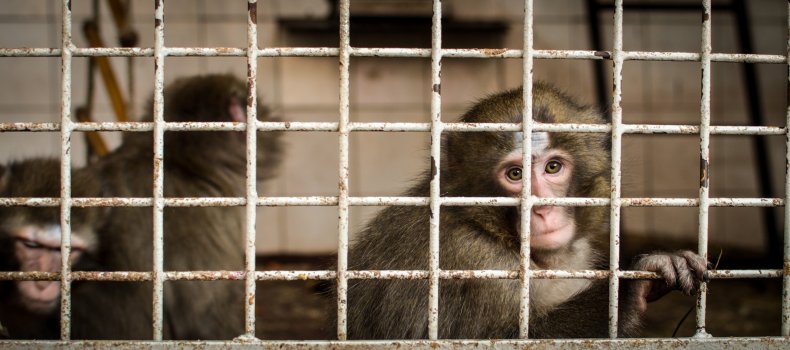 According to the USDA, the monkeys were supposed to be on a water regulation schedule, where they were weighed on a regular basis, "at least weekly," to determine how much water they needed. However, the USDA found that laboratory staff had failed to do this.
Veterinarians retrained staff following the incident, "on methods to monitor general health and dehydration." However, not long afterwards, on May 3, two more macaques were found with similar symptoms.
"Both animals had dry, pellet-like feces and scant urine, and both drank readily when offered water," the report said.
One of the animals in particular was "found to be recumbent, not eating, and had sunken eyes."
"The lab failed to ensure that the animals under their care received adequate hydration," the USDA report said.
On May 3, a collar that had been placed around a monkey was found to be too tight, causing "skin lesions."
"The clinical veterinary staff anesthetized the animal and removed the collar, and lesions encircling the animals' neck were appropriately treated. The animal has fully recovered," the USDA said.
However, Berkeley was also cited for failing to notice that the collar was too tight and causing injury.
"Failure to recognize injuries or illness can cause unnecessary pain and distress, and worsen the prognosis for recovery. Animals must be observed on a daily basis, with any issues being reported promptly to the attending veterinarian or their proxy," the USDA said.
It said that veterinary staff and the Institutional Animal Care and Use Committee are "taking steps" to ensure that water regulation guidelines are adhered to.
A UC Berkeley spokesperson told Newsweek in a statement on Monday that the issues identified with the monkeys were "immediately addressed and corrected; and the monkeys made a complete recovery."
"UC Berkeley officials proactively reported the matters to our federal oversight agencies, the USDA and the Office of Laboratory Animal Welfare (OLAW). In response to the campus' investigation and review by our Institutional Animal Care and Use Committee (IACUC), laboratory personnel have been provided with supplemental training and research protocols have been updated to prevent future incidents," the spokesperson said.
"We acknowledge the seriousness of these incidents. We consider any animal care violation of policies or protocols to be serious, and individuals who violate those policies are subject to disciplinary action that can include consequences as severe as loss of employment. Berkeley has a strong and well-established track record of responding to, and self-reporting animal welfare issues and/or research violations to federal authorities. We are committed to providing appropriate care for all animals used in research, teaching or testing, and minimizing use of animal research when other alternatives are available."
Animal rights nonprofit organization People for the Ethical Treatment of Animals (PETA) has previously flagged instances regarding monkeys at UC Berkeley to the USDA.
In a statement posted online on June 16, PETA Senior Vice President Kathy Guillermo, said the university "should lose its license for conducting experiments on animals."
"What is even more alarming is that these monkeys were being used in a study for which they had been kept perpetually thirsty in order to coerce them to cooperate with experimenters for a sip of fluid. This is despicable—but unfortunately common—abuse by monkey experimenters.
"These violations follow PETA's May 12 complaint to the USDA after we uncovered documents revealing that a monkey had died of suffocation after becoming entangled in a chain inside a cage and that another monkey, subjected to brain surgery, had been administered expired painkillers. This mess of a university needs to stop tormenting animals and implement PETA scientists' Research Modernization Deal, a strategy for replacing archaic, failed experiments on animals with high-tech, cutting-edge technology."
Correction 06/23/22 2.28 a.m. ET: The headline of this article has been corrected to make clear the laboratory from the report was a laboratory at UC Berkeley, not Berkeley Lab.