Delta CEO Ed Bastian Blasts Georgia Voting Legislation, Says 'Right to Vote Is Sacred'
Delta Air Lines CEO Ed Bastian issued a memo on Wednesday calling Georgia's voting bill "unacceptable."
"Since the bill's inception, Delta joined other major Atlanta corporations to work closely with elected officials from both parties, to try and remove some of the most egregious measures from the bill," Bastian, the CEO of the Atlanta-based airline, wrote in the memo. "We had some success in eliminating the most suppressive tactics that some had proposed. However, I need to make it crystal clear that the final bill is unacceptable and does not match Delta's values."
Bastian stated that "the right to vote is sacred," and that "after having time to now fully understand all that is in the bill...it's evident that the bill includes provisions that will make it harder for many underrepresented voters, particularly Black voters, to exercise their constitutional right to elect their representatives. That is wrong."
Bastian's statement comes after the election bill, SB202, was passed through Georgia's legislature and signed into law by Governor Brian Kemp. The legislation includes a number of changes to voting in the state, such as limiting the number of mail ballot drop boxes; decreasing time residents have to request an absentee ballot; requiring residents to present a photo ID when submitting a mail-in ballot; and making it a crime to provide food and water to voters who are waiting in line to vote.
The legislation also strips the secretary of state and local election officials of their authority, allowing the Republican-controlled legislature to elect their own chair of the state's election board and appoint their own election officials.
As he signed the bill, Kemp said: "After the November election last year, I knew, like so many of you, that significant reforms to our state elections were needed."
In a statement previously sent to Newsweek, Kemp's office wrote: "The Governor was proud to sign S.B. 202 to make it easier to vote and harder to cheat in the Peach State."
While the bill was signed amid claims of widespread voter fraud in the state, there is no evidence of this issue during the election, which Bastian noted in his statement.
"The entire rationale for this bill was based on a lie," the Delta executive wrote.
On Wednesday, Kemp wrote to Newsweek, "Throughout the legislative process, we spoke directly with Delta representatives numerous times. We worked alongside legislative leadership to expand voting opportunities for Georgians, while also taking steps to further secure the ballot box. At no point did Delta share any opposition to expanding early voting, strengthening voter ID measures, increasing the use of secure drop boxes statewide, and making it easier for local election officials to administer elections—which is exactly what this bill does."
"Today's statement by Delta CEO Ed Bastian stands in stark contrast to our conversations with the company, ignores the content of the new law, and unfortunately continues to spread the same false attacks being repeated by partisan activists," Kemp added. "The truth is the Election Integrity Act expands voting access and protects the sanctity and security of the ballot box."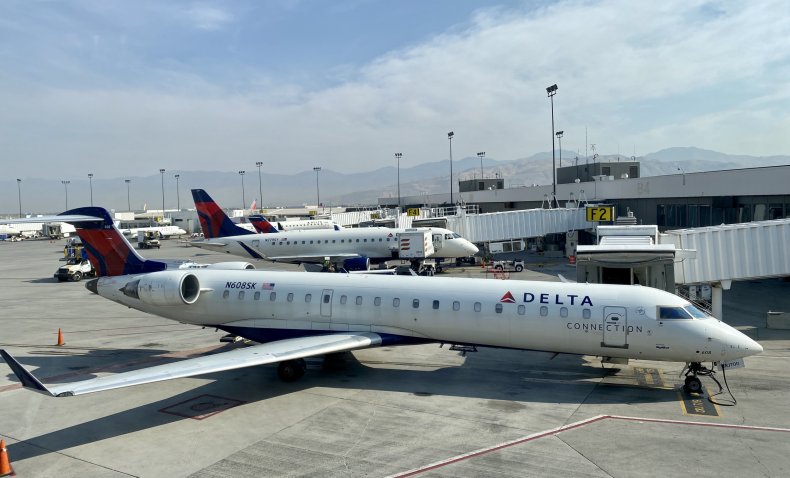 Bastian's view of the new election bill in Georgia is slightly different than his previous opinion, which he expressed in a statement issued on March 26.
"The legislation signed this week improved considerably during the legislative process, and expands weekend voting, codifies Sunday voting and protects a voter's ability to cast an absentee ballot without providing a reason," the Delta CEO wrote in the statement last week. "We are committed to continuing to listen to our people and our communities, and engage with leaders from both parties to ensure every eligible employee and Georgia voter can exercise their right to vote."
Bastian was met by criticism from many in response to his March 26 statement, prompting #BoycottDelta to trend on social media.
Other major companies based in Georgia, including Coca-Cola, have been under scrutiny for not being more vocal about the new legislation. In a recent statement to Newsweek, New Georgia Project Action Fund CEO Nsé Ufot said: "SB 202 is not commendable in the least. It represents everything Republican lawmakers are fighting for: a rollback of voting rights for Black and Brown communities, new voters, and young people in Georgia. Delta, Coca-Cola, and the Georgia Chamber of Commerce's praise of this bill is a betrayal. It shows they are ready to dismantle the freedom to vote alongside the Republican lawmakers they so willingly support,"
Newsweek reached out to Delta for comment, but did not receive a response in time for publication.
Updated March 31, 2021, 12:02 p.m. ET, to include a statement from Georgia Governor Brian Kemp.