Delta Denies Rumor of Pilot Who Died From COVID Vaccine Mid-Flight
Delta Airlines has disavowed reports of a pilot who died from a COVID-19 vaccine in the middle of a flight.
"Delta is aware of reports suggesting one of the airline's pilots passed away from vaccine complications while operating a flight, resulting in an emergency landing. All of these allegations are false," the company's statement, released Tuesday evening, said.
"The pandemic has been an incredibly tragic time for many, and our hearts go out to the hundreds of thousands of families who have passed away from the horrific virus," the statement concluded.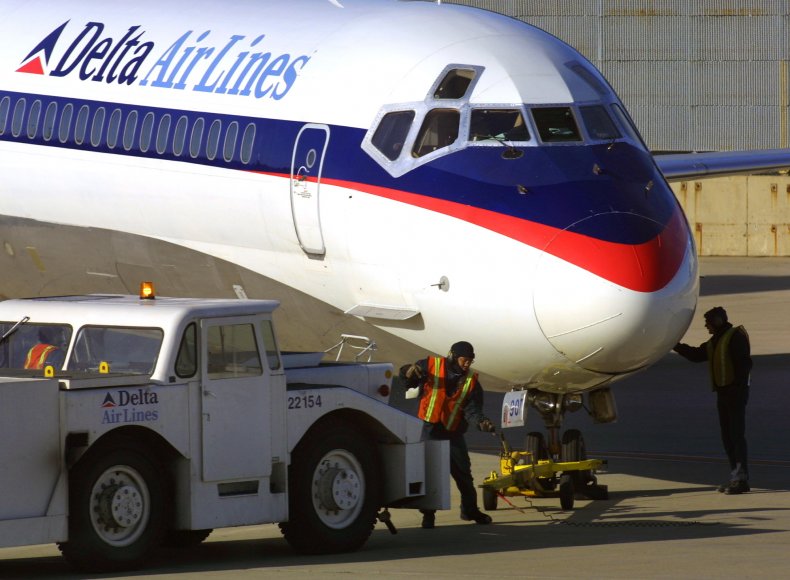 Reports of the dead pilot have circulated through social networks and right-wing media. None of the reports have named the pilot or details of the pilot's flight.
In a recent broadcast of The Stew Peters Show, a videocast and podcast hosted by an anti-vaccination activist, Peters and his guest repeated the story.
Peters' guest, Dr. Jane Ruby, attributed the story to an unnamed source who was allegedly connected to a Delta flight attendant.
Ruby is not a medical doctor, according to PolitiFact. Her website describes herself as a health economist and "New Right political pundit" with a doctorate in psychology.
She has previously claimed that over 99 percent of the Pfizer/BioNTech COVID-19 vaccine consists of a nanoparticle called graphene oxide which was only added "to murder people," Forbes reported.
The three main COVID-19 vaccines approved for use in the U.S. only contain sugars, acids, acid stabilizers, fats and messenger ribonucleic acid (mRNA). Graphene oxide is not found in any of the COVID-19 vaccines, according to the U.S. Centers for Disease Control and Prevention.
In his broadcast about the dead pilot, Peters said, "Delta Airlines is keeping this from the media.... We're assuming or speculating that this happened within the last two weeks."
Peters then asked any Delta employees who worked on the flight to contact him with any additional information.
His previous broadcasts have claimed that the COVID-19 vaccine contains the "final variant" of the virus which is part of an "AI alien extinction plan."
Numerous studies cited by the CDC and the World Health Organization have found that the vaccines' side effects are rare and rarely lethal.
The story about the pilot may be circulating among anti-vaccination activists in an attempt to sway public opinion against Democratic President Joe Biden's federal vaccine mandate requiring vaccinations for all employees of major airlines with federal contracts.
Delta Airlines is the only major U.S. airline that hasn't yet required vaccines for all its employees.
Current Delta employees who choose not to get vaccinated must pay a $200 monthly penalty starting in November, The Atlanta Journal-Constitution reported. They must also wear face masks and take weekly COVID-19 tests. The company requires new hires to be vaccinated.
Last week, Delta said that 84 percent of its workforce had already been vaccinated.
Newsweek contacted Delta Airlines for comment.