Delta Passenger Refuses to Wear Mask, Exposes Himself, Throws Can on 8-Hour Flight: Report
A Delta Airlines passenger could spend years in prison after causing numerous disturbances on a recent flight from Ireland to the U.S.
On January 7, Shane McInerney, 29, was traveling from Dublin to New York City when he allegedly refused to comply with a mask mandate despite repeated insistence from the crew.
At one point, after complaining about the food served during the flight, McInerney got out of his seat and pulled down his pants, exposing his buttocks to other passengers and members of the flight crew, according to Sky News, which reported on legal papers filed in New York. McInerney allegedly became belligerent when confronted by the pilot and threw a can that struck another passenger.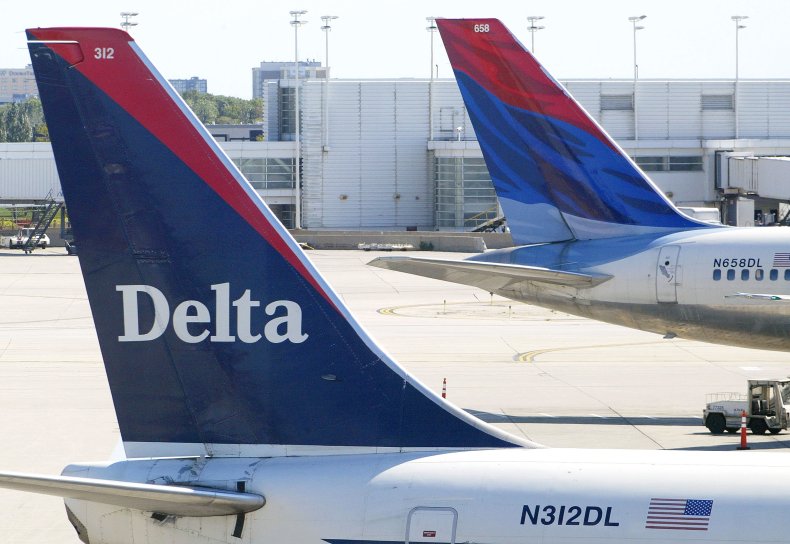 McInerney, from Galway, Ireland, continued his unruly behavior as the craft arrived at John F. Kennedy International Airport. As the descent began, he stood in the aisle and refused to sit down. He was taken into police custody after the landing was completed.
For his antics on the flight, McInerney is now charged with interfering with a flight crew. The charge carries a maximum sentence of 20 years in prison. He was released on bail after making an appearance in court last week.
In response to the incident, Delta Airlines told Sky News that it "has zero tolerance for unruly behavior at our airports and aboard our aircraft as nothing is more important than the safety of our people and our customers."
In social media profiles linked to him, McInerney describes himself as a former soccer player and coach. He appeared to be traveling to take on a new teaching job in Daytona Beach, Florida.
"Great to be back in the sunshine state," he wrote in one post, accompanied by a picture of himself in Daytona. "Blessed to call this place home for the next few months."
Newsweek reached out to Delta Airlines for a comment on this story.
Instances of unruly passengers on airline flights have become increasingly common in the past few years, with refusal to comply with mask rules being a common factor. On Wednesday night, a flight from Miami to London was forced to turn around after only an hour due to a woman refusing to wear a face mask. Once the craft landed back in Miami, all passengers had to deplane and the flight was canceled.