As Delta Variant Surges in Louisiana, Over 3,000 New Orleans Students and Staff Quarantine
More than 3,000 students and staff in the NOLA Public School District in New Orleans have been placed under quarantine due to potential exposure to COVID-19, according to the system's weekly case tracker.
In its first numbers provided since classes started at all of its campuses, the school district, which updates its tracker every Monday, reported there are 299 active COVID-19 cases and 3,0004 contacts quarantined.
Positive cases have more than doubled since last week, when many schools had yet to reopen for the 2021-2022 school year. The number of quarantined individuals has increased nearly fivefold from last week's 638.
The number of quarantined students and staff, as of Monday, represent almost six percent of the school populations. The school with the highest number of quarantined individuals is KIPP Morial School, which reported 362 people had possibly been exposed to the virus.
The growing number of cases and quarantining in Louisiana's most populous city signals a rocky start to school reopenings in a state that is facing a surge in coronavirus cases due to a combination of the highly transmissible Delta variant and Louisiana's low vaccination rates.
With only 38.3 percent of its population fully immunized, Louisiana has the fifth-lowest vaccination rate of any state in the country. Unvaccinated patients make up 91 percent of the state's COVID-19 hospitalizations and 83 percent of this month's COVID-related deaths.
Louisiana's pediatricians had been wary that low vaccination rates could have dangerous consequences for children under 12, who are not yet eligible to receive the vaccine—especially as schools reopen for in-person learning in the fall.
"We do see going back to school as potentially creating more opportunity for spread of the virus but what we saw in the spring and the last year, is how effective schools could be at mitigating by using masking and distancing," Ochsner Health's Pediatrics System Chair Dr. William Leannarz previously told Newsweek.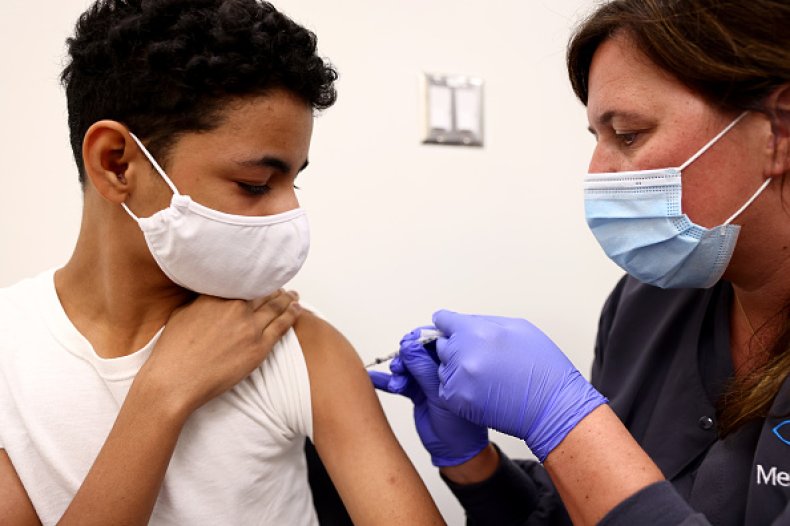 While NOLA Public Schools district has required all students and staff—regardless of vaccination status—to wear masks inside school building, the rapid spread of the Delta variant across the state has caused Louisiana to be one of three states facing the worst outbreaks in the country. Florida and Mississippi have also seen alarming upticks in coronavirus cases in recent weeks.
"This week's data is reflective of community spread and reflective of the increases in cases in the greater New Orleans area," Dr. Benjamin F. Springgate, the school district's medical advisor, said on Monday.
He added, "While [this week's] numbers are high, quarantine reflects our mitigation efforts in action that help to keep students and staff safe. As a result of these mitigation efforts, COVID-19 transmission in our schools remains very uncommon."
School officials have said they want to continue in-person classes, pointing to last year's school test scores, which showed a significant decrease in student performance.
But the growing number of cases has some parents pushing for a virtual option for their children.
On Monday night, several parents and educators gathered outside of KIPP New Orleans Schools headquarters to demand an option for online learning.
In a statement, NOLA Public Schools said the district "understands parents' concerns with in-person learning, but we'd like to reassure parents that we are following the science and the recommendations of federal, state, and local health experts."
"The American Academy of Pediatrics, the [Centers for Disease Control and Prevention], the [Louisiana Health Department], and the New Orleans Health department have analyzed the data and all agree the best place for children to be is in the classroom," the statement read. "The benefits include developing social and emotional skills, access to healthy meals and activities, and access to mental health support that cannot be offered through virtual learning."
The district also noted that data indicates students are more likely to contract COVID-19 off-campus than in school buildings.