Dem David Cicilline Seeks to Punish GOP Rep. Who Called Capitol Rioters 'Normal Tourists'
Democratic Rhode Island Representative David Cicilline is seeking support from Democratic House colleagues to censure three Republican representatives who minimized the danger of the January 6 Capitol rioters in a Wednesday congressional hearing.
Cicilline seeks to censure three Republican Representatives: Andrew Clyde and Jody Hice of Georgia and Paul Gosar of Arizona.
In comments made at Wednesday's House Oversight and Reform Committee hearing, Clyde compared the rioters to "normal tourist[s]" and Gosar said that slain rioter Ashli Babbitt was "executed." Hice lamented that four rioting Trump supporters were killed during the insurrection, but he didn't acknowledge the rioters' violence.
"As members of Congress, we have a responsibility to our constituents, the country and the Constitution to be truthful about facts even when it is inconvenient and uncomfortable," Cicilline wrote in a letter passed around to Democratic House members on Friday.
"These members cannot be allowed to rewrite history at their convenience by disrespecting the sacrifices made by Capitol police officers and downplaying the violent, destructive intent that rioters carried into this sacred building," Cicilline's letter continued.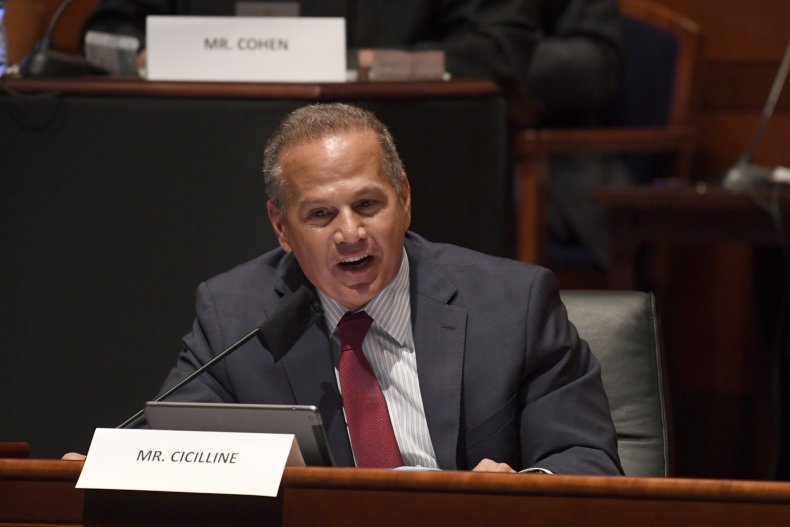 Cicilline's letter accused the three Republicans of "put[ting] their own political agendas above their country" and of "legitimizing a violent attack on our democratic institutions." He is expected to submit a resolution censuring the representatives as early as Monday.
During Clyde's comments at Wednesday's hearing, he said that the Capitol riot "was not an insurrection." Republican Wisconsin Senator Ron Johnson has made similar comments. Clyde added, "You know, if you didn't know the TV footage was a video from January 6, you'd think it was a normal tourist visit."
In contrast to usual tourists, the rioters sought to overturn the results of the 2020 election. While ransacking the Capitol, the rioters shattered windows while trying to access congressional chambers, smeared feces in the hallway and stole computer equipment, potentially constituting a national security breach.
Babbitt, the rioter that Gosar described as a "veteran wrapped in an American flag... executed" by Capitol Police, was trying to crawl through a broken window pane, destroyed by her fellow rioters, so that she and her fellow insurrectionists could enter the House Speaker's Lobby as legislators were still fleeing the chamber for their own safety.
In mid-April, the Department of Justice cleared the officer that shot Babbitt to death of any criminal wrongdoing. Federal prosecutors said the officer fired in self-defense and didn't violate Babbitt's civil rights.
In his Wednesday comments, Hice noted that four of the rioters who died during the insurrection were Trump supporters. Roughly 140 police officers were also injured during the insurrection, including one with a broken spine, a lost eye, lost fingers and some with brain damage.
One officer, Brian Sicknick, died of injuries sustained during the insurrection. Two officers present at the riot have since died by suicide and many others say they suffer post-traumatic stress disorder from the event.
D.C. Metropolitan Police Officer Michael Fanone, who was knocked unconscious by the rioting mob, has accused Republicans of "peddling bullshit" in their recounts of the day's events.
Newsweek contacted Cicilline's office for comment.