Dem. Lawmaker Says Brian Sicknick, Capitol Police Officer Killed in Riot, Should Lie in State
The Democratic lawmaker who represents the U.S. Capitol Police officer who died Thursday night of injuries sustained during the pro-Trump insurrection earlier this week said the slain law enforcement official deserves to lie in state at the very building he died defending.
The distinguished honor is typically only bestowed upon former presidents, military officials and members of Congress. Capitol Police Officer Brian Sicknick, who the department said died after being "injured while physically engaging" with rioters, would become the first officer to receive such honor and lie within the Capitol Rotunda—the sprawling and historical room that was overtaken during Wednesday's insurrection.
"He made the ultimate sacrifice while protecting those trapped in the Capitol amid a violent assault on our democracy itself," Rep. Don Beyer (D-Va.) said of his constituent. His district encompasses northern Virginia, directly across the Potomac River from the nation's capital. "Like others before him who died in defense of the people's representatives, he deserves to lie in state."
It will require congressional approval for Sicknick to lie in state. It is not yet clear whether he will be granted such honor.
The U.S. attorney's office in Washington, D.C., has opened a murder investigation into his death.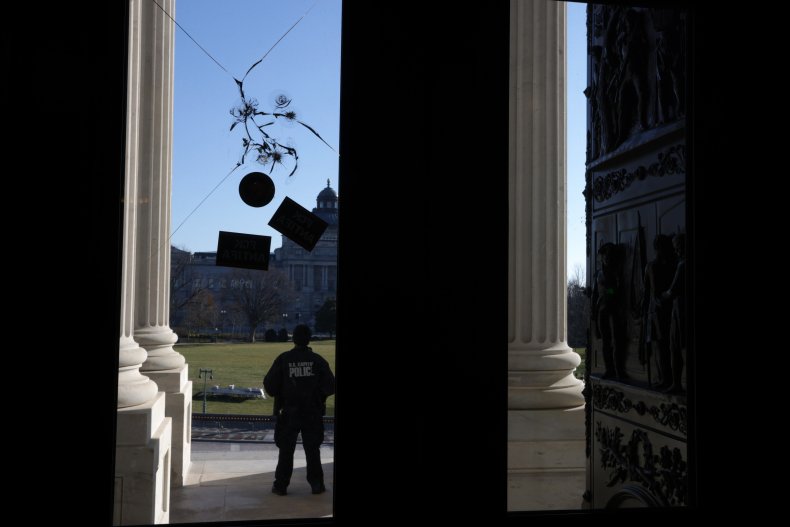 Beyer's call goes beyond just calling for Sicknick to lie in honor, a proceeding that is typically awarded to those with distinguished service in the nation who did not hold government office. Past recipients include civil rights activist Rosa Parks and evangelist Rev. Billy Graham.
In 1998, Capitol Police Officer Jacob Chestnut and Detective John Gibson, both of whom were killed on duty when a gunman breached the building, were lain in honor. The incident prompted security reforms, as did the 9/11 terrorist attacks.
Still, hundreds of men and women donning Trump paraphernalia swiftly flooded the halls of Congress after overwhelming the Capitol Police presence in and around the building. Frustrated lawmakers on both sides of the aisle have already forced swift changes in top security personnel and have launched investigations into law enforcement's lack of preparedness and the federal government's sluggish response.
Apart from Sicknick, four others died—a rioter who was shot by Capitol Police and three other Trump supporters who suffered nondescript medical emergencies.
After engaging with rioters, police said Sicknick returned to his division office Wednesday and collapsed. He was taken to a hospital, where he died from his injuries a day later. Sicknick was 42 years old, an Iraq War veteran and with the Capitol Police for over 12 years.
Officers from several local law enforcement agencies responded by holding a ceremonial wake near the Capitol. House Speaker Nancy Pelosi (D-Calif.) ordered that flags at the Capitol be flown at half-staff.
President Donald Trump—a self-described "law and order president"—has yet to acknowledge Sicknick's death. The White House released a statement Thursday which said they grieve "the loss of life that occurred yesterday" and also expressed sympathy for the families and friends of those that died, but have not publicly acknowledged Sicnick's death.
Acting U.S. Attorney for D.C. Michael Sherwin said Thursday that Trump could be investigated and charged in connection with the riots. Shortly before his supporters stormed the Capitol, the outgoing president addressed thousands of them near the White House, telling them he will "never give up" and "never concede," even as a joint session of Congress was meeting to certify President-elect Joe Biden's win.
At the same event, Trump's personal attorney Rudy Giuliani called for "trial by combat."
"We're looking at all actors here, and anyone that had a role and the evidence fits the elements of a crime, they're going to be charged," Sherwin said. "We are looking at all actors here, not only the people that went into the building."
Trump conceded the election shortly after Congress certified Biden's win via a statement issued by White House Deputy Chief of Staff Dan Scarvino. The president also acknowledged a change in administration in a message shared to Twitter and other social media on Thursday evening but has since said he will not attend Biden's inauguration on January 20 at the Capitol.
House Democrats are quickly moving forward with plans to impeach Trump—for a second time—as Vice President Mike Pence has so far ignored demands from Democrats and at least one Republican that the commander-in-chief immediately be removed by invoking the 25th Amendment.