Dem Senators Tell Mike Pence Not to Attend Amy Coney Barrett Vote After 5 Aides Test Positive for COVID
Senate Democrats do not want Vice President Mike Pence coming anywhere near the upper chamber on Monday, as Republicans prepare to confirm Amy Coney Barrett to the Supreme Court.
In a letter to Pence sent Monday, Democratic senators urged him not to attend.
Update: Pence did not attend the confirmation vote. Barrett was confirmed 52-48.
As vice president, Pence is president of the Senate, and has said he plans to attend the confirmation vote for the Trump nominee that is expected to occur around 8 p.m. Democrats don't want Pence in attendance because at least five aides to the vice president have tested positive for coronavirus in recent days.
"Not only would your presence in the Senate Chamber tomorrow be a clear violation of Centers for Disease Control and Prevention (CDC) guidelines, it would also be a violation of common decency and courtesy," top Democratic senators wrote to Pence in a letter sent Monday.
With Senator Susan Collins of Maine the only Republican to oppose Barrett's confirmation, Pence was not needed to break a tie. The vote was 52-48. Collins voted against Barrett because it is occurring so close to the election—not due to the merits of the nominee.
"Nothing about your presence in the Senate tomorrow can be considered essential," the Democrats continued. "Your presence tomorrow would be purely ceremonial."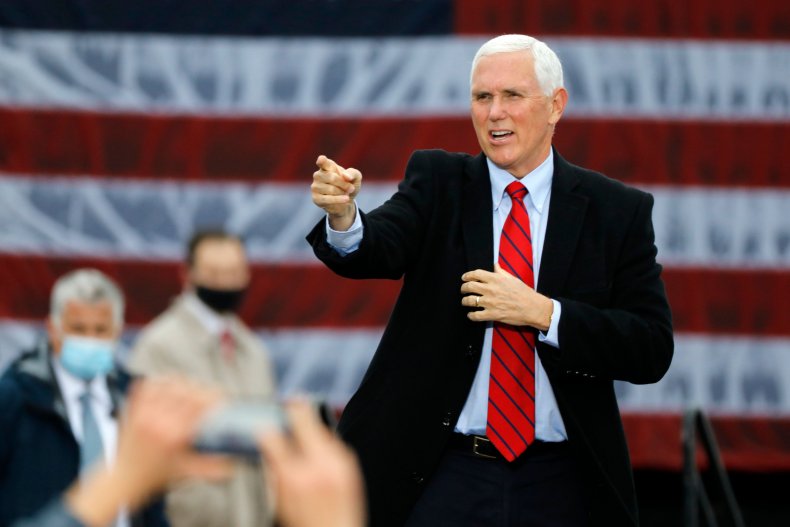 Pence and his wife both tested negative over the weekend. Pence again tested negative on Monday. The vice president has so far not altered his campaign travel plans, despite those around him testing positive for coronavirus.
Among those who've tested positive is Pence's chief of staff Mark Short. Pence's office said that while Short is considered a "close contact," Pence "will maintain his schedule in accordance with the CDC guidelines for essential personnel."
White House chief of staff Mark Meadows told reporters at the White House that Pence's plans are "in flux," though Pence said over the weekend that he "wouldn't miss that vote for the world."
A swearing-in ceremony for Barrett will take place at the White House Monday night, which Meadows said they'll do "the best we can to encourage as much social distancing as possible." The White House did not respond to Newsweek's inquiry about whether masks will be required.
A prior White House gathering to announce Barrett's nomination that had no social distancing resulted in a "super-spreader" event and is believed to have infected dozens of White House officials, Republican lawmakers and even President Donald Trump himself.
The Democrats who penned the letter to Pence included Senate Minority Leader Chuck Schumer (N.Y.), Minority Whip Dick Durbin (Ill.), Patty Murray (Wash.), Debbie Stabenow (Mich.), Elizabeth Warren (Mass.), Mark Warner (Va.), Amy Klobuchar (Minn.), Bernie Sanders (Vt.), Joe Manchin (W.V.) and Tammy Baldwin (Wis.).
"We believe that if you and President Trump finally began to take this crisis seriously, instead of taking actions that could further increase the spread," the Democrats said, "we would all be safer and better off."
This story was updated to provide context for why Sen. Collins is opposing Barrett. It was further updated to provide information about Monday evening's confirmation vote.