Demand for Netflix Health Warning on 'The Crown' Mocked on Social Media
Britain's Culture Secretary called for a Netflix warning telling viewers of The Crown that it is a fictionalized drama—but was mocked on social media.
Season Four of the hit show sees Emma Corrin bring to life Princess Diana's bulimia as Prince Charles maintains an affair with Camillla behind her back.
The cast have made clear in interviews the show uses artistic licence, with Emma Corrin telling talkshow host Tamron Hall this month: "Peter Morgan scripts are works of fiction."
However, calls have been mounting in the U.K. for a warning at the start of each episode.
Oliver Dowden, culture secretary in Boris Johnson's government, told the Mail on Sunday: "It's a beautifully produced work of fiction, so as with other TV productions, Netflix should be very clear at the beginning it is just that.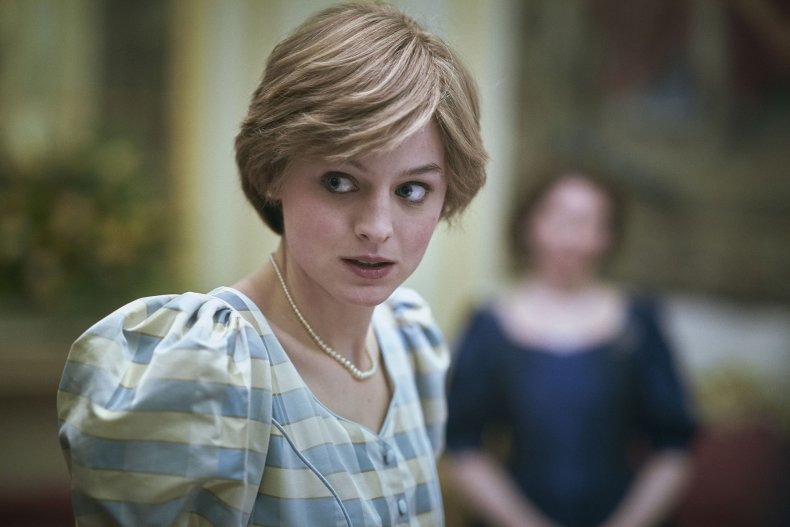 "Without this, I fear a generation of viewers who did not live through these events may mistake fiction for fact."
However, Twitter users were quick to suggest a similar message should be placed on the Prime Minister's own speeches.
Journalist Peter Stefanovic wrote: "Culture Secretary Oliver Dowden has demanded Netflix series The Crown comes with a disclaimer to make clear it is 'fiction.' A pity he hasn't made the same demand for each time Boris Johnson opens his mouth."
Scriptwriter Paul Blinkhorn wrote: "So @OliverDowden wants a disclaimer added to the start of each ep of @TheCrownNetflix ...but can he arrange for one to be included in all @10DowningStreet @BorisJohnson statements & interviews?? I fear a generation of viewers are mistaking fiction for fact."
Mary Kennan wrote: "@OliverDowden if you feel the Crown should have a fiction warning, perhaps you could ensure that @BorisJohnson's answers at PMQ also carry a fiction warning. It would be awful if anyone believed them to be factual."
Season Four tackles many real events, including Prince Charles' real affair with Camilla, Diana's real bulimia and the assasination of Lord Mountbatten by the IRA.
However, The Crown depicts private conversations behind palace walls, many of which will never have taken place, using words that were never spoken.
Even where accounts of the real-life conversations exist, Morgan often chooses his own fictional dialogue over a more faithful retelling in order to tell bigger stories through metaphor.
The series shows Princess Diana asking Queen Elizabeth II for help with Prince Charles and the monarch telling her not to "overplay to the gallery" on public appearances.
In reality, Diana claimed the queen told her more simply: ''I don't know what you should do, Charles is hopeless."
Michael Fagan, who broke into Elizabeth's bedroom, also criticized the show for inventing a political speech about Prime Minister Margaret Thatcher's social policies which he never made.
Morgan's past statements on the show may offer some insight, as he has described before how he likes to tell stories through metaphor.
Quoted in the Radio Times, he said: "Once something has a metaphorical possibility, it can then become interesting.
"It's quite possible, for example, to tell the story of Harry and Meghan through analogy and metaphor, if that's what you want to do."
Comedian Kieran Hodgson, whose sketch impersonating the show's stars went viral, wrote: "Oliver Dowden's team have been in touch asking me to clarify that my sketch of 'The Crown' is merely AN INTERPRETATION of events that may or may not have taken place in 'The Crown'.
"I encourage viewers to watch the REAL episodes of 'The Crown' and see the truth for themselves."
Another Twitter user wrote: "Breaking news: friends of Richard III want it acknowledged that the plays of Shakespeare are FICTION."
Netflix declined to comment.