DeMaurice Smith Wonders if Jon Gruden Emails Show Teams Are Making Race-Based Decisions
DeMaurice Smith, the Black executive director of the National Football League (NFL) Players Association, has wondered whether the racist emails of now-former Las Vegas Raiders coach Jon Gruden are proof that the NFL is making decisions based on people's race.
Gruden resigned Monday after The New York Times reported on offensive emails he sent 10 years ago to the Washington Football Team while working as a member of ESPN's Monday Night Football booth.
In one email, Gruden wrote that Smith "has lips the size of michellin tires." Gruden's other emails also contained homophobic and misogynist messages.
"What I'm interested in is, is there correspondence that suggests [NFL] teams are making decisions about coaches based on the color of their skin?" Smith told Bomani Jones, the host of ESPN's The Right Time podcast, on Wednesday.
"Are they actively hostile to players who have chosen to self-identify in various ways?" Smith continued. "Are they denigrating of people based on sexual preference or religious identity?"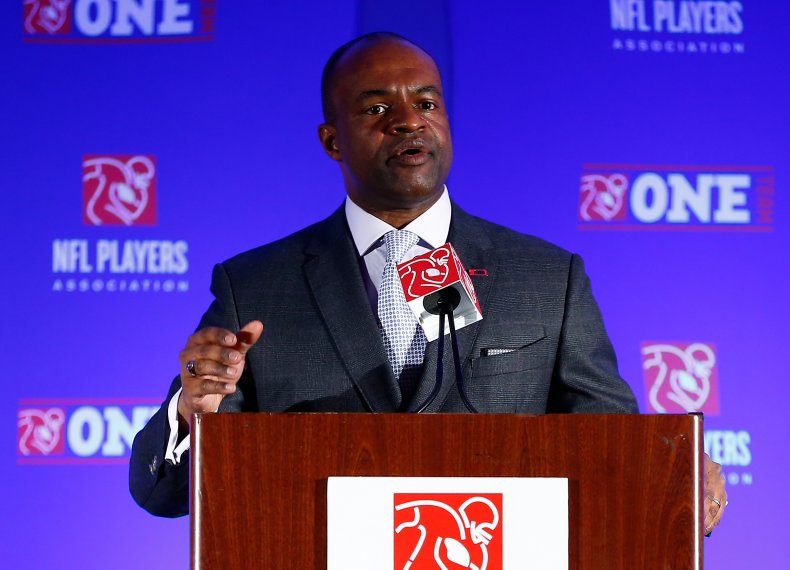 Smith said that when he first learned about Gruden's email, he was surprised that Gruden felt so comfortable airing such views with other industry professionals.
"It's a gross caricature that you and I would have expected from the '50s maybe, or the '60s," Smith told Jones.
Smith said that NFL fans and officials often wave off offensive statements as just part of the sports culture. Smith said he believes that NFL football "should be better than this. And I think that we shouldn't tolerate people treating other people as less just philosophically—that's morally repugnant to me."
"We've talked about diversity. We've talked about inclusiveness for years," Smith said. "How do we turn the corner and actually match our actions to our words?"
Smith told Jones that he had spoken privately with NFL Commissioner Roger Goodell about things the league can do to address racism and other prejudices.
Smith didn't reveal any details about those conversations. However, he said he believes Goodell "appreciates and is insensitive to the concrete, ethical things that I think that we need to confront."
In a Twitter thread published on Monday, Smith said that Gruden's racist email "confirms that the fight against racism, racist tropes and intolerance is not over."
"The powerful in our business have to embrace that football itself has to be better, as opposed to making excuses to maintain the status quo.... The news is not about what is said in our private conversation, but what else is said by people who never thought they would be exposed and how they are going to be held to account."
Gruden publicly apologized to Smith on last Sunday after his team lost a game to the Chicago Bears.
"All I can say is that I'm not a racist," Gruden said. "I can't tell you how sick I am. I apologize again to De Smith, but I feel good about who I am and what I've done my entire life. I apologize for the insensitive remarks."
"I had no racial intentions with those remarks at all," Gruden added. "I'm not like that at all. I apologize but I don't want to keep addressing it."
Newsweek contacted the NFL for comment.