Democrat Governors from California to New York Have Lost COVID Scapegoat Donald Trump
As the rollout of COVID-19 vaccines continues to stall across America, Democratic governors and state officials can no longer use former President Donald Trump as a scapegoat if doses are delayed while cases and deaths continue to rise.
Now that President Joe Biden occupies the White House with a new COVID plan, Democratic governors could find themselves more politically exposed than at any point in the past year, as blaming the federal government or Trump for any further delays to vaccine deliveries may fail to wash with voters, or put them on a collision course with party leadership.
Previously, Democratic governors were quick to point the finger at the White House when questions were raised about the pace of COVID-19 vaccine rollouts in their states.
Before Biden was inaugurated on January 20, California Governor Gavin Newsom said states needed more clarity on when they would receive further vaccine doses from the Trump administration as he sought to accelerate the state's sluggish rollout.
The California Democrat had promised to have 1.5 million doses of the COVID vaccine administered by January 17 when he issued the call for clarity. The Los Angeles Times reported last week that it was unclear whether Newsom had met the target, due to data collection issues.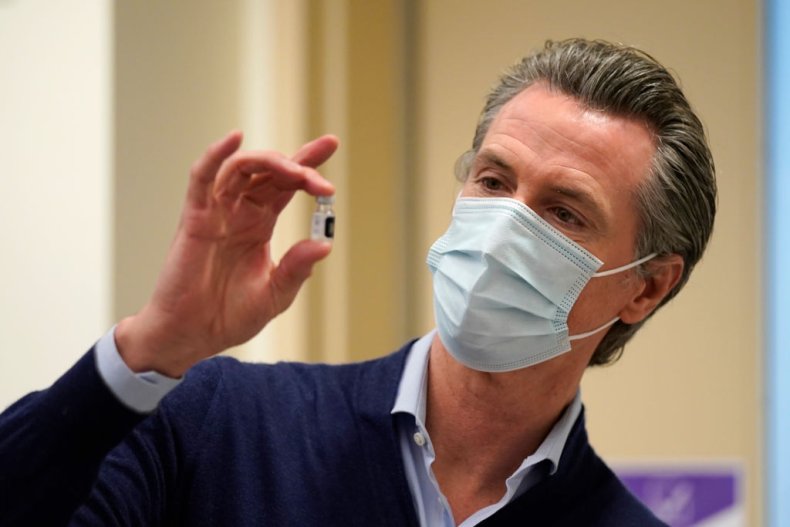 "It's simple—states need more vaccines and clarity of when we will be receiving them," Governor Newsom tweeted at the time. "[The Department of Health and Human Services] has achieved the opposite."
New York Governor Andrew Cuomo took a similar stance earlier this month, calling for the federal government to provide states with more doses as he wrote to Pfizer, the pharmaceutical firm and vaccine developer, asking to buy doses directly from the vendor.
"It is abundantly clear that these vaccines are the weapons that will finally win the war against COVID-19," the governor wrote. "But with hospitalizations and deaths increasing across the country this winter, we are in a footrace with the virus, and we will lose unless we dramatically increase the number of doses getting to New Yorkers."
After it was revealed that the Trump administration's touted stockpile of vaccine doses had been largely depleted in mid-January, Gov. Cuomo and several other Democratic state leaders were also quick to decry the federal government's "botched" rollout plan, despite the fact they were still sitting on unused supply.
"I am demanding answers from the Trump Administration. I am shocked and appalled that they have set an expectation on which they could not deliver, with such grave consequences," Oregon Governor Kate Brown tweeted. "This is a deception on a national scale."
The Washington Governor Jay Inslee added that state authorities were told by the Department for Health and Human Services that there was a "strategic reserve of vaccines" that appeared not to exist, and called on the Trump administration to "answer immediately" for the failure.
"The Trump Administration has not only botched the rollout of the COVID-19 vaccine, but also misled the American people," Michigan Governor Gretchen Whitmer tweeted. "After finally agreeing to release what remained of the federal vaccine reserve, we found out the truth — there isn't one."
According to Our World in Data analysis, roughly seven vaccine doses have been administered per 100 people in New York, Oregon and Michigan, as a little under six doses have been administered for every 100 people in Washington. California has fared worse, with around 5.5 doses administered per 100 people.
Overall, the U.S. had administered 6.2 doses for every 100 people as of Saturday, putting it behind the United Kingdom, the United Arab Emirates and Israel in the race to distribute the vaccine.
President Biden's Chief of Staff Ron Klain claimed the previous administration "did not really" have a plan to distribute the vaccine outside of care homes and into the community as a whole, and said his team would focusing on ramping up the rollout.
"As every American has seen, the way in which people get vaccines is chaotic, it's very limited. We've seen this factor all over the country where millions of doses have been distributed," Klain told NBC News' Meet the Press. "About half of that has been given out. So the process of getting that vaccine into arms, that's the hard process."
However, Dr. Anthony Fauci, the National Institute for Allergy and Infectious Diseases director, told reporters that the Biden administration was "certainly not starting from scratch" with its COVID plan, but was rather "amplifying" the existing vaccine rollout plan in a significant way.
Newsweek has contacted the White House for further comment. This article will be updated with any response.