Democrat Hopes Young Uvalde Survivor Can Sway GOP Into Gun Reform
New York Democratic Representative Carolyn Maloney hopes the upcoming testimony from a survivor of last week's mass shooting at Robb Elementary School in Uvalde, Texas, will move her fellow members of Congress to act on gun reform legislation.
The lawmaker, who is the chairwoman of the House Committee on Oversight and Reform, announced a hearing for Wednesday, June 8, in which Miah Cerrillo, a fourth-grade student at Robb Elementary, is scheduled to speak.
According to the press release on the committee's website, the hearing is entitled "The Urgent Need to Address the Gun Violence Epidemic."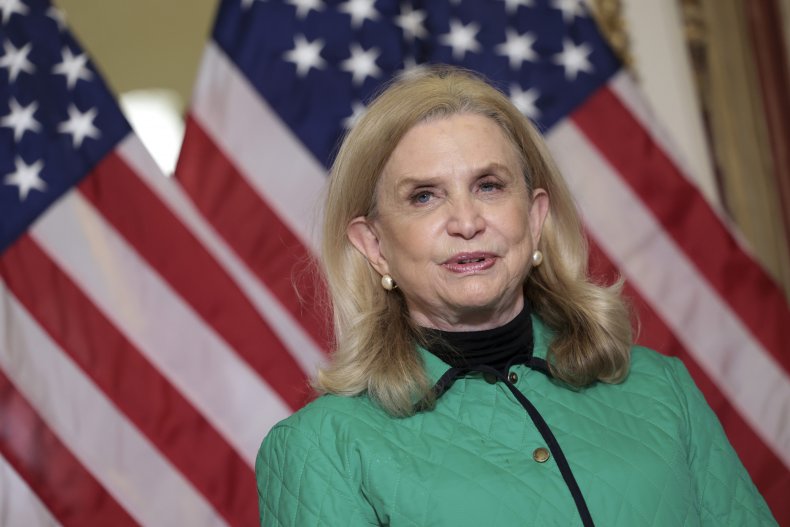 In response to Newsweek, the House Committee on Oversight and Reform sent a statement from Maloney where she mentions that "after 19 innocent children and two teachers lost their lives in Texas just ten days after the mass shooting in my home state of New York," she is putting her frustration and anger to work.
The congresswoman went on to add that "this hearing is ultimately about saving lives, and I hope it will galvanize my colleagues on both sides of the aisle to pass legislation to do just that."
Since the deadly school shooting, many have called for stricter gun legislation, including President Joe Biden. On Thursday evening, he addressed the nation and called on Congress to act, saying "enough is enough" as he mentioned Uvalde and the recent shooting in Buffalo, New York, in which 10 people were killed at a grocery store.
The president called for a ban on the sale of assault-style weapons, an improvement of background checks on those seeking to purchase guns, and raising the age to buy assault-style weapons from 18 to 21.
"The American people aren't asking for much—they just want to go to the grocery store, send their kids to school, go to church, and walk the streets without getting shot down. If the Senate can't meet that basic need, this country is in deep trouble," Biden said.
During his address on the recent shootings, Biden also brought up mental health, saying there is a "serious mental health crisis in this country, and we have to do something about it."
Cerrillo's grandfather said the fourth-grader, in order to avoid becoming another one of gunman Salvador Ramos' victims, used the blood of one of her slain classmates and smeared it on her face.
Her mother also said that since the shooting her daughter has experienced trouble sleeping at night and that her hair has been falling out in clumps.
The press release about Wednesday's hearing also states that it "will examine the urgent need for Congress to pass commonsense legislation that a majority of Americans support" and mentions that legislation includes banning assault weapons and improving background checks when buying a gun, "while respecting the rights of law-abiding gun owners."
Others who are scheduled to address the committee include the parents of Alexandria "Lexi" Aniyah Rubio, a victim of the Uvalde shooting, and Joseph Gramaglia, who is the police commissioner of the Buffalo Police Department.