Families of Children Who Survived Uvalde Shooting Fundraise for Therapy
The families of children who survived a devastating school shooting in Uvalde, Texas, on Tuesday are turning to GoFundMe to raise money for trauma therapy and other medical expenses.
In the aftermath of the attack, which left 19 children and two teachers dead, children have described the anguish they experienced when 18-year-old gunman Salvador Ramos entered their classroom at Robb Elementary School and began opening fire on their friends and instructors.
Some students recounted playing dead and smearing themselves in blood in order to survive the hour-long massacre, while others described hiding in silence and muting their sobs as the carnage unfolded. Multiple children made desperate calls to police, begging them to "please send help now," as more than a dozen on-site officers delayed confronting the gunman. Others, who sustained gunshot wounds and injuries from bullet fragments, are still recovering from the physical pain of the rampage.
Several family members of survivors have since developed GoFundMe pages to help their children, friends and relatives navigate an extraordinary level of emotional and physical trauma.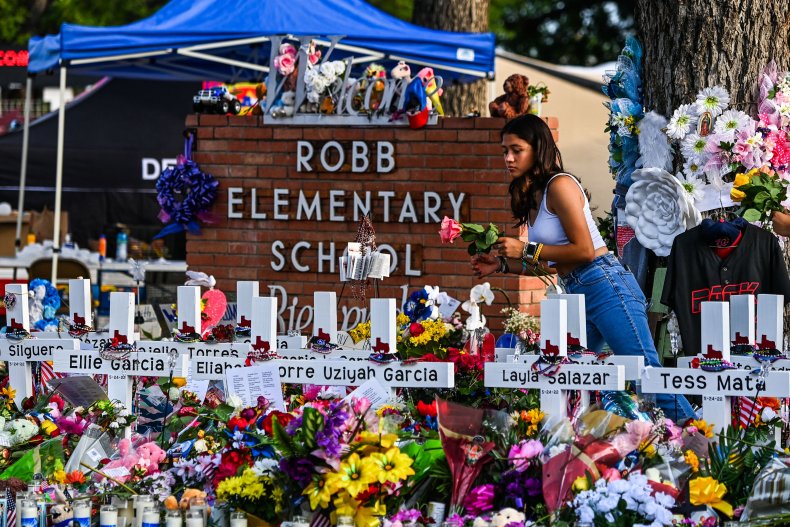 One such page is dedicated to 11-year-old Miah Cerrillo, who saw the gunman enter her classroom, look her teacher in the eye, and say "goodnight" before shooting and killing her. The gunman then opened fire on her classmates, injuring and killing multiple students within minutes.
Miah's grandfather, Jose Veloz, told The New York Times Friday that she dipped her hand in the blood of a slain classmate and smeared it on her face in order to avoid the gunman's attention. She then tried to stifle her screams and called 911 multiple times while the gunman entered an adjoining classroom.
Miah later told CNN, between sobs, that she didn't understand why the police didn't come quickly to help. Her mother told reporters that Miah's hair is now falling out in clumps and that she has difficulty sleeping at night.
"She will need a lot of help with all the trauma that she is going through," her mother, Abigail Veloz, wrote on the GoFundMe page. "My daughter is amazing person and is a very good sister to her siblings. we will need help with her medical expenses that were caused by the bullet fragment on her back."
As of Sunday morning, the page had raised more than $418,000 from an original goal of $10,000.
Another GoFundMe page has been set up for 10-year-old Noah Orona by his older sister, Laura Holcek. Like Miah, Noah told his parents that he pretended to be dead as he watched his teacher attempt to shield another student and die.
He survived being shot in the back, with a bullet exiting at his shoulder. When his parents were first allowed to see him at the hospital, he apologized for the blood on his clothes and for losing his glasses. The family told ABC News Friday that he was shaken up over the attack and had a difficult time speaking.
The GoFundMe donations will be used to help him with "physical and motor therapies, along with long term cognitive care for the mental trauma of the shooting," according to his sister.
"Your donation will be gratefully used to help him recover from the mental trauma that has left our little guy with trying to comprehend not only his wounds, but witnessing the suffering of his friends, classmates, and his beloved teachers," Holcek added. So far, the fundraiser has received over $138,000.
A third fundraising page was organized for 10-year-old Samuel Salinas by his father, Christopher Salinas. Samuel also told ABC News Friday that he heard the gunman say "you're all going to die," before opening fire. He said he thought the gunman was aiming for him, but that a chair blocked a bullet from directly hitting him. He added that he too played dead to avoid being targeted.
Samuel also told the news outlet that he is now having nightmares and no longer feels safe going to school.
"We are raising funds for Samuels medical expenses and emergency funds for anything he needs during this time. He is in recovery, thankfully. Our goal is to help Samuel get through this tragic time as healthy as possible," his father wrote on the GoFundMe page, which has so far raised over $10,000.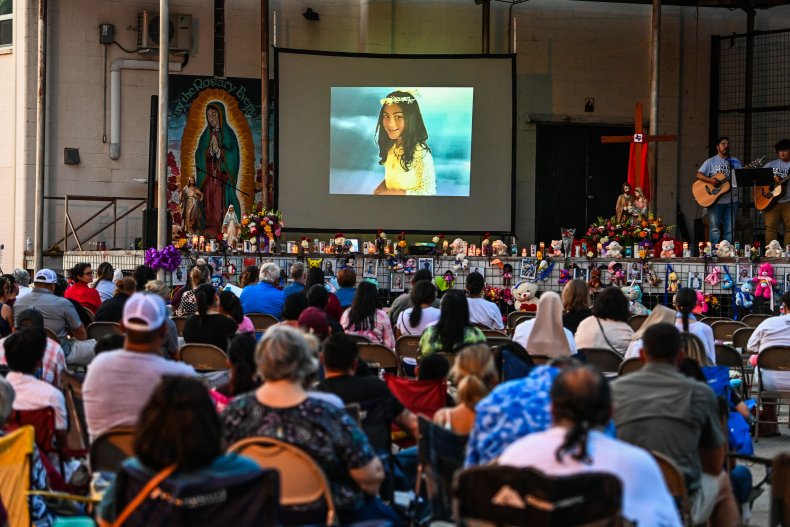 Another fund has been set up for 9-year-old Kendall Olivarez, who is currently hospitalized in San Antonio after being shot in the shoulder and enduring injuries from bullet fragments to her right leg and tailbone.
Her family told ABC10 News Friday that "she's very aware of what transpired and she's very aware of her classmates that are no longer with her, and that's made her incredibly emotional." Her aunt, Jennifer Olivarez, has set up a GoFundMe page for her hospital needs and recovery.
"She will be needing several surgeries until she is completely healed. All donations to my niece will be greatly appreciated and will go towards her long road to recovery," she wrote. So far, the page has raised over $111,000.
In addition to these pages, GoFundMe has verified a list of nearly two dozen fundraisers to help survivors and the family members of victims who were killed. Meanwhile, Texas Governor Greg Abbott has also opened up a mental health hotline for those directly impacted by the shooting, as well as family care assistance services and a donation page for the Uvalde community.
"Everyone in Uvalde has been profoundly impacted by this tragedy and is overwhelmed with deep grief and bewilderment, and as such, both state and private providers are coming together to offer assistance to everyone in the community," Abbott said in a statement. "Texans are stronger when we stand together in times of hardship, and all of Texas stands with the community of Uvalde."