Who Is Jaime Harrison? Meet Lindsey Graham's Challenger Who Just Raised $2.1 Million
Jaime Harrison, the Democratic National Committee official running to unseat Senator Lindsey Graham (R-S.C.), just raised a hefty $2.1 million in third-quarter fundraising efforts that ended Monday night.
Harrison's campaign announced Wednesday that the first-time Senate candidate "brought in more quarterly money than any other South Carolina Democratic Senate challenger in history."
Thanks to the third-quarter fundraising haul, where his average campaign contribution was $24, Harrison now has over $2.6 million cash on hand, compared to the less than $1.5 million he had at the end of quarter two on June 30, according to filing data from the Federal Elections Commission. Since the launch of his campaign in late May, Harrison has brought in nearly $4 million.
With degrees from Yale University and Georgetown University Law Center, Harrison is a 43-year-old associate chair of the DNC. Before politics, he helped low-income students get into college at the national non-profit organization College Summit. He also taught ninth-grade social studies for a period of time at his former high school.
Harrison would later join the staff of House Majority Whip James Clyburn (D-S.C.) before going on to work for the House Democratic Caucus, eventually being elected as the South Carolina Democratic Party's first African American chair. His latest endeavor includes his associate chair position at the DNC while running for the Senate.
But the longtime Washington lawmaker Harrison seeks to unseat will not be easy to beat. Graham, a prominent figure as chairman of the Senate Judiciary Committee and a close ally to President Donald Trump, is a familiar face in the conservative state. Graham was a House representative from 1995 to 2003. For the past 16 years, he's been one of two South Carolina's senators.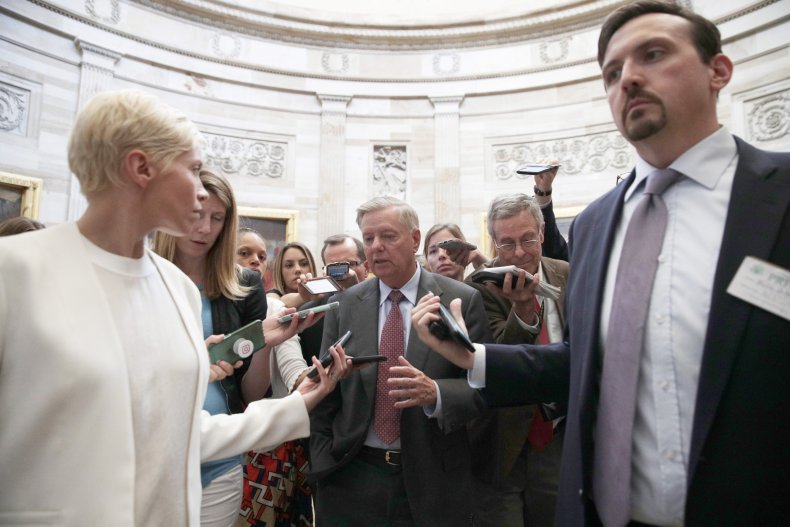 Graham's campaign has yet to release its third-quarter fundraising results, and data with the FEC is not yet available. At the end of the second quarter, Graham had nearly $6.5 million cash on hand after raising more than $3 million that quarter—a personal best for the Republican.
Still, Harrison's campaign expressed optimism after the recent fundraising haul, pointing to a recent poll—paid for by an organization that seeks to get black candidates elected and conducted by Change Research—that found its candidate was seven points behind Graham, and that 53 percent of South Carolina voters said they had an unfavorable opinion of their incumbent.
"Our campaign is growing and powered by grassroots supporters across South Carolina and the nation," Harrison said in a statement. "I am fighting to ensure that every South Carolinian has access to affordable health care, good paying jobs and student loan debt relief. This campaign is about bringing hope back into the lives of the people of the Palmetto State and bringing a spirit of public service back to the Senate."
Zack Carroll, Harrison's campaign manager, stated his opinion in more stark terms.
"Senator Graham assumes he'll coast to victory, integrity be damned," he said. "Lindsey Graham has changed, and folks across the Palmetto State are demanding we return to a time when our Senator had a spine and delivered for working families."