Democrat Mandela Barnes Defeats Ron Johnson in Wisconsin: Fox News Poll
Democratic Senate candidate Mandela Barnes would beat incumbent Republican Senator Ron Johnson if the midterm election were held today, new polling from Fox News shows.
Barnes, Wisconsin's lieutenant governor, won his primary this month with nearly 78 percent of the vote after the other Democratic candidates dropped out and endorsed him. Johnson previously promised not to seek more than two Senate terms but reneged on that pledge in January. At the time, he said that the country is "on a very dangerous path" under Democratic leadership, resulting in his decision to run again.
Despite being an incumbent, Johnson looks to be facing a difficult race.
Polling published Thursday by Fox News showed that Barnes leads Johnson by 4 points. Barnes has the support of half (50 percent) of registered voters and Johnson is backed by just 46 percent. The survey was carried out from August 12 to August 16 among 1,006 Wisconsin voters, with a margin of error of plus or minus 3 points.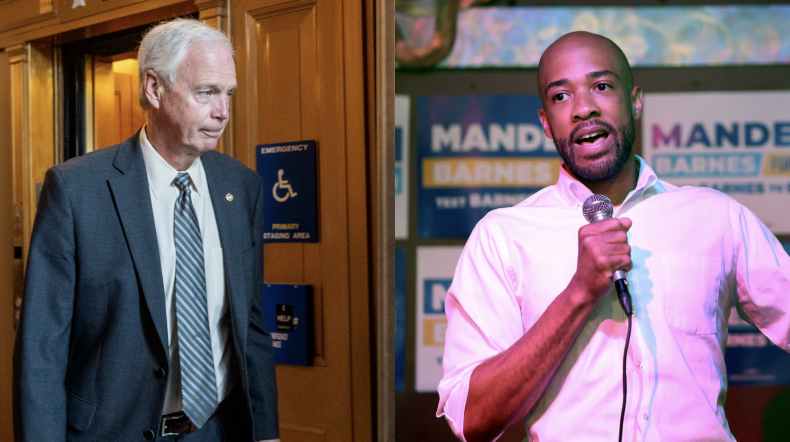 The polling also showed that Barnes has a better favorability rating. While the Johnson's favorability is under water (45 percent favorable vs. 51 percent unfavorable), Barnes is positive by a double-digit margin (48 percent favorable vs. 35 percent unfavorable).
Other recent polls have shown similar results. A survey by Marquette University Law School his month had Barnes in the lead by 7 points. The poll showed him with the backing of 51 percent of registered voters compared to Johnson's 44 percent support. It included 811 registered voters with a margin of error of plus or minus 4.2 points.
In 2016, Johnson won his first re-election campaign with the support of 50.2 percent of Wisconsin's voters. However, the state's other senator, Tammy Baldwin, is a Democrat. Wisconsin also elected Democratic Governor Tony Evers as well as Barnes to be lieutenant governor in 2018.
Although former President Donald Trump carried the state by a 0.7 percent margin in 2016, Wisconsin went for President Joe Biden in 2020 by a similar margin. It also went for Democratic presidential candidates in every election going back to 1988.
If Barnes manages to flip Johnson's seat blue, it could help Democrats shore up their slim majority in the Senate. Currently, there are 50 members of the Senate's Democratic caucus and 50 Republicans. Although the chamber is evenly split, Vice President Kamala Harris can cast tiebreaking votes as the Senate president.
Recent historical precedent suggests that Republicans are favored to gain seats in the midterm, but polling data and forecasts by analysts show Democrats could likely keep, and possibly even expand, their majority. However, they cannot lose one seat without forfeiting control of the Senate.