The GOP-Held Senate Seats Democrats Are Most Likely to Flip in Midterm
Democrats currently appear to be well-positioned to maintain their narrow control of the Senate and potentially even expand their majority in the upcoming November 8 midterm, with less than three months until Election Day.
Despite President Joe Biden's abysmal approval rating and widespread analyst predictions that Republicans will flip control of the House in the midterm, Democrats appear to be favored to keep control of the Senate. Polling and forecasts even suggest that Democrats could expand their slim majority by flipping seats currently held by the GOP.
News and polling analysis site FiveThirtyEight's forecast, last updated on Thursday morning, shows Democrats with a 61-in-100 chance of again winning control of the Senate in the midterm.
Recent survey results show the liberal party favored to win in Pennsylvania and Ohio Senate races, where the seats are presently controlled by Republicans. Two other races in Wisconsin and North Carolina appear to be neck and neck, while one recent poll in Florida shows a tied Senate race. Here's a closer look at those five Senate races and the candidates seeking to win over voters.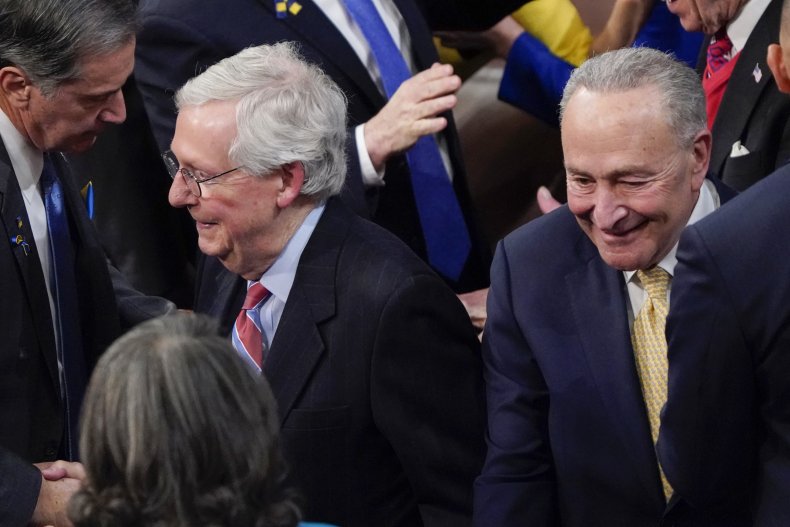 Ohio
Republican venture capitalist and author J.D. Vance, who was endorsed by former president Donald Trump, appears to be trailing his Democratic opponent, Representative Tim Ryan, to replace Ohio's outgoing GOP Senator Rob Portman. FiveThirtyEight's current average, last updated on Thursday, shows Ryan ahead by slightly more than 4 points. The Democrat is backed by an average 45.8 percent of Ohioans whereas the Republican is supported by 41.3 percent.
A survey conducted from August 1 to 3 by Momentive/SurveyMonkey for the Center Street PAC, which backs Republican and Democratic candidates, shows Ryan with a double-digit lead. In that poll, Ryan had the backing of 44 percent of registered voters compared to just 33 percent who supported Vance. The margin of error was plus or minus 3.5 points, with 974 registered voters included in the poll.
Pennsylvania
Trump's bet on celebrity physician Dr. Mehmet Oz in Pennsylvania looks to be floundering, with multiple recent polls showing Democratic Lieutenant Governor John Fetterman leading by double digits in the Senate race. The seat is currently held by retiring GOP Senator Pat Toomey, who voted to convict Trump at the conclusion of his second impeachment trial.
The current FiveThirtyEight average for the race, last updated on Thursday, shows Fetterman ahead by nearly 11 points. A recent Fox News survey conducted by
Beacon Research/Shaw & Company Research from July 22 to 26 showed the Democrat ahead by 11 points. While Fetterman was supported by 47 percent of registered voters, Oz was backed by only 36 percent. The poll included 901 registered voters with a margin of error of plus or minus 3 points.
Wisconsin
Incumbent Republican Senator Ron Johnson appears to be in a close race against Democratic challenger Mandela Barnes, Wisconsin's current lieutenant governor. Notably, Johnson had previously vowed not to seek more than two Senate terms, but he went back on that promise to seek a third term this cycle.
Polling by Marquette University Law School in mid-June showed Barnes with a 2 point advantage against Johnson. The survey had the Democrat at 46 percent and the incumbent GOP senator at 44 percent. It included 803 registered voters with a margin of error of plus or minus 4.3 points.
Furthermore, far more respondents to the poll said they viewed Johnson unfavorably compared to Barnes. Only 16 percent had an unfavorable view of the Democratic lieutenant governor, while 46 percent said the same of the Republican senator.
North Carolina
Similar to Ohio and Pennsylvania, North Carolina has an open Senate race, with Republican Senator Richard Burr retiring. Polling data shows a near evenly split race between Democratic candidate Cheri Beasley, the former chief justice of North Carolina's Supreme Court, and Republican contender Representative Ted Budd.
FiveThirtyEight's latest average shows Budd just 0.3 points ahead of Beasley. The Democrat has support from about 44 percent of North Carolina's voters and the Republican is backed by about 44.3 percent.
A recent survey carried out from August 4 to 6 by Blueprint Polling had Beasley leading Budd by 4 points. The Democrat was at 46 percent and the GOP contender was at 42 percent. The poll included 656 likely voters with a margin of error of plus or minus 3.83 percent.
Florida
Although many Democrats are hopeful that Representative Val Demings can successfully unseat incumbent GOP Senator Marco Rubio in Florida, the liberal contender currently appears to be fighting an uphill battle. However, one recent poll showed the two candidates tied.
Survey data from progressive groups Florida Watch and Progress Florida first reported by Florida Politics on Monday showed Demings and Rubio tied at 45 percent. The survey included 2,244 registered voters.
Prior to that, a July poll by Momentive/SurveyMonkey for Center Street PAC showed the Democrat trailing by 5 points among registered voters. Demings had the support of just 40 percent of voters compared to 45 percent who backed Rubio. That poll included 732 registered voters.
The Battle for Senate Control
Democrats currently hold control of the Senate with the slimmest possible of majorities. The legislative chamber is actually evenly split, with 50 Republicans and 50 members of the Democratic caucus. But Vice President Kamala Harris, as president of the Senate, can cast tie-breaking votes. As a result, Democrats cannot lose even one seat without simultaneously gaining another in the upcoming midterm, or control of the chamber will shift back to the GOP.
While polling and forecasts currently show Democrats favored to keep control of the Senate, historic precedent is against the liberal party. In June 2021, the University of Virginia's Center for Politics released an analysis of midterm elections going back to 1946. The analysis showed that the party of the president has on average lost more than three seats in the Senate during the midterms. The biggest loss has been 13 seats, while the largest gain has been just four seats.