Marco Rubio Chances of Losing to Val Demings With 3 Months to Midterm: Poll
With three months until November's anticipated midterm elections, a new poll shows that U.S. Senate candidates Marco Rubio and Val Demings are neck and neck in their Florida race.
A copy of the poll results from progressive groups Florida Watch and Progress Florida, which was dated August 3 and shared online Monday by media platform Florida Politics, showed that Rubio and Demings were tied at 45 percent. The results showed that Demings, a Democrat who serves in the U.S. House representing Florida's 10th congressional district, is competitive with the incumbent Rubio despite roughly one-third of respondents, 34 percent, saying that they cannot rate her on a favorability scale. Another 36 percent rated her as favorable, while 30 percent rated her as unfavorable,
For Rubio, who is running for reelection for the U.S. Senate position he has held since 2011, 43 percent of respondents rated him as favorable, while 52 percent rated him as unfavorable. Overall, Democrats and Republicans were tied at 46 percent on the "statewide generic ballot," according to the poll.
November's midterm elections are critical for both political parties as Republicans look to take congressional majorities and Democrats look to widen their presence in both chambers. A Demings victory over Rubio would be a huge win for Senate Democrats frustrated by moderate party members Joe Manchin and Kyrsten Sinema, whose opposition to filibuster reform is in contrast to Demings' support for the measure.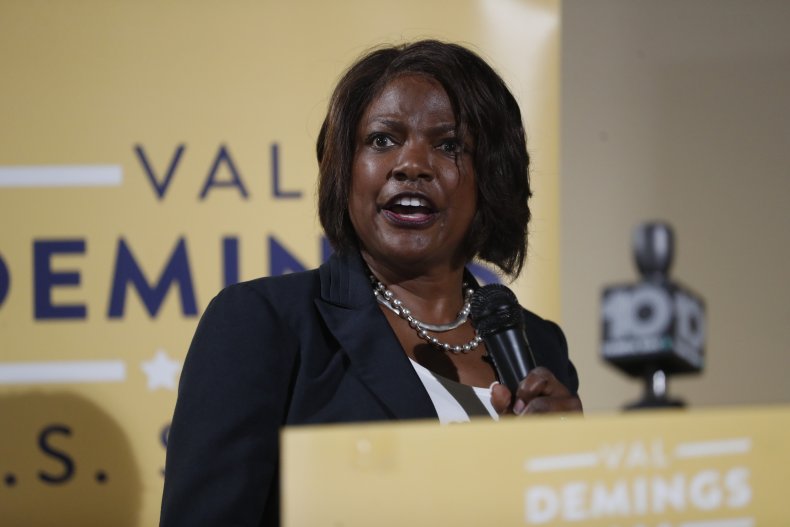 The poll was "weighted to reflect what would be the most pro-Republican electorate in recent history," and that the sample was 47 percent Republican and 44 percent Democrat by party identification.
"I'm tied with Marco Rubio 45-45. Floridians see him for who he is: a career politician and a weak leader," Demings said of the Florida Watch and Progress Florida poll findings on Monday. "When Florida needs him, he doesn't show up. We can win this race."
Voter registration data from the Florida Department of Elections showed that the number of active registered Republican voters in the state has risen since 2021. Of the 14,256,184 registered Florida voters in 2022, 5,157,343 were Republican and 4,955,022 were Democrats as of June 30.
The data shows that registered Democrats in Florida last outnumbered Republicans in 2020, with 5,315,954 compared to the GOP's 5,218,739. But the parties flipped the next year, when there were 5,080,697 registered Democrats and 5,123,799 registered Republicans.
A release shared with Newsweek by Demings' campaign noted the new polling while also highlighting what it said was a "coordinated ad buy" from the National Republican Senate Committee (NRSC) for Rubio's campaign. The release linked to a tweet from Florida Politics publisher Peter Schorsch on Monday that included a screenshot from ad tracking company Ad Impact of a spending alert referencing the NRSC and Rubio.
"As new polling shows that Chief Demings' momentum is only growing stronger, Marco Rubio is desperate to save his failing campaign, once again calling in his friends at the NRSC," Christian Slater, the communication director for Demings' campaign, said in a statement. "Floridians want a leader who will show up to fight for lower costs and safer communities, and it's clear that they're ready to send Chief Demings to the U.S. Senate in November."
Center Street PAC, which describes itself as a "nonpartisan political action committee focused on promoting rational governance and combating extremism," found in a poll released in July that Rubio was leading with 45 percent to 40 percent for Demings.
Newsweek reached out to Rubio's campaign for comment.
Update 8/8/22, 4:35 p.m. ET: This story was updated with a statement from Demings' campaign.