Five Democratic Midterms Candidates Who Could Make Joe Manchin Irrelevant
Democratic Senator Joe Manchin of West Virginia has caused anger among his party colleagues after he came out in opposition to Democrats' spending plans in the wake of June's inflation figures.
Manchin wields enormous power in the evenly divided Senate and has sunk parts of President Joe Biden's agenda in the past or forced major changes to proposed legislation.
His decision this week to oppose Democrats' spending plans to tackle climate change has once again highlighted the fact that the senator, who is considered a moderate, currently has the ability to derail his party's agenda.
Manchin effectively buried Biden's Build Back Better bill, a key part of the president's agenda, and opposes changes to the filibuster that would ease the passage of legislation.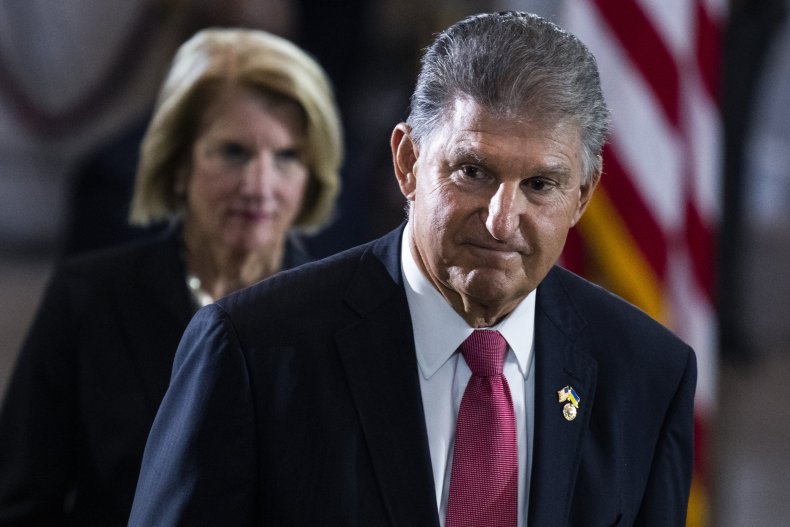 A single net gain in November could deprive Manchin of that power if the newly elected senator is willing to back the party's agenda. Two Democratic net gains would allow the party to overcome possible opposition from Senator Kyrsten Sinema of Arizona, who has sometimes joined Manchin's objections.
The Senate is currently divided between 50 Republicans, 48 Democrats and two independents who caucus with the Democrats. This has led to Vice President Kamala Harris using her casting vote on several occasions.
It is possible for Democrats to make gains but they will also need to keep their seats in close races, making Democratic incumbents even more important.
However, there is no realistic prospect of Democrats having 60 senators in the next Congress and they will therefore not have enough votes to overcome a Republican filibuster. Democratic gains will matter most when it comes to final votes on legislation - that's where Manchin's power could be diminished.
These five Democratic candidates could make Manchin irrelevant. Four out of five victories would be a major success for the party.
1. John Fetterman—Pennsylvania
The road to the Senate may run directly through Pennsylvania in 2022, where Republican Senator Pat Toomey is retiring. This seat would be a key pick-up for Democrats and the polls look good for their candidate, Lieutenant Governor John Fetterman.
Poll tracker FiveThirtyEight rates the race as a toss-up but Fetterman enjoys an edge over Republican candidate and Trump-endorsed celebrity surgeon, Dr. Mehmet Oz, in recent polling.
A Cygnal poll from June 17 to 19 found Fetterman leading Oz with 48 percent to the Republican's 44 percent, while a Suffolk University poll from June 10 to 13 showed Fetterman with a nine-point lead, beating Oz by 46 percent to 37 percent.
A win in Pennsylvania would be seen as a major victory for Democrats.
2. Mandela Barnes—Wisconsin
Republican Senator Ron Johnson is seeking re-election in Wisconsin and while he's favored to win according to FiveThirtyEight, Wisconsin appears to be the most likely Democratic win after Pennsylvania.
Lieutenant Governor Mandela Barnes is widely considered the frontrunner in the Democratic primary due to take place on August 9. A Marquette University Law School poll from June 14 to 20 showed Barnes leading Johnson with 46 percent to the Republican's 44 percent—a margin of just two points.
It's worth noting that the same poll found another Democratic primary candidate, former Wisconsin State Assembly member Tom Nelson, leading Johnson by 1 percent.
Nelson took aim at Manchin directly on Twitter on Friday, calling for filibuster reform and for making Manchin's vote "unnecessary to pass legislation."
3. Raphael Warnock—Georgia
Senator Raphael Warnock scored a major upset victory in January 2021 when he defeated Republican Senator Kelly Loeffler in a special runoff election. Now the Democrat is seeking a full term in a race that's rated as a toss-up.
Warnock is facing off against Trump-backed former professional football player Herschel Walker, whose campaign has been dogged by controversy surrounding several false claims and previously undisclosed children.
Nonetheless, in a state that has long been considered deep red though went for Joe Biden in 2020, there's everything to play for and Walker could clinch the seat.
A Data for Progress poll from July 1 to 6 showed Walker with 49 percent to Warnock's 47 percent. By contrast, a Quinnipiac University poll from June 23 to 27 found Warnock ahead with 54 percent to Walker's 44 percent.
A win in Georgia would go a long way to maintaining Democrats' hold on the Senate, while Warnock has been outspoken in his support for filibuster reform.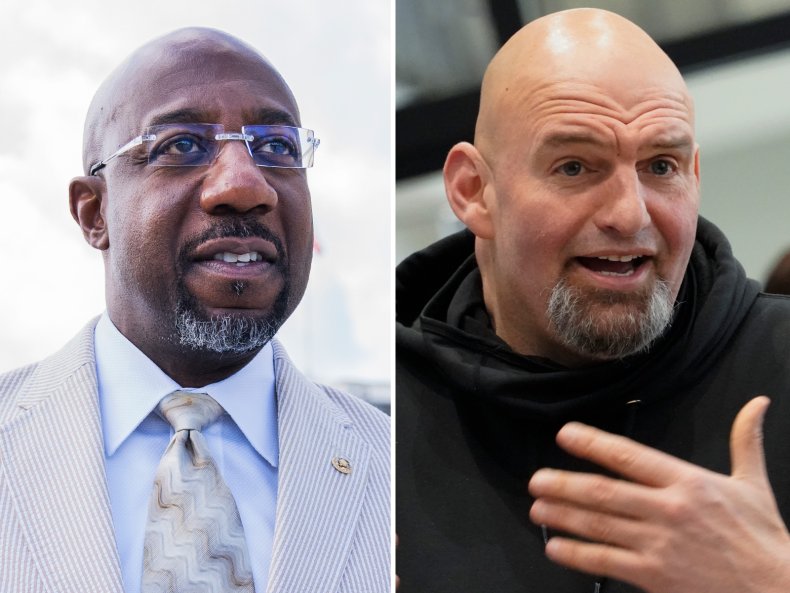 4. Mark Kelly—Arizona
It's another toss-up race in Arizona where Democratic Senator Mark Kelly is fighting to keep his seat and will likely face venture capitalist Blake Masters once the GOP primary has taken place on August 2. Masters has been endorsed by former President Donald Trump.
Unlike his Arizona colleague Kyrsten Sinema, Kelly supported President Biden's Build Back Better plan and efforts to reform the Senate filibuster in order to protect voting rights. He also scored a significant victory over Republican Senator Martha McSally in the 2020 special election.
Kelly, like Manchin, is considered a moderate and could be a key figure in a new Democratic Senate majority.
A Change Research poll from June 24 to 27 showed Kelly with 48 percent support to Masters' 39 percent, though recent polling on the race has been limited.
5. Catherine Cortez Masto—Nevada
Democratic Senator Catherine Cortez Masto is in a tough re-election fight in Nevada where she faces former Nevada Attorney General Adam Laxalt, who has been endorsed by Trump and has a history of financial controversies.
Cortez Masto had been largely supportive of the Build Back Better bill before Manchin's opposition doomed it, and she also supports reform of the Senate filibuster.
FiveThirtyEight rates the race as a toss-up but Cortez Masto has performed well in recent polling. An Emerson College poll from July 7 to 10 showed her leading Laxalt with 44 percent to the Republican's 41 percent.
A Change Research poll from June 24 to 27 showed the senator with 46 percent support to Laxalt's 43 percent.
There is also an outside possibility that Democrats could make gains in the Ohio and North Carolina Senate races, though both races are currently rated as likely Republican by FiveThirtyEight.