Mandela Barnes' Chances of Beating Ron Johnson in Wisconsin: Polls
Wisconsin Lieutenant Governor Mandela Barnes will become the Democratic Party's nominee to face off against GOP Senator Ron Johnson in November after his top opponents dropped out and endorsed his campaign this week—with polls suggesting the liberal candidate has a slim advantage.
Outagamie County Executive Tom Nelson suspended his Senate campaign on Monday, followed by Milwaukee Bucks executive Alex Lasry on Wednesday. State Treasurer Sarah Godlewski followed suit on Friday, saying that the Democratic Party should be united going into the election. Barnes appeared with Lasry and Godlewski as they made their announcements, praising their campaigns.
Although Wisconsin's primary won't take place until August 9, Barnes, who was already leading in the polls, is all but guaranteed to secure the Democratic nomination. The lieutenant governor and former State Assembly member is expected to face a difficult campaign as he seeks to unseat Johnson, who has served in the Senate since 2011.
However, the most recent polling for the race suggests that Barnes is narrowly ahead of the incumbent. A survey conducted by Marquette Law School from June 14 to 20 showed Johnson behind the Democratic challenger by 2 points.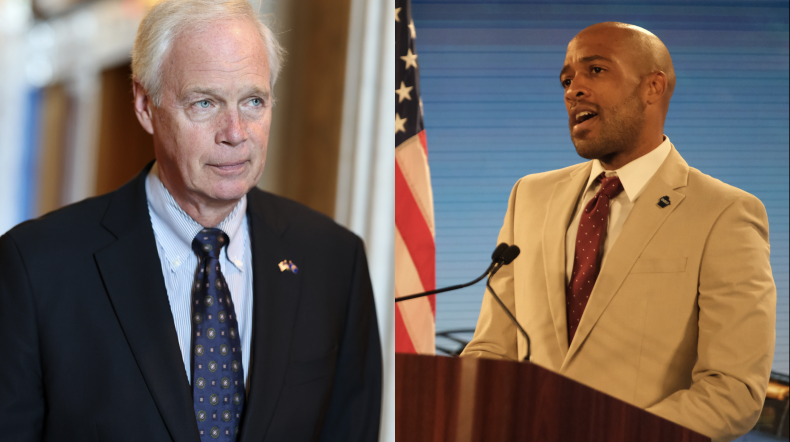 Barnes was supported by 46 percent of registered Wisconsin voters, and the senator was backed by just 44 percent. Meanwhile, 7 percent said they did not know who they would vote for, while 3 percent said they would vote for someone else, would not vote or refused to answer.
The poll surveyed 803 registered voters, with a margin of error of plus or minus 4.3 percent. That means Barnes' narrow lead is well within the survey's margin of error.
In a possibly positive sign for Barnes, far more respondents to the poll said they viewed Johnson unfavorably. Only 16 percent had an unfavorable view of the Democratic lieutenant governor, compared with 46 percent who said the same of the GOP senator.
A previous April survey by Marquette Law School showed that half of Wisconsin's voters did not believe Johnson actually cared about them. Poll respondents were asked, "Please tell me whether the following statement describes Ron Johnson, or not.... He is someone who cares about people like me." Fully 50 percent of voters said the statement "does not describe" the senator, and just 39 percent said it described him correctly.
An older poll, conducted last September by Clarity Campaign Labs for Barnes' campaign, showed the Democrat tied with Johnson. Both politicians were backed by 43 percent of likely voters. That poll surveyed 756 likely voters, with a margin of error of plus or minus 3.6 points.
Wisconsin has been viewed as a swing state in recent elections but has generally gone for Democratic presidential candidates in elections going back to 1988. However, in 2016 former President Donald Trump narrowly carried the state with a margin of about 0.7 percent. President Joe Biden then won Wisconsin in 2020 by the same margin, although he received a slightly higher overall percentage of the votes. In 2016, Trump secured just 46.5 percent of Wisconsin's votes. Biden garnered 49.5 percent four years later.
Wisconsin Governor Tony Evers is a Democrat who won the office in 2018. The state's other senator, Tammy Baldwin, is a Democrat as well. Baldwin was first elected to the Senate in 2012 and took office in January 2013. She won reelection with over 55 percent of the vote in 2018.
The June poll by Marquette Law School showed that Biden's approval rating is deep underwater with Wisconsin voters, which could bode poorly for Democrats in November. But Evers' approval rating remains above water.
Well over half (57 percent) of voters in the state said they disapproved of the job Biden is doing as president, and only 40 percent approved. That's still slightly higher than the 36 percent who view Johnson favorably. By comparison, 48 percent of Wisconsinites said they approved of their Democratic governor, and only 45 percent said they disapproved.
Notably, Barnes, 35, would become the first Black senator ever elected from Wisconsin if he manages to defeat Johnson, 67. The Democrat became the state's first Black lieutenant governor when he took office in 2019.