Wisconsin Called for Joe Biden, as Donald Trump Demands Recount
Wisconsin was called for Joe Biden on Wednesday afternoon, securing the former vice president a victory in a key swing state. Both CNN and the Associated Press called the state for Biden. NBC also projected Biden would win Wisconsin.
Wisconsin is one of six key battleground states that political experts predicted would shift the outcome of the 2020 presidential election.
In the polls leading up to Election Day, Democratic presidential nominee Joe Biden seemed to have a polling advantage over President Donald Trump among Wisconsin's registered and likely voters—with state polling averages compiled by FiveThirtyEight estimating his lead four days before Election Day to be greater than 8 points.
Trump won the state in 2016, but he did so by a narrow margin, receiving about 47.2 percent of the state's voters compared with Democratic challenger Hillary Clinton's 46.5 percent. An additional 3.6 percent of Wisconsin voters chose to support third-party candidate Gary Johnson of the Libertarian Party in 2016.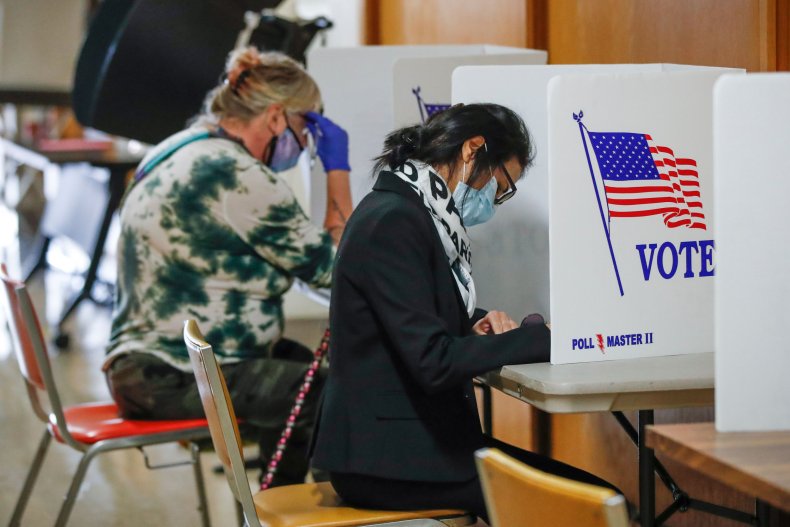 In 2016, the Associated Press called Wisconsin for Trump early the morning after Election Day, which pushed Trump above the 270 electoral votes needed to win the election. The AP called the presidency for Trump immediately after making its call about Wisconsin.
Wisconsin's 10 electoral votes went to the Democratic presidential candidate every year from 1988 through 2012. The state flipped for Trump in 2016, though state polls conducted prior to that election indicated that Clinton had a lead among the state's registered voters. According to FiveThirtyEight's 2016 predictions, Clinton had an 83.5 percent chance of winning the state. The polling analysis website said with four days remaining until Election Day that Biden had an 89 percent chance of winning the presidential election and a 94 percent chance of winning Wisconsin.
Due to Wisconsin's decades-long history of leaning in favor of the Democratic candidate in presidential races, Clinton decided against campaigning in Wisconsin four years ago while Trump visited the state multiple times in the months leading up to the election. Biden took a different approach from Clinton throughout his campaign, paying close attention to Midwestern states as Trump did the same.
Both candidates visited Wisconsin for campaign events the Friday before Election Day in efforts to rally their supporters and encourage voters who hadn't yet cast their ballots to do so before the state's 8 p.m. Election Day deadline.
Like many states this election cycle, Wisconsin reported record high early voter turnout in the weeks leading up to Election Day. According to the Milwaukee Journal-Sentinel, voter turnout two weeks before the election was already exceeding the levels reported in 2016, and data compiled by the U.S. Elections Project said election officials in most counties had already received 70 percent or more of the mail-in ballots requested by voters. The U.S. Supreme Court ruled on October 26 that no mail-in ballot received in Wisconsin after 8 p.m. on Election Day could be counted, leading to a last-minute push from election officials to encourage mail-in voters who hadn't yet submitted their ballots to drop them off in person.
This is a developing story and will be updated as more information becomes available.