Wisconsin Gov., Election Officials Urge 220,000 Mail-in Voters to Drop Off Ballots in Person with 4 Days Remaining Until Election
Wisconsin Governor Tony Evers joined state election officials on Friday in urging mail-in voters who haven't yet returned their ballots to do so in person.
With just four days remaining until Election Day, data compiled by the Wisconsin Elections Commission indicated that 223,135 mail-in ballots sent out to voters had not been returned as of Friday morning. Election officials began encouraging mail-in voters to return their ballots in person earlier this week after the U.S. Supreme Court ruled on Monday that ballots received in Wisconsin after 8 p.m. on November 3 cannot be counted.
"If you still have your absentee ballot, fill it out and return it as soon as you're able," Evers said during a Friday news conference. "At this point, I don't recommend mailing it because it has to get there by 8 p.m. on Election Day."
Evers said voters can still return mail-in ballots at official ballot drop box locations, at their local clerk's office and, in some counties, at their designated polling locations on Election Day. He advised voters to pay close attention to the instructions included with their mail-in ballots to determine whether dropping them off at polling locations was permitted in their area.
"We need everyone to make sure their vote counts and their voice is heard," Evers said.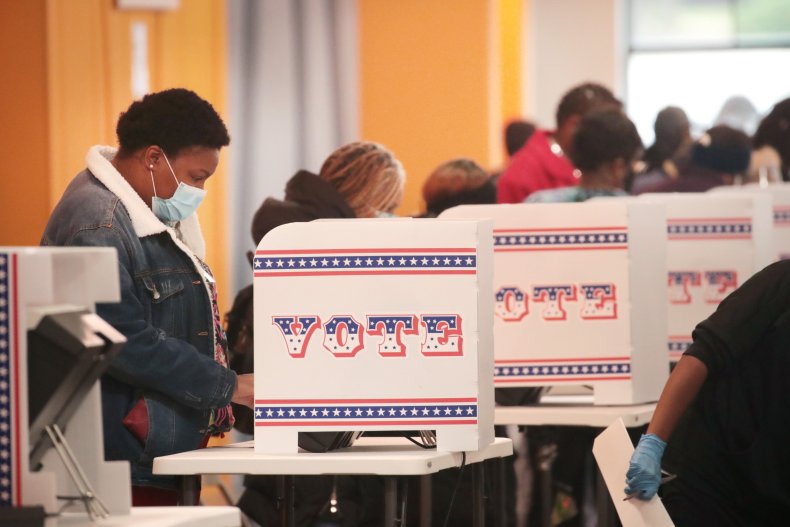 Meagan Wolfe, an administrator with the state's elections commission, previously encouraged voters to either vote in person or drop off their mail-in ballots at approved locations to meet the deadline on November 3. The Supreme Court's ruling earlier this week did not change the rules for Wisconsin from past election years but was the result of a Democrat-led push to extend the ballot receiving deadline by six days, an effort made in part in anticipation of a greater number of mail-in ballots submitted this election cycle due to the coronavirus pandemic.
"The USPS has continually told us throughout this year that it can take up to a week for those ballots to be delivered by mail," Wolfe said during a Thursday news conference. "Now that we have less than seven days, voters need to consider another method to get those ballots back to the polls in time to be counted."
At the time of Wolfe's news conference, she said approximately 250,000 mail-in ballots had yet to be returned in the state. However, she said that number may not be accurate, as some voters may have changed their minds about voting in person since requesting their mail-in ballots.
For those who decide to vote in person, Evers reminded them to wear masks to the polls, practice social distancing, bring their photo identification and prepare to be patient.
"If you're heading to the polls, make sure to be kind and patient and express some gratitude. Especially this: express some gratitude to our poll workers and our clerks, who are helping to do everything they can to make sure things run smoothly and safely," Evers said.
The governor said voters should also expect to see members of the Wisconsin National Guard at some polling locations. Evers notified state residents on Thursday that about 400 troops will be on hand to assist poll workers as needed from November 1 through November 4.
Wisconsin is one of six key battleground states that could shift the outcome of the presidential election. President Donald Trump won the state by a narrow 0.7-percent margin in 2016, but recent polling suggests Democratic presidential nominee Joe Biden has a stronger lead in the state. According to state polling averages compiled by FiveThirtyEight, Biden led by more than 8 points in Wisconsin on Friday.
Both candidates were expected to make campaign stops in Wisconsin on Friday to rally their bases, and state party officials also posted messages on social media this week reminding voters of the voting options still available to them before and on Election Day.
In a statement shared with Newsweek, a spokesperson for the Republican Party of Wisconsin said party officials are using digital, telephone and in-person methods to alert mail-in voters of the options available to them for returning their ballots.
"We're making sure that voters know that if they're voting absentee, they should be doing so either in person or dropping their ballots off with their clerk," the state party's senior communications adviser, Alec Zimmerman, told Newsweek. "We're also pushing voters who might be uncomfortable with those options to show up and cast their ballot in person on Election Day."
Newsweek reached out to the Democratic Party of Wisconsin for comment but did not receive a response in time for publication.
This story was updated at 2:45 p.m. to include comments from the Republican Party of Wisconsin.