Fetterman's Chances of Beating Oz in Pennsylvania With 3 Months to Election
Democratic Senate candidate John Fetterman aims to flip Pennsylvania's currently GOP-held Senate seat blue on November 8 by defeating Republican Senate contender Dr. Mehmet Oz—and with just three months to Election Day, polls show him well-positioned to succeed.
Fetterman, who currently serves as Pennsylvania's lieutenant governor, easily won the Democratic primary in May with about 59 percent of the vote. Meanwhile, Oz, a wealthy celebrity physician and television personality who was endorsed by former President Donald Trump, barely beat out his top competitor garnering less than a third of the total votes cast in the GOP primary. Oz's margin of victory was just 0.1 percent—or about 950 votes.
Although the Pennsylvania Senate seat is currently held by retiring Republican Senator Pat Toomey, who voted with six other GOP senators to convict Trump during his second impeachment trial, Democrats are hopeful that they can flip the seat in the upcoming midterm election. Since the primaries were held, polls have largely shown Oz trailing Fetterman.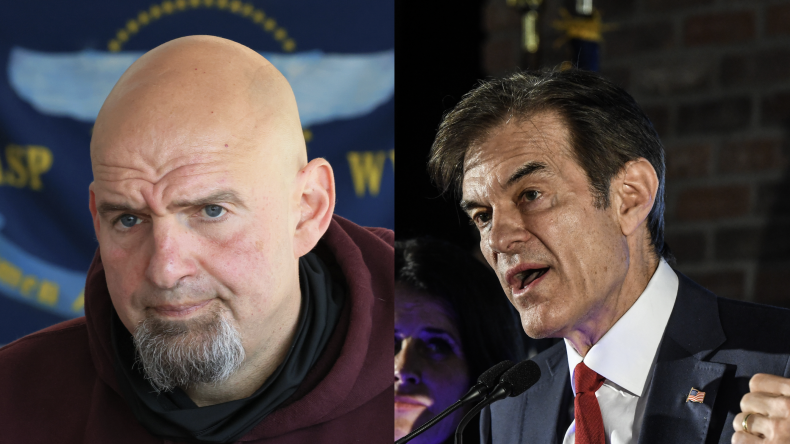 The current Real Clear Politics average of Pennsylvania polls has the Democrat ahead by about 8.7 points. On average, Fetterman is backed by 47.7 percent of Pennsylvanians and Oz is supported by just 39 percent.
Similarly, the current average by news and polling analysis site FiveThirtyEight has Fetterman well ahead of Oz. That average, last updated August 4, shows the Democrat nearly 11 points in the lead. Oz is backed by an average of just 38.3 percent of voters compared to Fetterman's 49 percent.
The most recent public survey of the race was conducted by Momentive/SurveyMonkey for Center Street PAC from July 29 to August 1. It showed Oz trailing by 16 points among registered voters. Fetterman was supported by 48 percent and the Republican was backed by 32 percent. The poll included 997 registered voters.
Another public poll of the race was carried out by Fox News from July 22 to July 26, showing Fetterman with a double digit lead. That survey had the Democratic contender at 47 percent among registered voters and his Trump-backed opponent at only 36 percent—a difference of 11 points. It included 908 voters with a margin of error of plus or minus 3 percent.
A survey by Blueprint Polling from July 19 to 21 showed Fetterman ahead by 9 points. The Democrat had the support of 48.9 percent of Pennsylvania's likely voters and Oz was backed by 39.6 percent. The poll included 712 likely voters with a margin of error of plus or minus 3.67 percent.
Although the seat Fetterman and Oz are vying for is currently held by a Republican, Pennsylvania's other senator is Democrat Bob Casey. The state also went for President Joe Biden in the 2020 election by a slim margin of 1.2 percent. While Trump narrowly won the state in 2016 by 0.7 percent, Pennsylvania previously went for Democratic presidential candidates in every election going back to 1992.
Democrats view the race as a key opportunity to flip a Republican-held seat blue to shore up—or at least maintain—their control of the evenly split Senate with Vice President Kamala Harris allowed to cast tie-breaking votes. As there are 50 Republicans and 50 members of the Senate's Democratic caucus in the chamber, the liberal party cannot lose even one seat without forfeiting their slim majority. Conversely, picking up a seat would give them a somewhat more comfortable margin.