Trump-Backed Dr. Oz Wins Senate Primary as David McCormick Concedes
Pennsylvania Republican Senate candidate David McCormick has conceded to Mehmet Oz, handing the GOP nomination to the celebrity doctor backed by former President Donald Trump.
McCormick announced his concession before a recount of the election night results—which saw Oz leading by a razor-thin margin of less than 1,000 votes—was completed. Hours before McCormick conceded, a report from The Philadelphia Inquirer noted that the recount had "produced little change in the tally."
"We came so close to the goal," McCormick said to a crowd of supporters on Friday evening. "But it's now clear to me, with the recount largely complete, that we have a nominee. And today I called Mehmet Oz to congratulate him on his victory."
"I told him... that I will do my part to try to unite Pennsylvanians and Republicans behind his candidacy, behind his nomination for the Senate," he continued.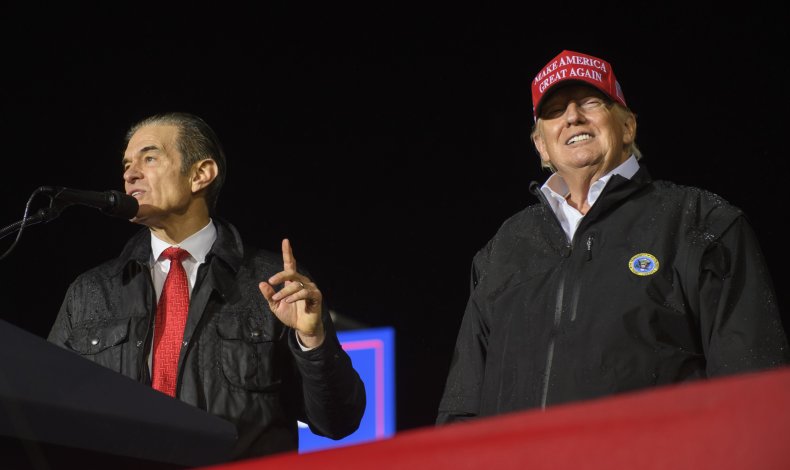 Oz thanked McCormick in a statement obtained by Newsweek, adding that he was looking forward to making sure "that this U.S. Senate seat does not fall into the hands of the radical left, led by [Democratic nominee] John Fetterman."
"I received a gracious phone call from David McCormick and am tremendously grateful for his pledge of support in the fall election," Oz said. "We share the goal of a brighter future for Pennsylvania and America."
"I look forward to campaigning in every corner of the Commonwealth for the next five months to earn the support of every Pennsylvanian," he continued.
McCormick filed suit last month to force the counting of mail-in ballots that lacked handwritten dates on the exterior of envelopes. At the time, Oz campaign manager Casey Contres argued that "the McCormick legal team is following the Democrats' playbook, a tactic that could have long-term harmful consequences for elections in the Commonwealth of Pennsylvania."
Pennsylvania Commonwealth Court Judge Cohn Jubelirer sided with McCormick earlier on Friday, granting a temporary injunction to allow the votes to be counted and writing that "no party has asserted, or even hinted, that the issue before the court involves allegations of fraud."
McCormick campaign spokeswoman Jess Szymanski told The New York Times that the campaign was "pleased the court agrees on ensuring valid Republican votes that were signed and returned on time, as shown by their time-stamp, are counted so the party can get behind a strong nominee in the fall."
Regardless of the court victory, McCormick's concession only hours later suggested that his campaign concluded that there were not enough disputed ballots for him to have a realistic chance of overtaking Oz in the recount.
Oz's Democratic general election opponent Fetterman pledged to take his health "more seriously" on Friday, after his doctor said that he had ignored medical advice for five years before suffering a stroke last month, while also noting that he suffered from multiple heart conditions. Oz was a well-known heart surgeon before becoming a celebrity doctor and eventually entering politics.