Cheri Beasley's Chances of Beating Ted Budd in North Carolina: Polls
Democratic candidate Cheri Beasley is facing off in North Carolina's open Senate race against Republican contender Representative Ted Budd, with some recent polls by conservative groups showing a close race.
North Carolina's GOP Senator Richard Burr pledged in 2016 that he would step down and retire at the end of his six year term. He stuck to that promise, and Democrats now hope to flip the Republican-held seat blue in November.
Beasley previously served as a justice on North Carolina's Supreme Court from 2012 to 2020, holding the role of chief justice for the final 22 months of her tenure there. Budd, who was endorsed by former President Donald Trump, has served in the House of Representatives since January 2017.
The most recent polling for the Senate contest was conducted by Civitas/Cygnal on behalf of the John Locke Foundation, a conservative think-tank. That survey showed Budd ahead by only 2 percent, well within the poll's margin of error of plus or minus 3.95 percent. The Trump-backed Republican was supported by 44 percent of likely North Carolina voters compared to 42 percent that backed Beasley. Carried out from May 21 to 22, the poll included 600 respondents.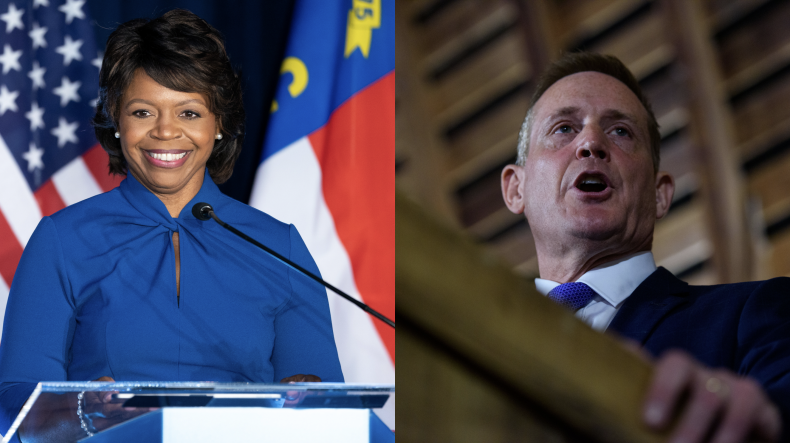 Another recent poll carried out by Meeting Street Insights for the pro-Republican organization Carolina Partnership for Reform showed Beasley behind Budd by only 1 percent. The Democrat had the backing of 45 percent of registered voters in North Carolina, and the GOP candidate was supported by 46 percent. The survey results from May 12 to 16 included 500 respondents and had a margin of error of plus or minus 4.38 percent.
However, two other recent polls showed Budd with a more commanding lead. Survey results from East Carolina University had Budd some 8 points ahead. That poll was conducted from May 19 to 20. Another recent poll carried out from May 7 to 9 by Emerson College showed Beasley behind the Republican candidate by 7 percent.
Notably, North Carolina went for Trump in 2020 and in 2016. The former president led President Joe Biden there by a margin of 1.3 percent in the last presidential election. In 2012, the state went for Republican presidential hopeful Mitt Romney, who is now a senator representing Utah. The state also previously went for former Democratic President Barack Obama in 2008.
The state's governor, Roy Cooper, is a Democrat and was elected in 2016. Meanwhile, Republican Senator Thom Tillis was elected to the U.S. Senate in 2014. Prior to him, the seat was held from 2009 to 2015 by former Democratic Senator Kay Hagan. Polling and news analysts site FiveThirtyEight assesses that North Carolina currently has a 4.8 point partisan lean in favor of Republicans.
As Democrats hold the Senate by the slimmest of majorities, they aim to shore up their power by flipping Republican-held seats in the midterm. As the legislative body is currently evenly split, any losses for Democrats without equal gains would mean that control of the chamber would shift to GOP control.
Whether Beasley is able to ultimately flip GOP-held seat blue in November will be determined as the campaign continues to play out. The recent polls on behalf of conservative organizations suggest either the Democratic candidate or her Republican opponent could eke out a narrow victory.