Democrat Senators Traded 15 Trump Judge Confirmations to Go Campaign
With the November midterms approaching, Senate Democrats on Thursday night made a deal with their Republican colleagues to allow their endangered incumbents to get home and campaign, according to multiple reports.
In exchange for the ability to go campaign, Democrats agreed to confirm 15 federal judges—a lifetime appointment—who had been nominated by President Donald Trump. Politico reported that it was a calculated move by the Democrats because, under Senate rules, even if they spent 30 hours of debate on each nominee, Republican Senate Majority Leader Mitch McConnell would still have been able to push them through before the election.
So, the Democrats, led by Senate Minority Leader Chuck Schumer, made the deal to go home.
Liberal activists were upset, especially on the heels of the confirmation of Supreme Court Justice Brett Kavanaugh, who was confirmed despite multiple allegations of sexual misconduct. Chris Kang, the chief counsel for activist group Demand Justice, called it "totally unnecessary" and "a bitter pill to swallow so soon after the Kavanaugh fight," according to The New York Times.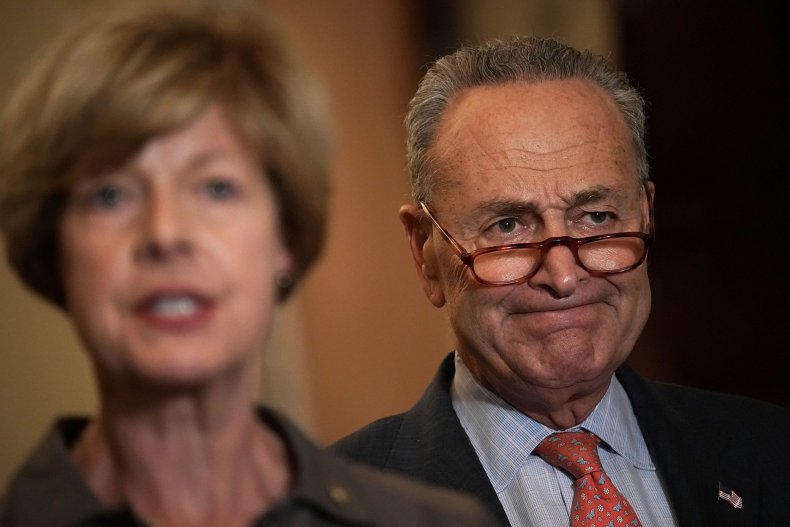 But Democrats said they simply would not have been able to stop the Trump-nominated federal judges from reaching the bench.
"The fact of the matter is, we don't have the votes to stop these nominees," Democratic Senator Mazie Hirono told The Washington Post. "I do know that the elections matter, and I'd like to enable my colleagues to go home, and every day that goes by that they're not touching base with their constituents is not a good thing."
No Democrats objected to the deal as it was read on the Senate floor.
"I am surprised," Republican Senate Majority Whip John Cornyn told Politico. "The difficulty [Democrats] have is an angry base after the Kavanaugh confirmation, and trying to explain to them this is a necessary thing to do. That's why Senator Schumer gets paid the big bucks."
There did seem to be a way for Democrats to slow the process of confirmations. Brian Fallon, executive director of Demand Justice, told Splinter on Thursday before the vote: "The easy solution here is that the red state Democrats skip town to go home and campaign if they want, but the rest of the caucus keeps the Senate in session to slow down Trump's judges. Let Chris Van Hollen and Mark Warner hold down the fort in DC while Joe Donnelly stumps in Indiana."
But that slow down did not happen.
As they hit the campaign trail, Democrats are certainly hoping the midterms will bring them solid results since the GOP currently controls both the Senate and the House of Representatives. Polling has shown it could be close, with a number of important races looking like toss-ups.