Democrat Sheldon Whitehouse Defends All-White Beach Club Membership, 'It's a Long Tradition'
Senator Sheldon Whitehouse (D-R.I.) is facing criticism after he defended his longtime membership to an elite all-white beach club in Newport. Whitehouse said the club's lack of diversity is "a long tradition in Rhode Island."
A GoLocal reporter briefly interviewed the senator on Friday in Pawtucket, Rhode Island. The local station also questioned Whitehouse back in 2017 about his membership to Bailey's Beach Club, which is formally known as the Spouting Rock Beach Association.
"I think would be nice if membership changed a little bit, but it's not my position to do that," Whitehouse said in 2017. He told the reporter he would "take that up privately" when asked if he plans to pressure the club to expand membership. At the time, he declined to further comment on his involvement with the exclusive beach club.
When the GoLocal reporter confronted the issue again on Friday, she asked Whitehouse whether the club's membership had become more diverse.
"I think the people who are running the place are still working on that and I'm sorry it hasn't happened yet," the senator replied.
"Your thoughts on an elite, all-white, wealthy club, again, in this day and age—should these clubs continue to exist?" the GoLocal reported asked Whitehouse.
"It's a long tradition in Rhode Island, and there are many of them. We just need to work our way through the issues," he replied before leaving.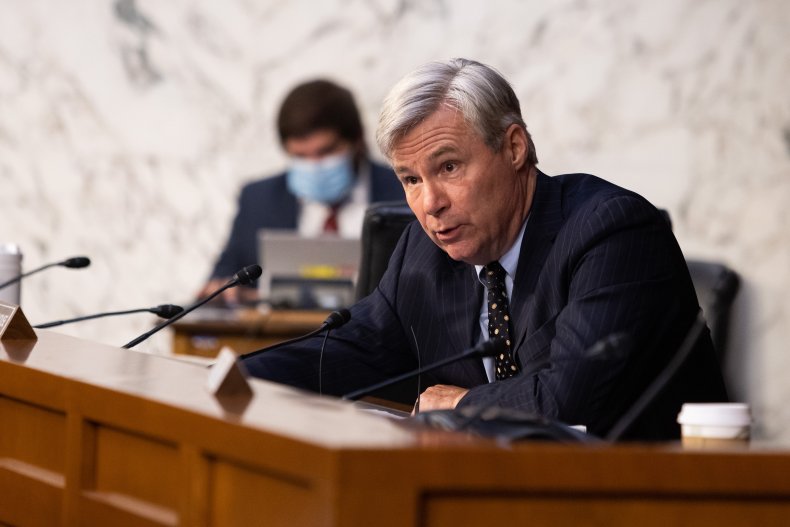 Newsweek reached out to representatives for comment on behalf of Sen. Whitehouse. The senator's communication director Richard Davidson contradicted Whitehouse when he told Newsweek there is no policy that exists at the beach club that would prevent minority members from joining.
"The club has no such restrictive policy. The club has had and has members of color," Davidson said. "The Senator has dedicated his entire career to promoting equity and protecting civil rights, as his record shows."
Whitehouse has spoken out about systemic racism in the past. The senator released a statement last year condemning racism in America and mourning the deaths of George Floyd, Breonna Taylor and Ahmaud Arbery.
"We hear the voices of the peaceful protestors who have marched. We can and must do better to root out systemic racism in its many forms and meet America's full promise of justice for all," the statement said.
Whitehouse denounced his membership to the Spouting Rock Beach Association and the all-white, all-male Bellevue Avenue Reading Room when he first ran for Senate in 2006. His decades-long membership to the beach club was consolidated with his wife's. She remains one of the largest shareholders in the club and is often at the club in the summer, according to GoLocal.