Nearly Every Declared Democratic 2020 Candidate Supports Ocasio-Cortez's 'Green New Deal' While Trump Mocks the Proposal
Democratic Congresswoman Alexandria Ocasio-Cortez's proposed "Green New Deal" has drawn the ire of Republicans and has been mocked by President Donald Trump, but nearly every single declared Democratic 2020 presidential candidate has backed the proposal.
"I think it is very important for the Democrats to press forward with their Green New Deal," Trump wrote in an apparently sarcastic tweet on Saturday. "It would be great for the so-called 'Carbon Footprint' to permanently eliminate all Planes, Cars, Cows, Oil, Gas & the Military - even if no other country would do the same. Brilliant!"
Trump's assessment of the deal is incorrect. And, in fact, the majority of Republicans and Democratic voters support the proposal, according to a December poll conducted by the Yale Program on Climate Communication and the George Mason University Center for Climate Change Communication. The survey showed that 64 percent of Republicans backed the Green New Deal, as did the overwhelming majority – 92 percent – of Democrats.
Unlike Trump, Democratic 2020 contenders appear to have taken note of the resolution's widespread appeal. Thus far, numerous Democrats have declared their intention to run for the presidency in 2020, including Senator Cory Booker from New Jersey, Mayor Pete Buttigieg from South Bend, Indiana, former U.S. Secretary of Housing and Urban Development Julian Castro, former Representative John Delaney from Maryland, Representative Tulsi Gabbard from Hawaii, Senator Kirsten Gillibrand from New York, Senator Kamala Harris from California, Senator Elizabeth Warren from Massachusetts and as of today, Senator Amy Klobuchar from Minnesota.
With the exception of Delaney, all those candidates have publicly backed the Green New Deal. Delaney has in the past supported a "carbon tax," again voicing his backing for such a move in a recent tweet. "We need something big done ASAP," he wrote.
"If we want to live in a world with clean air and water, we have to take real action to combat climate change now," Warren tweeted on Thursday, saying she was "proud" of Ocasio-Cortez and and Senator Edward J. Markey from Massachusett for putting forward the Green New Deal.
"We need to be much more aggressive, much more intentional, and show some political will to do something about [climate change]," Buttigieg told Newsweek last week when asked about the proposal.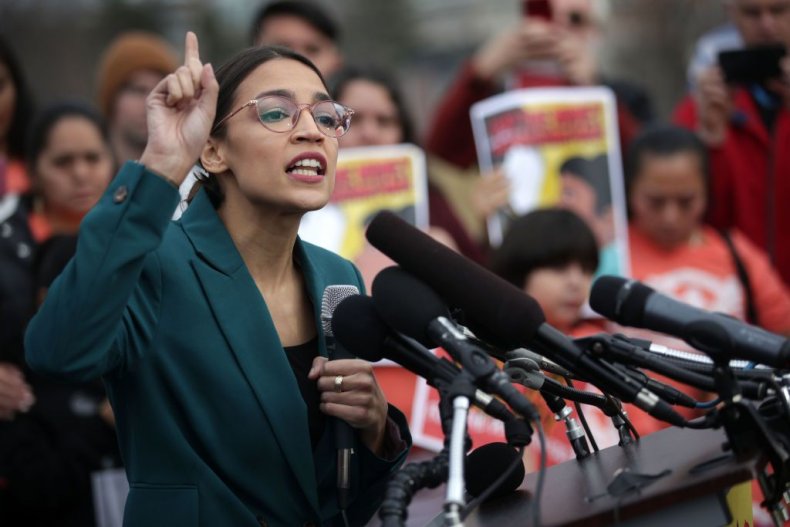 Booker on Friday tweeted that "we can do this" in reference to the Green New Deal, while Gillibrand announced last week that she would be "co-sponsoring" the resolution. Harris called the proposal bold, saying: "We do not fight this fight for our generation alone  but for generations to come." Gabbard and Klobuchar have also signed on to support the resolution. Governor Jay Inslee of Washington, who said in early January that he would run for the Democratic nomination, supports the proposal as well.
Independent Senator Bernie Sanders from Vermont, who is widely speculated to be planning another presidential run as a Democrat, has also backed the deal. "We must lead the world in the fight against climate change. We can do that by passing the Green New Deal to save the planet and create millions of new jobs," he wrote in a Sunday tweet.
Ocasio-Cortez and Markey introduced the framework of the Green New Deal last week. The resolution sets goals to cut carbon emissions across the economy, from agriculture to electricity generation, according NPR. In doing so, it aims to boost the economy and create new jobs.