Despite a strong campaign launch, Kamala Harris had not had a true breakout moment since launching her 2020 presidential campaign in January. But on Thursday night, the California senator shone as she dominated her Democratic rivals on the debate stage.
Ten candidates took the stage to participate in night two of the first Democratic primary debate of the 2020 election cycle. The two-hour show followed Wednesday's lively event, which was largely dominated by Senator Cory Booker and former housing secretary Julián Castro.
The debate covered everything from health care to immigration, climate change and economic policy. It also featured the two early front-runners of the 2020 race, former Vice President Joe Biden and Senator Bernie Sanders, going head-to-head for the first time.
While the Biden and Sanders match-up was expected to take center stage, Harris emerged as the night's clear winner. The California senator leaned into her experience as a former prosecutor as she addressed issues of race and immigration.
Her first standout moment of the night, which quickly went viral on social media, came as she admonished her Democratic colleagues for attacking one another.
Eric Swalwell took a jab at Joe Biden's age, saying it was time to "pass the torch" to the younger generation. The former vice president didn't take the bait and instead smiled as he replied: "I'm still holding onto that torch." South Bend, Indiana, Mayor Pete Buttigieg tried to interrupt, pointing out that he was the youngest candidate on stage.
But Harris quickly shut down her colleagues, stating: "America does not want to witness a food fight. They want to know how we're going to put food on the table." The line got a huge round of applause from the audience.
Another significant moment for Harris was her emotional exchange with Biden on the issue of race. While she took a moment to tell the former senator from Delaware that she didn't think he was a "racist," she went on to slam his record of voting against busing for black students.
"There was a little girl in California who was part of the second class to integrate her public school and she was bused to school every day. And that little girl was me," Harris said. "So I will tell you on this subject, it cannot be an intellectual debate among Democrats and we have to take it seriously."
Biden attempted to defend his record, but his response largely fell flat. "My time's up, I'm sorry," he concluded.
Harris has been consistently polling at 7 percent in national surveys, most often settling into fourth place behind Biden, Senator Bernie Sanders and Senator Elizabeth Warren. Harris was also the top trending topic on Google during the debate.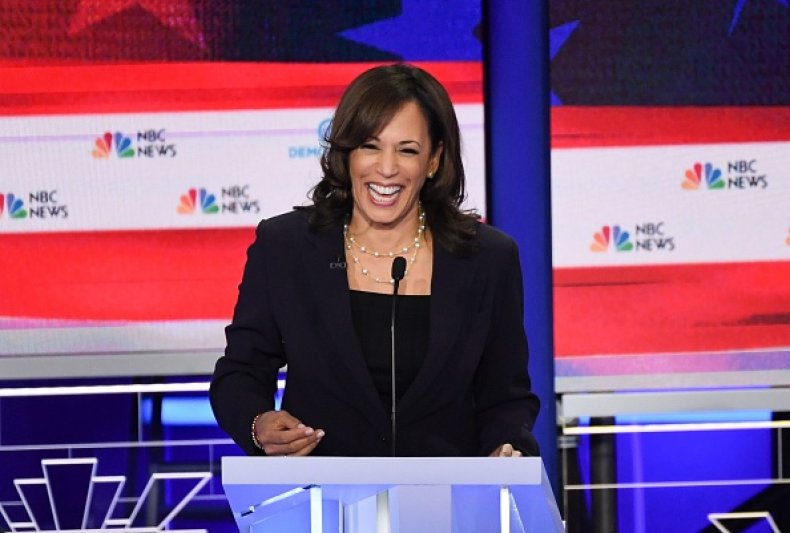 Another candidate that stood out positively on Thursday evening was Buttigieg. Despite it being his first national debate, the South Bend, Indiana mayor made the most of his 10.5 minutes of talking time.
Buttigieg's appearance at the debate drew him away from South Bend at a time of tension after a white police officer fatally shot a black man. The city is currently investigating the shooting and why the police officer's body camera was turned off at the time.
The shooting was brought up by NBC moderators, as Rachel Maddow asked Buttigieg why black representation in his police force has not improved during his tenure as mayor.
"Because I couldn't get it done. My community is in anguish right now," he said. "I can walk you through all of the things we have done as a community, all of the steps we took from bias training to de-escalation, but it didn't save the life of Eric Logan."
Later on in the evening, Buttigieg also had a stand-out line on gun policy in the United States. Buttigieg was speaking as the only military veteran on stage, having served in the United States Navy Reserve in Afghanistan in 2014.
"If more guns made us safer, we would be the safest country on Earth. It doesn't work that way," he said. The line prompted cheers from the audience. Before Thursday's debate, Buttigieg was endorsed by the mayor of Parkland, Florida.
Despite his low poll numbers with minorities, Buttigieg has excelled in other national polls since launching his campaign. He's consistently ranked among the top Democratic candidates in early polling. Real Clear Politics currently shows Buttigieg in fifth place, average 6.6 percent support.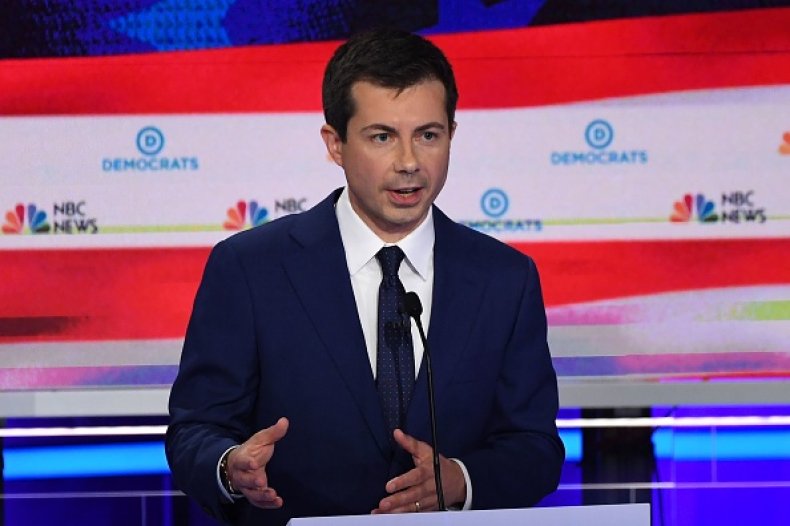 But one of the biggest losers of the night was Biden, the race's front-runner. Despite the fact that he had the most amount of time to speak (13.6 minutes), Biden largely failed to respond effectively to criticism from his fellow candidates.
Biden, 76, had the opportunity to make a case for his age and experience when attacked by his rivals for his age.
Representative Swalwell started the exchange, saying that when he was "6 years old when a presidential candidate came to the California Democratic Convention and said it's time to pass the torch to a new generation of Americans."
"That candidate was then-Senator Joe Biden. Joe Biden was right when he said it was time to pass the torch to a new generation of Americans 32 years ago, he's still right today," Swalwell added. Biden briefly responded, saying something to the effect that he was "still holding onto that torch."
Later on in the broadcast, Biden was hit hard when pressed by Harris about his voting record on civil rights and busing for black students. The former vice president has been under fire recently for touting his ability to work with segregationist senators.
"I did not praise racists. That is not true," he said. He then tried to explain he didn't oppose busing, but opposed busing ordered by the Department of Education but ultimately retreated from the interaction.
"My time's up, I'm sorry," he said. Twitter users quickly jumped on the irony of Biden's statement.
Despite his campaign being muddled by controversy (inappropriate touching charges, supporting then not supporting the Hyde Amendment, working with segregationists) early 2020 polling has shown Biden as a clear leader in the Democratic primary and dominant victor over President Donald Trump.
According to an Economist/YouGov poll released on Wednesday, Biden had 6 point lead over his Democratic competitors. The survey showed 24 percent of Democrats polled would vote for Biden if the primary were held today. Massachusetts Senator Elizabeth Warren was second to Biden, with 18 percent support.
Trump's own internal polling conducted in March showed Biden defeating him in key states like Florida, Pennsylvania and Wisconsin. While the president has repeatedly denied the negative poll numbers, he has made Biden his biggest target of all 24 Democrats running for president.
When asked to share his first priority as president, Biden said to "make sure we defeat Donald Trump."