After the 2020 election, Republicans felt they were making headway with Latino voters in what they saw as an erosion of support for Democrats in that critical population.
But In 2022, despite a rough start with rising inflation, Democrats feel that the end of federal abortion protections by the Supreme Court, coupled with their legislative success in passing sweeping legislation addressing climate change and lowering health care costs, will reverse that erosion and provide them with the motivated electorate they need for victory in the November midterms.
But a new initiative from major progressive donor groups and foundations seeks to take a longer view.
The Valiente Fund, a new donor collaborative from Way to Win, is backed by philanthropies including Open Society Foundations and Democracy Fund, and has already raised and allocated $15 million ahead of its launch.
The effort, shared first with Newsweek, expects to add other major foundations as well.
At a time when less than 2% of philanthropic dollars are invested in Latino communities and groups, the fund will have two separate branches: one that is nonpartisan, to incubate and grow new Latino organizations, and another that is political, which will use messaging derived from research commissioned by Way to Win that will be applied at scale to reach a larger audience.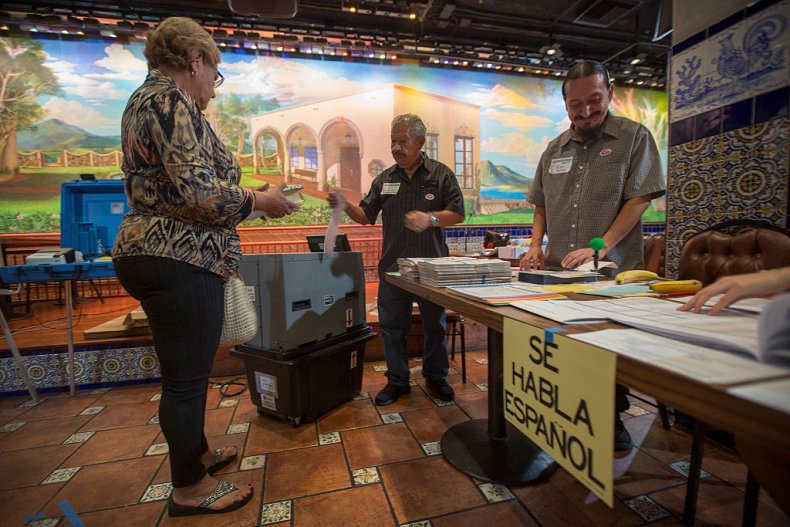 Tory Gavito, the president of Way to Win, said that under-resourcing Latino communities isn't just "immoral," it's bad strategy.
"The lesson l learned from 2020 wasn't that Latinos were done with Democrats and ready for Republicans," she said. "It was that Latinos were asking, 'Who is going to do something to make my life easier?'"
Tom Perriello, a former congressman and the executive director of Open Society Foundations, said that the Biden administration is trying to reimagine an American dream that leaves no community and no region behind, but argues that "the dynamics of doing so in the 2020s and 2030s is very different than in the 1950s and 1960s."
He said that is why Latinos, who have been underestimated in terms of their complexity and possible impact on the electorate at both the local and federal levels, must be included in campaign planning — from the outset.
And for Periello, that starts with his donors.
He said that it's important that they not be seen as showing up in the community just days before an election, or waiting for a fight on immigration to throw money at community groups, but rather that they be in it for the long haul.
"The most important thing is to commit to a five- to ten-year time horizon as donors," Perriello told Newsweek, noting that the contributions he's soliciting are "at least a million, ideally multiple millions."
Daniel Garza, the executive director of the conservative grassroots group LIBRE Initiative, said many of his friends on the left have been "frustrated" that they don't get enough resources from the Democratic Party and progressives.
"Now that Republicans stepped it up, I'm glad to see Democrats stepping up," he said. "You have to fight for the Latino vote and earn it."
Way to Win says specificity on the nonpartisan side will come from the groups that spring up from their investments, but the scaling up of messaging on the partisan side refers to research conducted by Berkeley Law Professor Ian Haney Lopez that asked and examined how Latinos view their racial identity.
Democrats familiar with the research believe it explains both the recent shortcomings within the party as well as their gargantuan successes with Latinos during the Obama years.
"Latinos view themselves as part of a multi-racial coalition more than they view themselves as the Latino vote," said Kristian Ramos, a Democratic consultant who agrees with the findings of the research. He noted that while many see themselves through the prism of their culture, "a majority see themselves more with an American identity."
Nobody is disputing that Trump in 2020 outperformed his 2016 numbers, Ramos added, but he argued that Latinos today reject the extremism of Republicans on everything from the January 6 attacks to the striking down of Roe v. Wade.
"We have an opportunity window here," he said. "I would argue the Democratic brand with Latinos is better than people think it is, but we have to invest, we have to find new ways of reaching them, and we have to speak to them in culturally relevant ways."
While the fund recognizes the importance of different forms of Latino groups, including those on the ground speaking directly with voters inside Hispanic communities, it also is hoping to innovate and meet Latinos where they are on mobile devices and online, in line with studies that have shown that a majority of Hispanics get news from platforms like WhatsApp and YouTube.
Gavito said that in every cycle and race she's been involved in since 2016, organizers in states working to engage Latinos have told her that "by the time we get to the doors, minds are so set we can't move people."
She argues that a change of approach is needed.
"It is true, if we don't innovate in how we're shaping the narrative from mainstream media, to new media, to how they consume content in their hands, we're leaving our grassroots organizations with no air cover," she said.
But beyond becoming sophisticated at every level of engagement, Gavito also recognizes the urgency of the work.
"Latinos are the most persuadable group we have in the electorate," she said. "Unless we're asking for their votes, we're going to lose."