Democratic Lawmaker Apologizes for Likening Trump Impeachment Push to 'Lynching'
Democratic Congressman Kurt Schrader of Oregon apologized for referring to pressure for President Donald Trump's impeachment as a "lynching" on Friday, stemming from a reported call with congressional Democrats.
"I take complete responsibility for the language I used on the Caucus Conference call this afternoon. My words were wrong, hurtful, and completely inappropriate. I sincerely apologize to my colleagues, constituents, and friends for the pain I caused," Schrader said in a tweet on Friday.
"I recognized the horrible historical context of these words and have started to reach out to my colleagues personally to express that I understand the harm caused," Schrader added. "I will work hard to rebuild trust and again, I humbly apologize."
The congressman's apology came hours after he compared impeaching Trump to a "lynching" and said "without due process, we are no better than Republicans," adding it would divide the country, according to ABC News.
Following his comments, Schrader announced via Twitter on Saturday that he would vote yes on impeaching the president.
"This president is a clear and present danger to our country. While I have pushed other remedies for his criminal conduct, impeachment is the tool before us and warranted for his seditious acts," said Schrader.
"I will be voting yes on impeachment when brought to the House floor," the congressman added.
Schrader's comments come as Democrats call for Trump's removal following the events of Wednesday's Capitol mob riot.
Lawmakers have accused the president of inciting the violence that occurred during the mayhem as Congress was acting to certify Electoral College votes, cementing President-elect Joe Biden's victory.
House Speaker Nancy Pelosi said Friday that if Trump doesn't willingly resign, lawmakers will begin impeachment proceedings against him.
"It is the hope of Members that the President will immediately resign. But if he does not, I have instructed the Rules Committee to be prepared to move forward with Congressman Jamie Raskin's 25th Amendment legislation and a motion for impeachment," said Pelosi.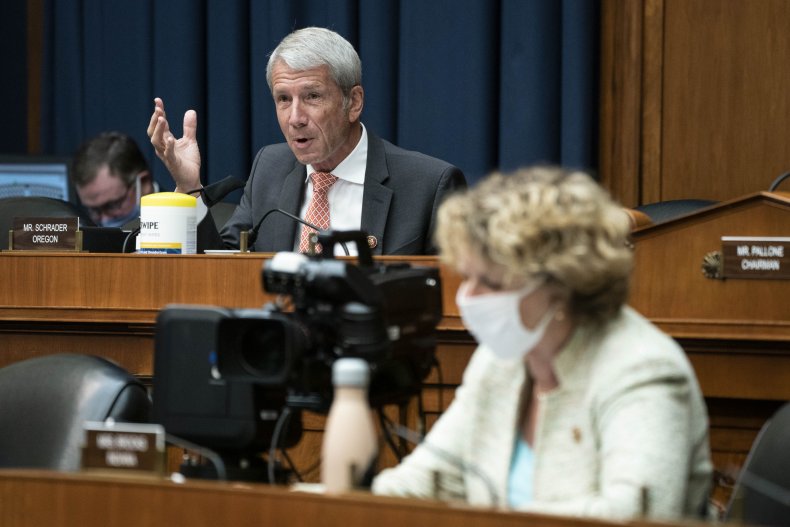 The White House, however, issued a statement Friday noting that impeaching Trump would only do more harm.
"A politically motivated impeachment against a President with 12 days remaining in his term will only serve to further divide our great country," the statement read.
If both chambers of Congress vote to impeach Trump before Biden's inauguration on January 20, the president would be removed from office. An impeachment conviction may also impact the president's plans for running for public office in 2024.
Lawmakers have also suggested Vice President Mike Pence invoke the 25th Amendment to remove Trump. Under the amendment, the vice president can take the sitting president's place if he or a majority of the president's Cabinet deems the president unfit for office.
Newsweek reached out to Schrader, but didn't hear back in time for publication.