Democratic Lawmakers Blast Federal Judge's Ruling That Says DACA Is Unlawful
Democratic lawmakers responded with frustration after a federal judge in Texas ruled that the Obama-era Deferred Action for Childhood Arrivals (DACA) program was illegal.
U.S. District Court Judge Andrew Hanen, who was appointed by former GOP President George W. Bush, released a 77-page ruling on Friday, arguing that the DACA program is unlawful—banning new applicants. Democrats and President Joe Biden quickly responded, criticizing the ruling and arguing that legislation was necessary to bring an end to the uncertainty enforced upon immigrants who have benefited from DACA.
Senate Majority Leader Chuck Schumer, a New York Democrat, said that the "fate of thousands" had now been "thrown into limbo" in a Friday tweet.
"We can't let the future of #DACA recipients hang in the balance," he wrote. "The time to act is now. This Senate will work to provide a pathway to citizenship for our Dreamers."
"Yesterday's Federal court ruling is deeply disappointing. While the court's order does not now affect current DACA recipients, this decision nonetheless relegates hundreds of thousands of young immigrants to an uncertain future," Biden said in a Saturday morning statement emailed to Newsweek. The president said that the Justice Department would launch an appeal.
"But only Congress can ensure a permanent solution by granting a path to citizenship for Dreamers that will provide the certainty and stability that these young people need and deserve. I have repeatedly called on Congress to pass the American Dream and Promise Act, and I now renew that call with the greatest urgency," Biden said.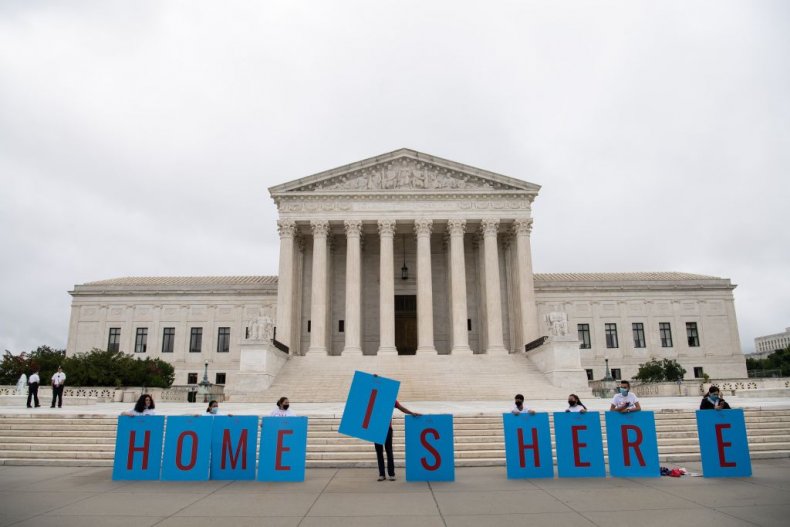 Speaker of the House Nancy Pelosi, a California Democrat, slammed the ruling as "wrongly-decided." She tweeted that Hanen's decision "brazenly flouts the law & precedent, as it casts a cloud of fear & uncertainty around #Dreamers, who are a pride of our nation. Democrats will continue to press for any & all paths to ensure that the Dream & Promise Act becomes the law of the land."
The leading congresswoman urged Republicans to join Democrats in passing legislation to protect DACA immigrants. "Democrats call on Republicans in Congress to join us in respecting the will of the American people and the law, to ensure that Dreamers have a permanent path to citizenship," Pelosi wrote on Twitter.
Former President Barack Obama urged congressional action to protect Dreamers in a Saturday tweet.
"For more than nine years, DREAMers have watched courts and politicians debate whether they'll be allowed to stay in the only country many of them have ever known. It's long past time for Congress to act and give them the protection and certainty they deserve," Obama wrote.
Representative Pramila Jayapal, a Washington Democrat and the chair of the Congressional Progressive Caucus, vowed to "aggressively fight this misguided ruling in the courts" while urging congressional action.
"As a proud immigrant and one of only two dozen naturalized citizens serving in Congress, I have always been crystal clear: Dreamers are Americans and Dreamers are home. Today's cruel ruling does not change that; it only underscores the urgency behind permanently protecting Dreamers," Jayapal said in a statement.
Senator Mark Kelly, an Arizona Democrat, blasted the decision as well, calling it "disappointing and cruel" in a tweet.
"Dreamers are just as American as my own two daughters, and they deserve the certainty of a clear pathway to citizenship," he wrote.
Representative Veronica Escobar, a Texas Democrat, retweeted the post of activist Mario A. Carillo, whose wife is protected by the DACA program. Escobar vowed to fight to protect Carillo's family.
"We won't stop fighting for your sweet family and the families like yours that deserve a path to citizenship," Escobar, who represents Texas' 16th District by the Mexico border, tweeted.
In a separate post, Escobar said the "decision deals a heartbreaking blow to new DACA applicants and is another step backward. The House has acted but the Senate remains paralyzed by inaction. There's no more time to waste - Congress must do our job and keep our promise to protect DACA recipients."
Meanwhile, some Republican lawmakers cheered the federal judge's decision.
"Huge win!" Representative Andy Biggs, an Arizona Republican, tweeted.
Representative Lauren Boebert, a Colorado Republican, argued that DACA was always against the Constitution.
"Congress never passed a law to authorize DACA. It's an unconstitutional and unlawful program as Federal Judge Hanen ruled," she tweeted.
The DACA program officially began in 2012 under the Obama administration, while Biden was vice president. It allowed for individuals who had come to the U.S. with their families as minors to apply for two-year protected status preventing them from being deported, while also issuing them work permits. To be eligible for the program, individuals cannot have committed any felonies or serious misdemeanors.
In March, the House of Representatives successfully passed a major immigration bill with some Republican support. The American Dream and Promise Act was backed by nine Republicans. That legislation would provide a pathway to citizenship to more than 2.3 million DACA recipients. However, companion legislation has remained bogged down in the Senate.
This article has been updated with a tweet from former President Barack Obama.