Joe Biden Says DOJ Will Appeal 'Deeply Disappointing' DACA Court Ruling
The Biden administration will appeal a federal judge's decision to block new applications to the program that stops the deportation of immigrants who arrived in the United States as children.
On Friday, U.S. District Judge Andrew Hanen backed the nine conservative states which included Texas, who had argued that the Deferred Action for Childhood Arrivals (DACA) program had been illegally created under former President Barack Obama.
Hanen ruled the program violated the Administrative Procedure Act (APA) but with around 650,000 enrolled in it, said his ruling would be temporarily stayed for their cases and their renewal applications.
On Saturday, President Joe Biden condemned the ruling which throws into doubt the fate of people known as Dreamers. He said in a statement on Saturday that the "federal court ruling is deeply disappointing."
"While the court's order does not now affect current DACA recipients, this decision nonetheless relegates hundreds of thousands of young immigrants to an uncertain future," said the statement.
He said the Department of Justice (DOJ) "intends to appeal this decision in order to preserve and fortify DACA," adding that the Department of Homeland Security plans to soon issue a proposed rule concerning DACA.
Nine years after the program was instigated, Biden said that Congress "has not acted to provide a path to citizenship for Dreamers."
He also reiterated his call for lawmakers to pass the American Dream and Promise Act to create a path for citizenship that "will provide the certainty and stability that these young people need and deserve."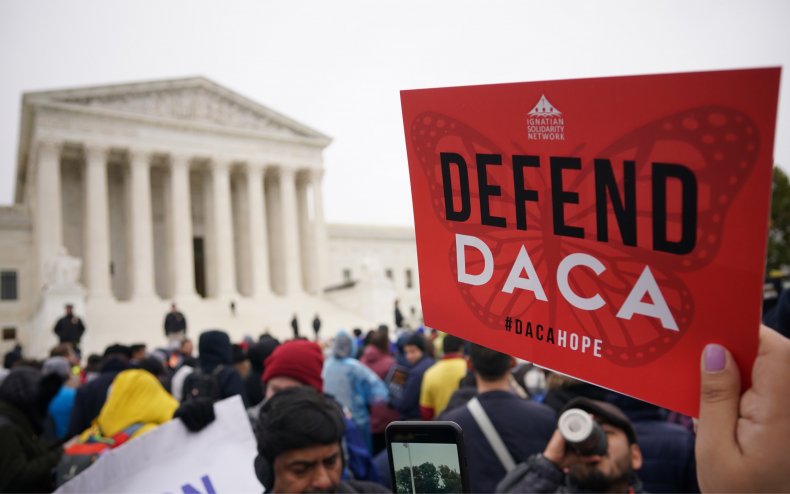 With recipients getting protection from deportation and being granted rights ranging from employment to drivers' licenses, Hanen agreed with the program's critics that DACA provided benefits without congressional authorization.
However in his ruling, he said that the government can continue to receive new applications, it just could not approve them.
"To be clear," the judge said, the order did not mean that the government has to take "any immigration, deportation or criminal action against any DACA recipient."
Prominent Democrats lined up to join immigration groups to condemn the ruling such as Senate Majority Leader Chuck Schumer, who said that the "fate of thousands" had now been "thrown into limbo." House Speaker Nancy Pelosi tweeted that the judge's decision "brazenly flouts the law & precedent."
However, Texas Attorney General Ken Paxton claimed victory on Twitter saying he had "again" defeated the Biden administration on illegal immigration.
When Biden took office in January, he tasked the Department of Homeland Security director to preserve and strengthen the program that his predecessor, ex-President Donald Trump had unsuccessfully tried to end.
Those eligible for the program must have arrived in the U.S. before the age of 16, and continuously lived there since June 2007, as have been under 31 as of June 15, 2012 when the program was implemented. Newsweek has contacted the White House for further comment.
Update 7/17/2021 10:36 a.m. ET: This article has been updated with further information.