Republicans' approach of busing migrants to major U.S. cities to highlight border issues might be working now that the influx of people has prompted Democratic mayors from New York City and Washington, D.C. to call on President Joe Biden for help.
On Tuesday, New York City Mayor Eric Adams demanded that the federal government help pay for the wave of asylum seekers headed to the nation's most densely populated city, warning that resources are quickly spreading thin because of the busloads of people pouring in—especially given the city's "right to shelter" mandate that guarantees beds for homeless asylum seekers.
"Currently, New York City is experiencing a marked increase in the number of asylum seekers who are arriving from Latin America and other regions," Adams said in a statement. "In some instances, families are arriving on buses sent by the Texas and Arizona governments, while in other cases, it appears that individuals are being sent by the federal government."
His remarks echo those of D.C. Mayor Muriel Bowser who went on national television over the weekend to say the city's homeless shelters were being filled by the buses being sent by governors from Texas and Arizona.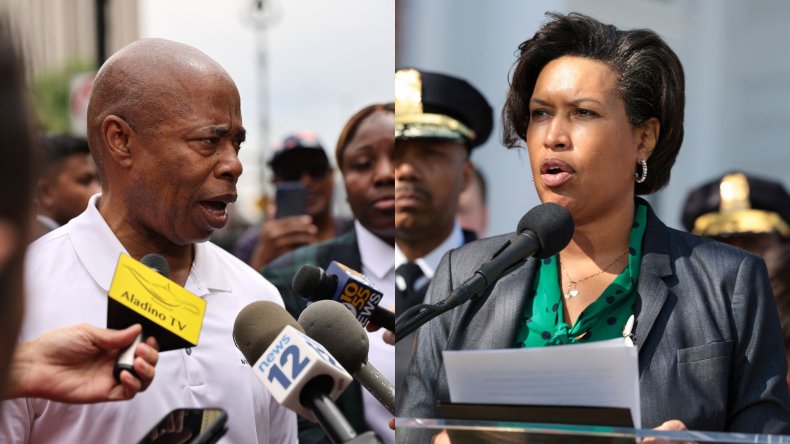 While governors Greg Abbott of Texas and Doug Ducey of Arizona have denied sending migrants to New York City, both have admitted to directing buses to D.C. as part of an effort to bring what they've called a border crisis to Biden's doorstep.
Abbott began sending people in April, while Ducey joined in May. Since April, Texas and Arizona have sent at least 4,000 migrants in roughly 100 buses to the nation's capital.
On Sunday, Bowser told CBS' Face the Nation that the influx of people in D.C. "is a very significant issue."
"We have for sure called on the federal government to work across state lines to prevent people from really being tricked into getting on buses," she said. "I fear that they're being tricked into nationwide bus trips when their final destinations are places all over the United States of America."
The stress that the busloads of migrants has placed on predominantly Democratic cities seems to be working in the favor of the GOP, which said the northern cities are experiencing only "a fraction of the disaster" that border towns have seen in recent months.
"Border communities are overrun and overwhelmed, and Governor Abbott launched the border bus mission back in April to help provide support to these communities pleading for help where the Biden Administration is dumping migrants," Renae Eze, a spokesperson for Abbott, told Fox News on Monday.
"With our nation's capital now experiencing a fraction of the disaster created by President Biden's reckless open-border policies that our state faces every single day, maybe he'll finally do his job and secure the border."
White House Press Secretary Karine Jean-Pierre said during Tuesday's briefing that the administration had been in touch with Adams and Bowser, and would look into their requests.
Asked whether Biden would reach out to Abbott and Ducey to urge the governors to stop sending migrants, Jean-Pierre deferred to the Federal Emergency Management Agency.
While Biden has seen a record-breaking number of asylum seekers at the U.S.-Mexico border under his administration's policies, Customs and Border Protection's June report showed a drop in encounters—falling to 207,416 after four straight months of increases.