Democratic Party Is 'Anti-white' Says Fox News Host Jesse Watters
Fox News co-hosts Jesse Watters and Juan Williams fell into an on-air disagreement on Monday over whether the Democratic Party is "anti-white."
Watters made the accusation while discussing what Democrats would need to do to see a major win in Tuesday's midterm elections, with the Fox News host questioning whether the Democratic Party can "be for diversity" but also be "so anti-white," as first reported by Media Matters.
"Can the Democratic Party be for diversity, but also be against open borders, and not be so anti-white?" Watters said. "So far, they haven't been able to strike that balance.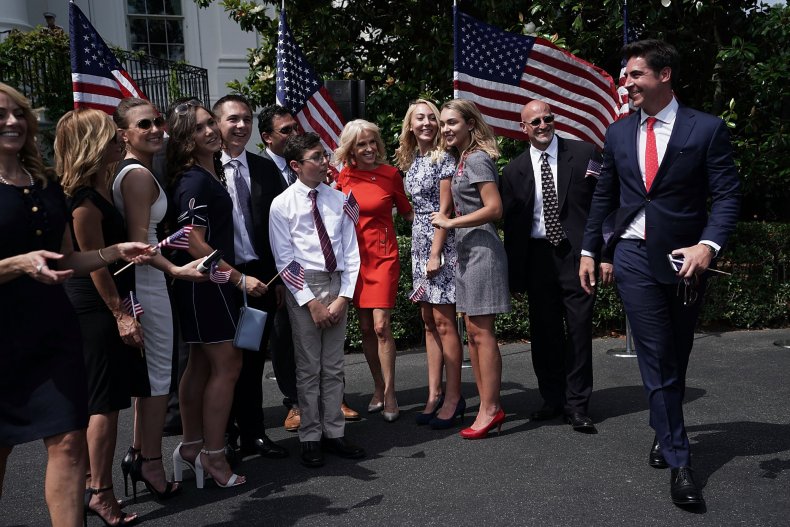 "Right now, [President Donald Trump] comes out with an extreme position and [Democrats] automatically go to the other extreme," Watters said. "Abolish ICE, impeachment, socialism. I don't think that brand plays because right now, and it always has been, a center-right country in America."
Taken aback by Watters' comments, Williams said, "I don't think the Democrats are anti-white. Where did that come from?"
Watters defended his statement, saying "No, I'm talking about–sometimes when you hear things about, 'Oh, you want a border wall? Oh, you must hate, you know, Mexicans,'" apparently referring to Democrats' reactions to the Trump administration's goal of constructing of a border wall between the U.S. and Mexico.
"Oh, no," Williams chimed in, before Watters said: "That kind of positioning turns a lot of white working-class voters off."
The accusation that the Democratic Party is "anti-white" is, of course, unfounded. Democrats have, however, long accused the Trump administration of enforcing anti-immigrant policies, including the government's child separation policy, as well as its current response to multiple caravans of Central American migrants heading towards the United States to seek asylum.
Trump and the Republican Party also faced widespread accusations of racism over releasing controversial campaign-style advertisements, which have since been pulled off the air by Fox News, CNN, NBC and Facebook over their content.
One such ad appears to conflate a convicted cop-killer who was deported multiple times before fatally shooting two California sheriff's deputies with the thousands of migrants, including many families with young children, who are making their way to the U.S.
Read more: Fox News pulls Donald Trump's anti-immigrant ad after CNN calls it 'racist'
As the Pew Research Center has noted, there are "sizable and longstanding racial and ethnic differences in partisan affiliation," which the research center says "have shifted only modestly in recent years."
White voters continue to be more likely to affiliate with or lean toward the Republican Party than the Democratic Party, with 51 percent leaning towards the Republican Party compared to the 43 percent leaning towards the Democratic Party, the research center noted in a study released on March 20, 2018.
Pew did note, however, that while white voters have, since 2010, been more likely to align with the GOP than the Democrats, the share of white voters identifying as Democrats or leaning Democratic has edged upward from no more than 40 percent from 2009 to 2016 to 43 percent as of March this year. The research center asserted that this growth could be attributed to a slight increase in Democratic leaning independents, however, rather than a rise in Democratic affiliation.
By contrast, black American voters have remained "overwhelmingly Democratic," with 84 percent asserting that they identify with or lean towards the Democratic Party, compared to 8 percent who said they identified with the Republican Party.
Meanwhile, around 63 percent of Hispanic voters said they are more likely to affiliate with or lean toward the Democratic Party than the GOP, with just 28 percent saying that they identified with the Republican Party.