Democratic and Republican Voters Agree Rising Crime is Massive Problem in U.S.: Poll
The results of a released Wednesday revealed that a staggering 94 percent of registered voters on both sides of the political spectrum believe that violent crime is a major or minor issue in the U.S., indicating a wall-to-wall belief that lawlessness is on the rise.
Asked why crime is on the rise, the poll found that 84 percent of voters cited inadequate funding for mental health programs as contributing to the increase. On the whole, a little more than half of voters approved of President Joe Biden's handling of public safety, including 87% of Democrats, 41% of independents and 16% of Republicans.
Growing media coverage in the past year of surges in gun violence and homicides are likely responsible for Americans' perceptions regarding crime, according to Keith Taylor, an adjunct assistant professor at John Jay College of Criminal Justice and former NYPD detective sergeant. An alarming report of a 25% increase in homicides across the U.S. in 2020, according to preliminary FBI data, is said to mark one of the largest national jumps in crime since those numbers became publicly available in 1960.
Preliminary numbers from the FBI show the first half of 2021 also saw spikes in gun violence and homicides in major cities like New York, Chicago and Philadelphia. But that 25% increase in murders, likely to blame for American anxiety regarding law and order, does not represent the whole, Taylor said.
Crime in the U.S. is measured largely through the FBI's annual data of crime reported to the police, which looks mostly at violent crime and property crime, but not other areas like drug crime. The analysis for 2020 is not yet finalized, only preliminary numbers are available.
The other source of data comes from the Bureau of Justice Statistics, which tracks crime by surveying Americans 12 and older on whether they have been a victim of a crime in the past six months.
Like the FBI, the BJS survey focuses only on a few areas, namely violent crime and property crime.
So while those datasets paint an incomplete picture, according to Pew researchers, they do offer a less-menacing caveat Americans might overlook when deciding whether crime is something to be concerned about: robberies, property crimes and rapes all decreased in 2020, a year that also saw just a 3% increase in violent crime overall.
"There are a number of different ways that individuals get information about crime that didn't necessarily exist 10 years ago," Taylor told Newsweek. "Perceptions based on social media are a new way of influencing how people feel about things like crime, and when you tie in the traditional media — when you see the sensational types of headlines that appear in newspapers with horrific crimes for the basis of those articles — then it is not a surprise that individuals feel crime is more prevalent even if it is not the same in terms of the numbers."
The nonprofit USAFacts, which compiles data on items like the effectiveness of the country's criminal justice system, provides more numbers that should assuage Americans' fears about a creeping crime wave. Arrests have fallen every year since 2006, and the U.S. is still nowhere near its reported property and violent crime height in 1991.
In fact, in 2019, there was roughly half as much violent crime compared to 1991, and as murders were hovering around a 20% increase in 2020, property crimes fell about 8%.
"One of the things we have to take into account is the toll of the pandemic on crime rates. When we look at the number of individuals that were forced inside last year, the opportunities for crime were reduced, both to be victimized as well as for perpetrators to commit the crimes," Taylor said.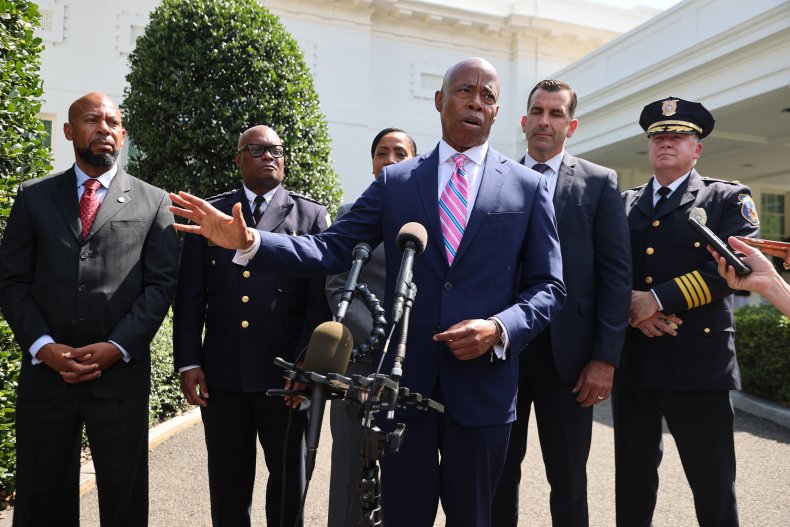 That's not to discount, he added, the rise in gun violence, particularly in the summer months. The Chicago Tribune reported that the city saw homicides jump from below 500 to about 770, creeping up on its historic peak of 970 in the mid-1970s. New York's homicides increased by 150, and smaller cities — like Cincinnati, which saw a nearly 30 percent rise and set a new record for homicides in 2020 — experienced smaller increases as well.
The role of organized crime is also not taken into account in crime analysis, Taylor said — criminal organizations, especially transnational organizations as they relate to various types of illicit trafficking, have a disproportionate impact on crime rates versus the general U.S. population.
According to the Gun Violence Archive, which compiles data on gun violence reported to police in real time, gun violence appears to be the primary culprit in the spike in homicides. There were 4,000 more gun-related deaths in 2020 than in the year prior.
However, much of this violence is isolated to underserved communities of color already distressed by crime, the preliminary data suggests. Taylor said the influence of criminal organizations on local street gangs to commit violence, gain territory and make money contributes greatly to the proliferation of illegal guns and the overall violent crime rate.
"When we look at violence or a perception of increase in violence, oftentimes it's not a real consideration to connect all the different dots that are a part of the problem," he said.
Narratives surrounding law and order also tend to ignore the major gains made by law enforcement and community groups in communities across the country: Americans are drastically less likely to become victims of violent crime than they were 30 years ago. Even dealing with a spike in homicides in 2020, New York experienced 80 percent fewer homicides (468) compared to 1990 (2,262), according to NYPD data.
The increases in homicides the past year can be chalked up to any number of reasons — the pandemic, the social movement against police brutality in the wake of George Floyd's murder, political rhetoric, an increase in gun sales. Even so, there is little hard data available to take a true temperature check when it comes to crime in the U.S.
Overall, national data shows crime is down, far from the crushing wave that so many Americans perceive according to the Politico/Morning Consult poll. Taylor said when it comes down to addressing increases in crime that do exist, legislators should refrain from the black-and-white rule making of years past in favor of evidenced-based measures.
"When politicians base their legislation on these ideological lenses instead of evidenced-based practices, then you can't have the outcomes that you're looking for," he said. "So a tough on crime approach has the problem of not addressing the causes of the crimes. They're concerned about locking up individuals who commit crimes so they can fill prisons and state prison budgets to overwhelming capacity. That's what we've had in the past as a result of tough-on-crime laws that have had consequences particularly in minority communities."