Democratic Sen. Chris Coons Joins Republicans, Manchin in Criticizing Timing of Schumer Speech
Delaware Senator Chris Coons on Sunday joined his fellow Democratic Senate colleage Joe Manchin as well as Republicans in criticizing the timing of a fiery speech by Senate Majority Leader Chuck Schumer.
In his remarks Thursday, Schumer, a Democrat from New York, attacked Republicans following a near last-minute deal to raise the debt ceiling and avert a potential U.S. default.
"Leader McConnell and Senate Republicans insisted they wanted a solution to the debt ceiling—but said Democrats must raise it alone by going through a drawn-out, convoluted, and risky reconciliation process,' Schumer said.
He added: "Republicans played a dangerous and risky partisan game, and I am glad that their brinksmanship did not work."
Speaking on Fox News Sunday, Coons, a moderate and close ally of President Joe Biden, said that while he understands Schumer's frustrations, he agreed with Manchin that the speech was poorly timed.
"Frankly, I agree with the reasons why Senator Schumer was so frustrated. That this standoff over the debt limit was risky, was unnecessary, was a manufactured crisis," he said.
He said Manchin "had his head in his hands" because he felt Senate leaders should be reaching out and talking to members directly, which Coons said he agrees with.
"If we're going to solve problems facing the American people, we have to be able to work together," he said.
Coons added: "The timing may not have been the best."
The speech also prompted criticism from Manchin, a West Virginia Democratic senator, who could be seen placing his hands over his face and rubbing his eyes while Schumer was speaking.
Manchin told CNN chief congressional correspondent Manu Raju on Thursday: "I didn't think it was appropriate at this time."
"I just think that basically what we've got to do is find a pathway forward, to make sure that we de-weaponize. We have to de-weaponize. You can't be playing politics. None of us can—on both sides," he said.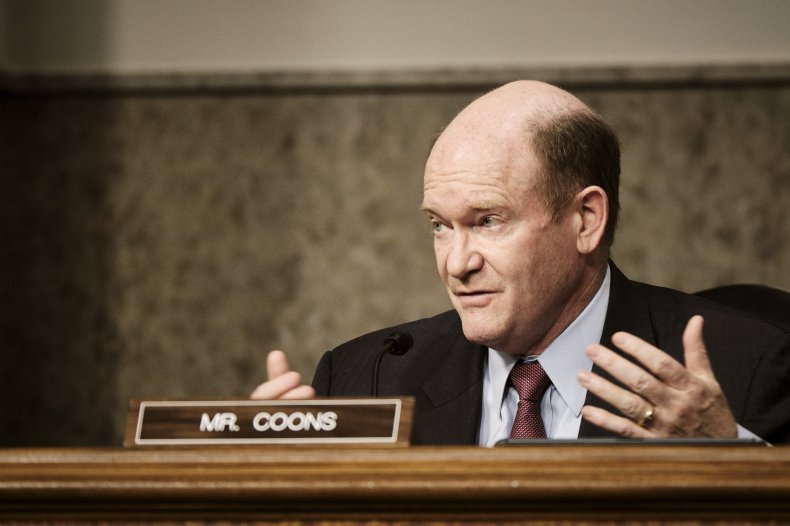 Schumer's remarks received backlash from Republican senators.
Senator Mitt Romney of Utah said he spoke to the New York senator about the speech and told reporters on Thursday "there's a time to be graceful and there's a time to be combative, and that was a time for grace."
South Dakota's John Thune, one of the 11 GOP senators who voted for the debt ceiling extension, said he also spoke with Schumer about the remarks.
"I thought it was totally out of line. I just thought it was an incredibly partisan speech after we had just helped him solve a problem," Thune said. "I let him have it."
Newsweek reached out to Schumer's office for comment Sunday afternoon but had not heard back by publication. This story will be updated with any response.