Full List of 11 Republicans Who Joined Democrats to Lift Debt Ceiling
A short-term extension to the debt ceiling was advanced by senators on Thursday to avoid an unprecedented government default.
Lawmakers voted 50-48 on party lines to increase the U.S. borrowing limit by $480 billion, which is expected to keep the country solvent until December 3.
The final measure required a simple majority, which GOP Senators Richard Burr of North Carolina and Marsha Blackburn of Tennessee did not vote in.
However, there was bipartisan backing for the procedural hurdle that required 60 votes, with 11 GOP lawmakers siding with Democrats.
Former President Donald Trump, who still holds considerable sway among Republicans, had earlier urged GOP senators not to back "this terrible deal being pushed by folding Mitch McConnell."
But the 11 GOP senators ignored his comments and helped the Democrats clear the initial procedural vote 61-38 to cut off debate and break the 60-vote threshold required to overcome a filibuster. The vote was allowed to advance to final passage with only Democratic votes.
House Majority Leader Steny Hoyer (D-MD) said that lawmakers would return to vote on the bill on Tuesday, before it would be sent to President Joe Biden's desk, The Hill reported.
It follows a months-long standoff between the parties over extending the $28.4 trillion debt ceiling which threatened catastrophic consequences for the U.S. and global economy.
Senate GOP Leader Mitch McConnell had said earlier on Thursday that Republicans would allow Democrats to pass a short-term debt increase.
Meanwhile, Senate Majority Leader Chuck Schumer had announced that the parties had agreed a deal.
McConnell, who had pushed for the Democrats to increase the debt ceiling through the reconciliation process that did not require GOP support, was accused by some Republicans of caving in to Democrats.
Senator Lindsey Graham (R-SC) said McConnell had "a change of heart there at the last minute," while Senator Ted Cruz (R-TX), who was among lawmakers who insisted on the 60-vote procedural hurdle, said that "Chuck Schumer won this game of chicken."
However, there was still concern over what was effectively a stop-gap measure.
Senator Bob Menendez (D-NJ) said in a statement to Newsweek, which was shared with other media, that the vote "only provides a temporary reprieve, while the Sword of Damocles still hangs precariously over our heads."
When contacted for comment, the White House referred Newsweek to a statement by spokesperson Jen Psaki which said that the votes were "welcome steps forward in averting a default that would have been devastating for our economy and for working families.
"President Biden looks forward to signing this bill as soon as it passes the House and reaches his desk," the statement added.
Newsweek has contacted McConnell's office for comment.
List of the GOP senators who helped advance the debt ceiling bill
Sen. John Barrasso (R-WY)
Sen. Roy Blunt (R-MO)
Sen. Shelley Moore Capito (R-WV)
Sen. Susan Collins (R-ME)
Sen. John Cornyn (R-TX)
Sen. Mitch McConnell (R-KY)
Sen. Lisa Murkowski (R-AK)
Sen. Rob Portman (R-OH)
Sen. Mike Rounds (R-SD)
Sen. Richard Shelby (R-AL)
Sen. John Thune (R-SD)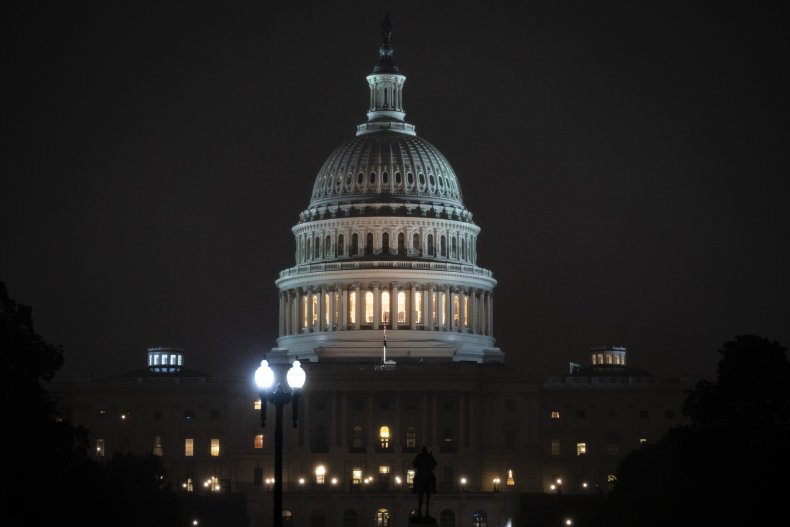 Update 10/8/2021 12.20 p.m. ET: This article has been updated with a White House response.