'Bullshit Investigation': Brett Kavanaugh FBI Probe Slammed by Democratic Senator
Democratic Senator Bob Menendez of New Jersey called the FBI report into Supreme Court nominee Judge Brett Kavanaugh "bullshit" on Thursday shortly after reading the bureau's latest findings that resulted from a supplemental investigation into multiple sexual assault allegations.
"If that's an investigation, it's a bullshit investigation," Menendez said in a video posted on his Twitter. "The reality is that it's not a full and thorough investigation. Evidently, the Republicans who gave the direction to the FBI of what could be investigated was extremely limited."
As a result of the additional investigation lacking interviews with corroborating witnesses, Menendez explained, he did not view it as a legitimate probe. Numerous other Senate Democrats agreed, calling the investigation "insufficient" and "incomplete."
Senate Republicans on the Judiciary Committee refuted the notion they directed the FBI to only speak with certain witnesses.
"The FBI has gotten all the permission they need in order to interview whoever they think is necessary," GOP Senator John Cornyn told reporters. The White House has said the same in recent days. "There has been no one to corroborate any of the allegations made by Dr. Ford or Ms. Ramirez," Cornyn added, "and the FBI has reported that back to us. They have followed additional leads."
Cornyn went on to allege it "became very clear early on" that the Democrats' purpose surrounding the sexual assault allegations was to delay Kavanaugh's confirmation. The Texas senator described the Democrats' intent as a "search and destroy mission."
The FBI spoke with at least six named people and reportedly with a handful of others, although the names of the other witnesses are unknown. The FBI was believed to have conducted their investigation based on guidelines given by the White House after Republican Senators were compelled to request a supplemental investigation in a deal struck with GOP Senator Jeff Flake. Flake, who is not running for re-election and is considered a much-needed Republican swing vote, said he would only vote to confirm the nominee if an additional investigation was conducted into the multiple sexual assault allegations against Kavanaugh.
The FBI did not speak with Kavanaugh, Christine Blasey Ford, who first accused Kavanaugh of sexual assault, or Julie Swetnick, a third woman who came forward alleging sexual misconduct against the judge.
Based on the names that Deborah Ramirez, Kavanaugh's second accuser, gave the FBI, and others who publicly came forward to make statements, dozens of other people familiar with the various allegations could have provided the FBI with further information.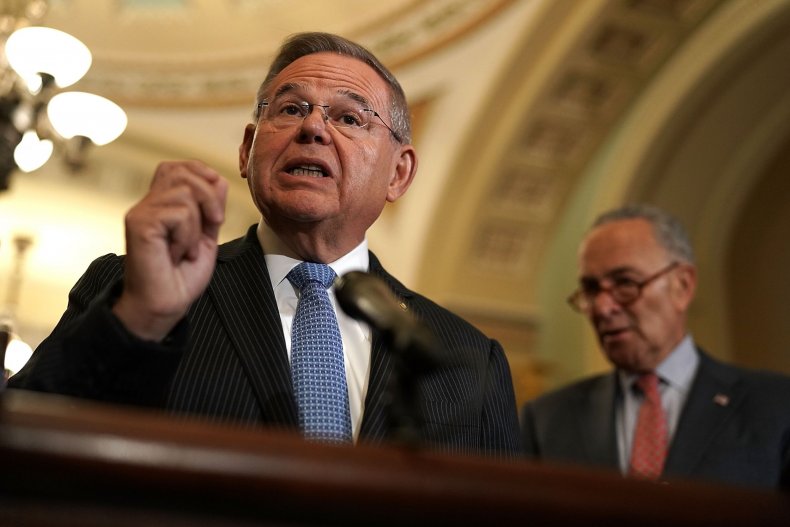 "You don't get corroboration if you don't talk to corroborating witnesses," Menendez said. "That obviously didn't happen here. I'm amazed that for the highest court in the land, this is the type of report the FBI produces."
GOP Senate Majority Leader Mitch McConnell told reporters there was "no way anything we did would ever satisfy the Democrats."
"They've always got a reason why the goalposts need to be moved farther down the field," McConnell said. "They're dug in. You've seen it from the beginning."
The Senate is expected to have its final up-or-down vote to confirm Kavanaugh on Saturday. It's still unclear whether Republicans have the votes needed as three key GOP senators—Susan Collins, Lisa Murkowski and Flake—and one Democrat—Joe Manchin—have not yet said if they plan to support Kavanaugh.
'Bullshit Investigation': Brett Kavanaugh FBI Probe Slammed by Democratic Senator | U.S.